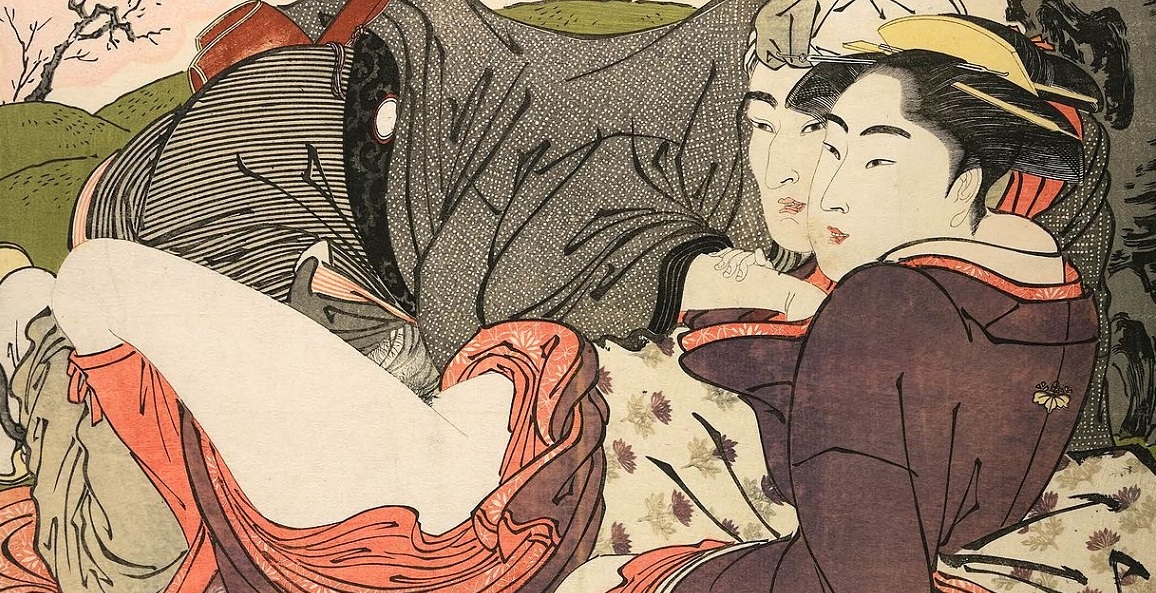 Reckless Japanese Street Hooker and Lusty Client
Although the Utamaro scene below only loosely inspired Eiri's scene with the protagonists in both designs sporting similar style headdresses, the composition, the posture and the location all vary. While Utamaro's scene takes place on a cheerful autumn afternoon the atmosphere in Eiri's design more gloomy.
Breast
A couple making love beneath a sakura cherry tree in bloom. The woman is dressed as a courtesan. The man has put his right hand in her kimono caressing one of her breasts.
Shock
For the insider who is familiar with Edo (former Tokyo) life, the above scene by Eiri may come as something of a shock. We are suddenly tossed from the exalted world of the court ladies (click here) to the bottom of Edo society.
Here we find a fair yotaka ("night-hawk"/ streetwalker) accommodating a lusty client in a lumberyard by the bank of the Sumida River. This is the very world of lower-class pleasure which Eiri so successfully envisioned in his non-shunga prints.