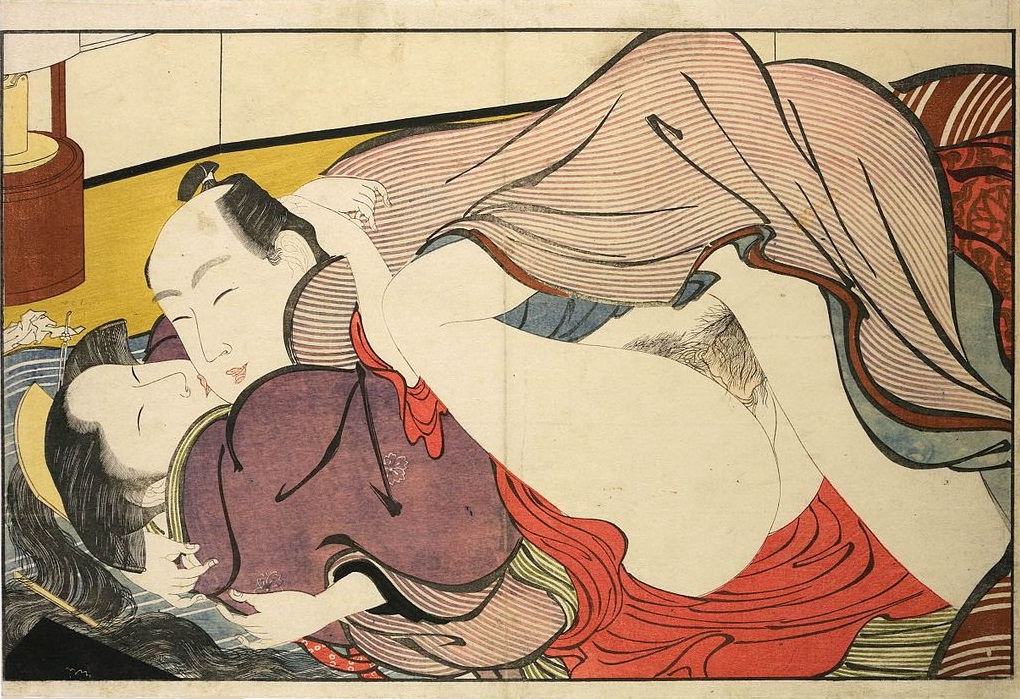 Eiri's Masterful Ode to Utamaro's Praised Erotic Masterpiece
The all too long neglected Chokyosai Eiri (鳥橋斎 栄里 act. ca. 1789-1801) created his masterpiece of shunga art 'Fumi no kiyogaki (Models of Calligraphy)' at the New Year's of the year 1801. It consists of thirteen, instead of the usual twelve plates, and was heavily inspired on Utamaro's 'Utamakura (Poem of the Pillow)' dated 1788.
Eight Plates
Eight plates of 'Fumi no kiyogaki' are related to 'Utamakura' . The latter consists of only eleven designs and a preface with text only. Below I will discuss the Eiri and Utamaro designs that are not related in this article. I will discuss the related designs in seperate articles in the upcoming eight posts.
Today we'll take a closer look at the following designs:
Shaved Eyebrows
A couple enjoys ecstatic love-making on the floor emphasized by their closed eyes. The woman kisses the man's cheek with a look of bliss. She is married, as her shaved eyebrows indicate. The couple is surrounded by a byōbu folding screen. That she is still in her kimono suggests her partner is not her husband but a secret lover.
Romanticized Sex
This scene is a most straightforward one, featuring the standard Missionary Position; but withal, the contrast of the young and naked, secret lover and the richly-clothed courtesan amid luxurious bedding, cannot fail to draw the viewer inexorably into the world or romanticized sex in Old japan.
The lines are clean-cut, and there is nothing cloying about either the design or the situation, both of which are remarkably open and unrestrained. This print represents, indeed, one of the best in the series.
The related Utamaro tableau shows widow and older man covered with cloak, for a quite different effect; in fact, the Eiri' s indebtedness here is rather tenuous.
Click HERE for an article of a design from these series featuring a young couple making love on the balcony of a teahouse!
Click HERE for another Eiri (鳥橋斎 栄里) design featuring a masturbating woman with pestle!