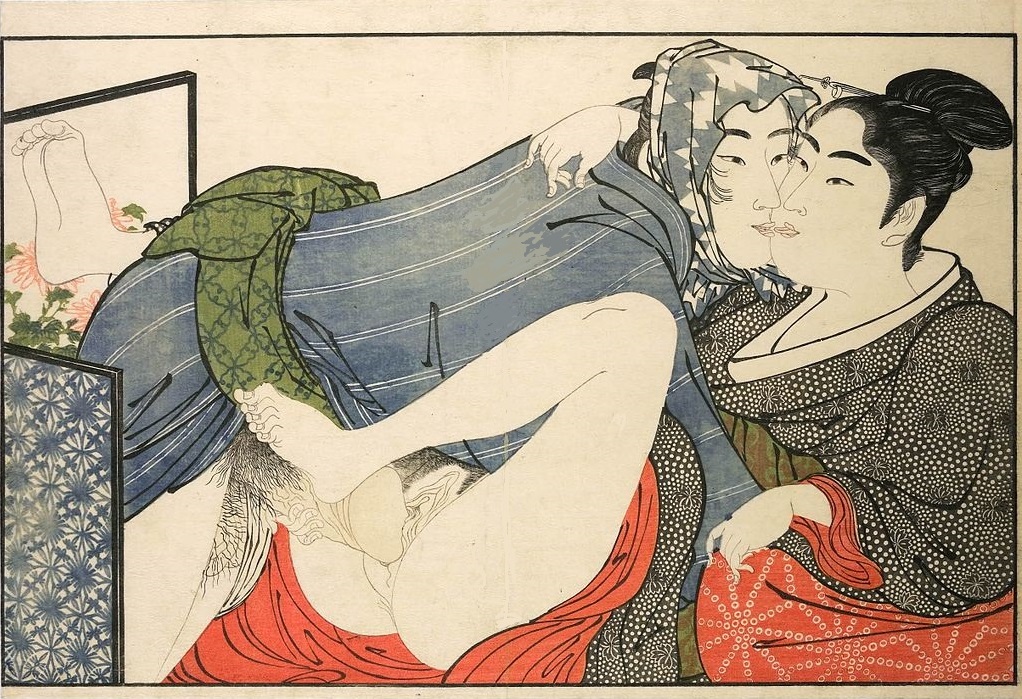 The Sensuous Get-Together of a Paramour and Her Secret Lover
For today's design we'll examine Plate 6 from Utamaro's (喜多川 歌麿) Utamakura (c.1788) and look on how it inspired Chokyosai Eiri Plate 11 from his Fumi no kiyogaki series (c.1801).
Protrude
A young male makes love on the floor to his paramour. The female sticks out her tongue towards the mouth of the man. He has his head covered in a headscarf. His disheveled, curled sidelocks sticking out from underneath the headscarf, contrast with the straight, brushed up hairs of the collar of the woman's neck and her sidelocks. The folding screen (byōbu) behind them depicts chrysanthemums.
Fascinating
Purely as a work of bijin-ga (Beauty pictures) this scene of courtesan and secret lover ranks high not only in Eiri's oeuvre, but also in the annals of the ukiyo-e genre itself. Both design and coloring are impeccable and, for this period, there is nothing even in the work of the great Utamaro that really surpasses it. One feels, indeed, a little humbled – not to mention his most fascinating shunga album.
Very Erotic
Regarding the relation of this striking print to Utamaro (喜多川 歌麿) – showing a kept woman and her secret lover – I suspect that problems of taste will loom large in any evaluation. I personally find the Utamakura plate rather cloyingly heavy in tone and not, indeed, very erotic. Eiri – while adopting the same composition – creates a colorful world of real pleasure that one would be only too delighted to enter. Enough said.
Click HERE for the shunga designs from these series that feature intimate couples underneath a transparent kimono!