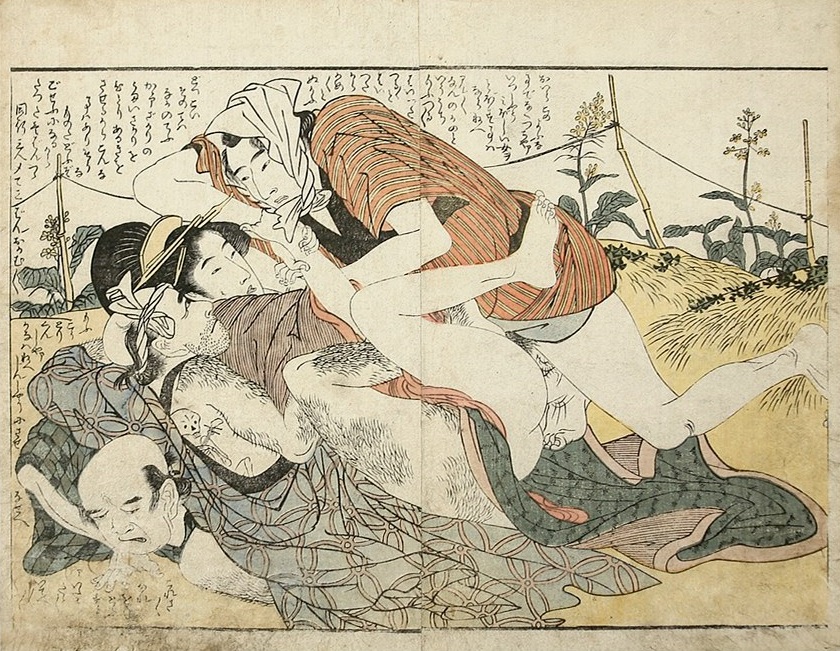 Unsettling Rape In a Rice Field By the Legendary Utamaro
喜多川 歌麿 春画  A rice field is the notorious setting of an unvoluntarily sex encounter with three men forcing themselves upon a frightened woman.  One of the attackers sports a tattoo on his upper right arm featuring a skeleton playing a shamisen (three-stringed instrument). Hana fubuki was simultaneously published in color and in black-and-white versions.
Luxurious Paradise
"…The use of color is truly remarkable, and the carving is outstanding in its precision and skill. Extraordinary skill was required, for example, to express the flowing beauty of precisely combed hair. Perhaps because by the time Utamaro created Hana fubuki, he had nearly twenty shunga books under his belt, the compositions offer no novelty. But in this splendid setting, Utamaro's men and women come alive and free in a luxurious paradise. (…)
No Rivals
In prints, Utamaro's art may have peaked in 1796 and subsequently declined, as the conventional wisdom has it. During precisely those years, however, his shunga works attained a maturity and mellowness that has no rivals". (Yoshikazu Hayashi in Vol. 18 of 'The Complete Ukiyo-e Shunga')
Part of the translation reads:
"This is the only way for guys like us to get a good local girl. One at a time, now, and worship this shrine your entering".
Click HERE for another article featuring the ghastly rape of a seamstress!