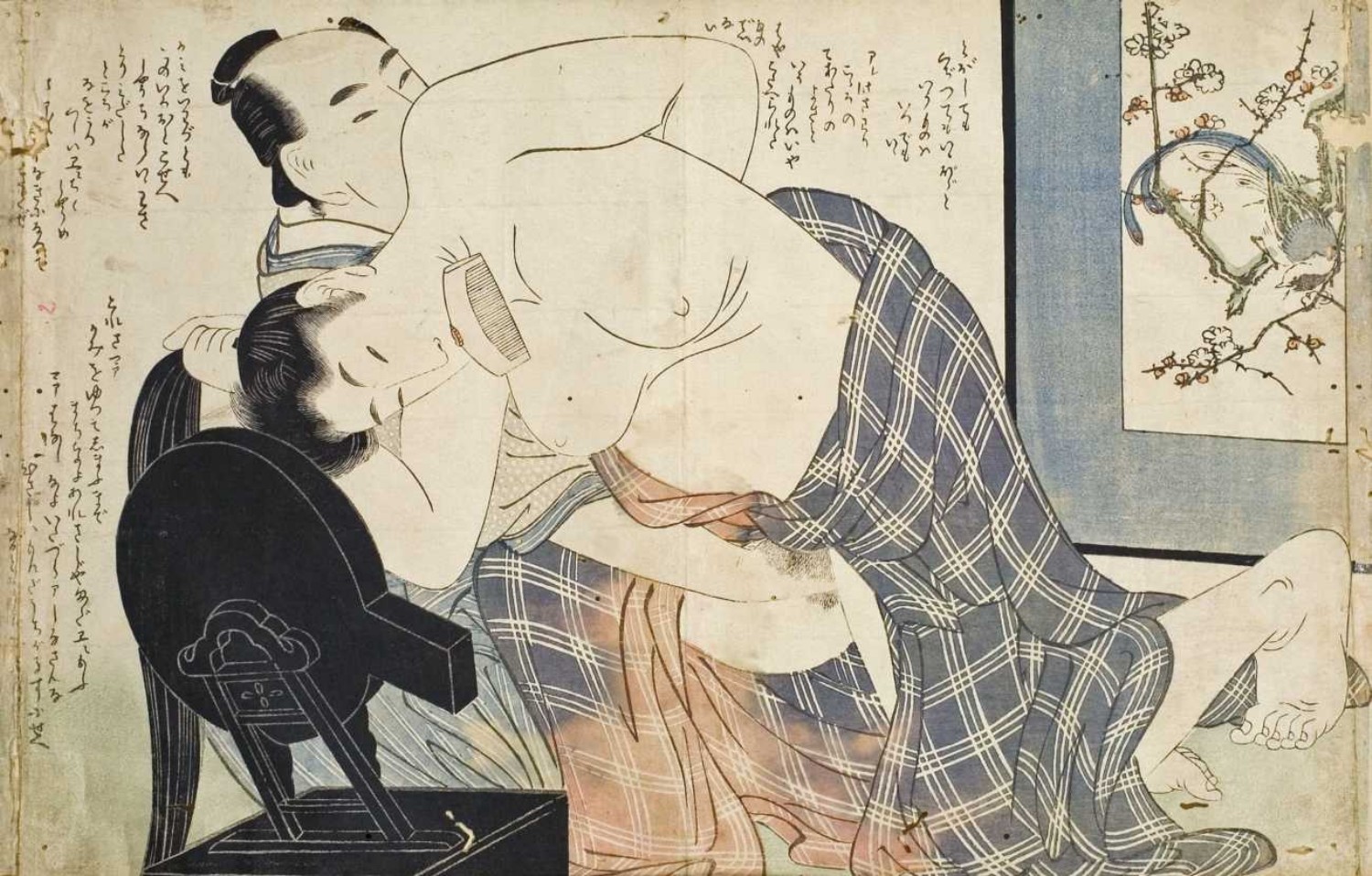 Utamaro Kitagawa Prints From His Crowning Komachi-Biki Series (P2)
Welcome to the sequel (click here for part 1) in which we'll focus on the remaining plates of the important and rare oban series 'Komachi-biki (Embracing Komachi/Venus)' by Utamaro.
Young Harlot
Plate 7: Another winter scene with a young harlot of the Fukugawa brothel-quarter prepares to mount the male, as he moves her leg about as with a lever, to maximize sexual pleasure.
Adulterous
Plate 8: A mature, adulterous wife actively engages on top of her young lover. The woman's hair is loosely tie, as though just after a bath.
Secret Encounter
Plate 9: A court lady sporting a white paper hat (ageboshi) enjoys a rare outing from her monotonous tasks at the Shogun's Court. Apparently she fakes a temple pilgrimage and instead arranged a secret encounter with her sweetheart at some isolated teahouse.
Embarrassed Maiden
Plate 10:  This design is most probably the most romantic of the whole set. A lower-class female servant and her young lover entertain themselves in a scarce moment of sex in a living room. They are in a front of a painted screen of brushwood fence and blooming chrysanthemums. The shy maiden comments: "I'm so embarrassed to be seen by you like this – don't look at me, don't look!…"
Scornful Teasing
Plate 11: Another encounter involving a maiden but in this case she is an atypically impudent, almost virile one, familiar with the ins and outs of sex. She encourages her adult lover with rude, rather scornful teasing, and in an aside remarks: "Thanks to the maitre Utamaro, year by year I've become more and more famous for this kind of thing…"
Blue-Magpie
Plate 12: An impatient male accosts a young married woman as she coifs her long, black braid before a mirror-stand. The screen on the right features a flowering plum- tree. The bird is a mature blue-magpie.
Earlier Masters
Richard Lane remarks on this image the following: "Utamaro was an eminently original artist, and I do not recall any obvious borrowings by him from earlier masters: though there be found, of course, interesting correspondences with several of his own earlier book illustrations. One book-plate of more than a generation earlier, however – by a major Kamigata artist – is of interest in relation to to Utamaro's Pl.12: if only, for indicating the sexual attraction of young women coiffing their raven locks…"
Impersonal
Plate 13: A couple prepare for intercourse. The man is wetting his fingers while the courtesan is lifting up her kimono… Only a master like Utamaro can make such a "impersonal" scene so unobtrusive and engaging!
Click HERE for more exciting content on Utamaro Kitagawa prints…!!!
Source: 'The Complete Ukiyo-e Shunga Vol.2 Embracing Venus: Utamaro and the Komachi-biki Shunga Album' by Richard Lane