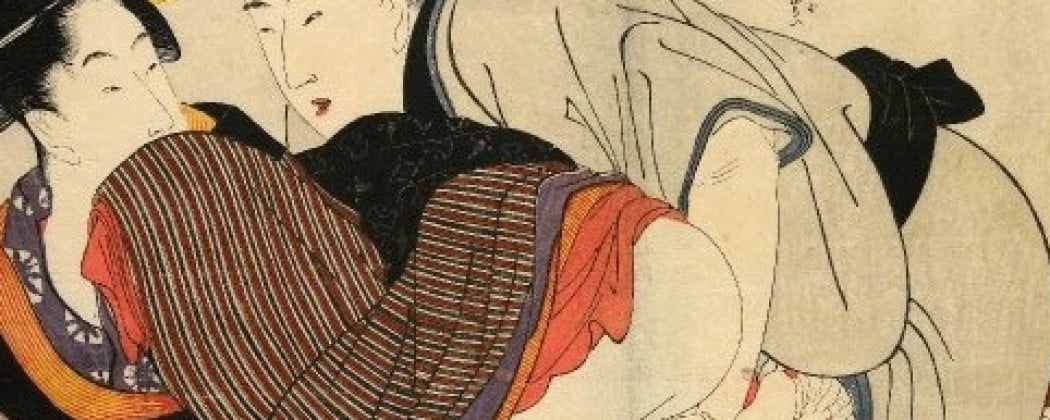 Utamaro's Lusty Widows and Secret Lovers
Here a widow secretly meets her married lover (Fig.1.). The emphasis on the eyes in Utamaro's art is shown in clear detail; the woman twists round to catch the man's gaze as he uses his fingers to stimulate her. She lifts her hand to her mouth in surprise at his bold move and raises her eyebrows in anticipation.
Chic Wife
The translation reveals that he tries to engage in some humorous banter about her 'pussy', but she tells him to stop kidding around and to 'get started quickly.' She wonders aloud what he sees in her when he already has a 'chic wife', although she herself is dressed in a fashionable striped robe.
Less Strict
This plate is from Utamaro's second oban-sized folding album of erotic prints called 'Unravelling the Threads of Desire ( Negai no itoguchi)', that was issued in 1799. This was the year when the censorship of the Kansei Reforms had become less strict.
Erotic Anecdotes
As was the case with most books this deluxe album was issued at New Year's day. The first edition started off with an abuna-e (a more suggestive design) that was followed by the usual twelve explicitly erotic images and the album was closed with three erotic anecdotes.
Elegant
Although the set is less audaciously experimental in its compositions than Poem of the Pillow of eleven years earlier, the protagonists are rendered in elegant details, with a fine, flowing line. In the included conversation the females candidly express their passionate appetites and take a more leading role during the intimate moments.
Broken Up
In the late nineteenth and early twentieth centuries, deluxe albums of this kind were often broken up by dealers to be sold individually, and the British Museum has only two sheets from the original sequence.
Utamaro's Universe
The theme of the widow and a secret lover is a recurring one within Utamaro's universe. Approximately a year later (c.1800) he produced a similar design in which the involved woman is a bit more reluctant (Fig.2.).
Lewd
A lewd male is trying to force intimacy upon his wife. A moment before she was just relaxing with a book and a pipe but her resistance is not very convincing when he puts his tongue in her mouth.
Click HERE for more content on the great Kitagawa Utamaro...!!!
Fig.2 is still available for sale in our gallery…!!!
Source: 'Shunga, Erotic Art in Japan'  by Rosina Buckland