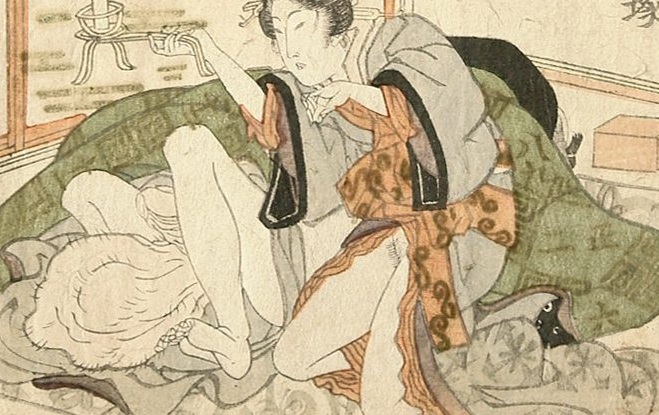 The Mysteriously Giant Testicles of a Brothel Visitor
In our collection we have got this rare shunga that includes an extraordinary feature. It is a so-called egoyomi (calendar print) published in small editions for only a small group of shunga aficionados. These smaller koban-sized pieces were elaborately printed with magnificent use of metallic pigments and line-carving.
Gigantic Scrotum
Comical depiction of a courtesan carrying a candle who is about to discover the gigantic scrotum of her client. The big testicles of the man in some way may refer to the Tanuki (raccoon dogs) with their magical scrota.
Elongated Limbs
Although unsigned, it is also suggested, regarding some specific style elements (particularly the loud kimono patterns and the elongated limbs), that this print has been designed by Kikugawa Eizan (1787-1867), who studied under Hokusai's pupil Totoya Hokkei (1790-1850).
Sophisticated
These egoyomi prints are highly sought after because of their sophisticated printing technique and the masterful craftmanship of the involved artists !
If you have any questions on this piece you can contact us HERE…!!!
Click HERE for an extensive article on Kikugawa Eizan and his characteristic art…!!!