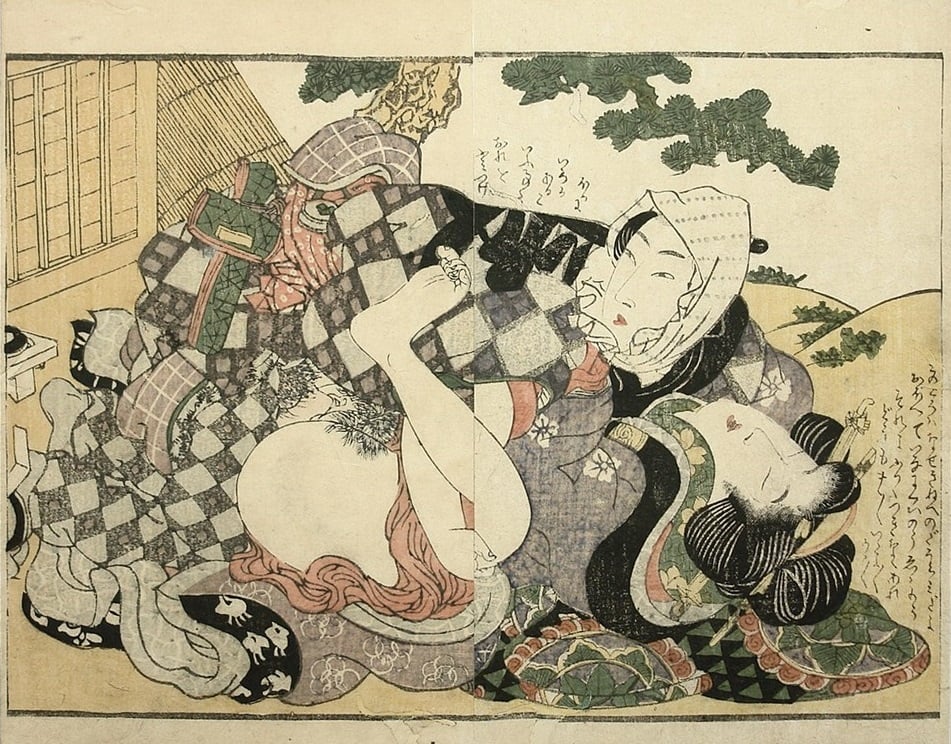 Kikugawa Eizan, What Was the Secret of His Success in Shunga?
Kikugawa Eizan (1787-1867) was born in Edo (now Tokyo), most probably on the ninth day of the ninth month of the year 1787. This might refer to his professional alias that sometimes emerges as 'Studio of the double nines (Chokyusai)'.
First Teacher
He was the son of Kikugawa Eiji, a manufacturer of decorative fans and artificial flowers. Many of these environmental factors can be found in Eizan's pictorial style, and particularly in his erotic work. His father was a painter and a student of the Kano school and therefore became his first teacher.
Naturalistic
Eizan then studied under Nanrei (1775-1844), a representative of the naturalistic Shijo school. He befriended Totoya Hokkei (1780-1850), a pupil of the superior Hokusai, through whom he also became acquainted and influenced by the great master.
Utamaro
However, Eizan's decisive point of reference was Utamaro. The quality of the latter's work had somewhat declined in his later career after the death in 1797 of his highly-skilled friend, mentor and publisher, Tsutaya Juzaburo. Eizan was only twenty years old when the ukiyo-e genius died in 1806, and prepared himself to succeed him and take his prominent place in the portrayal of female beauty (bijin-ga).
Irrefutable Leader
In a short time he became the irrefutable leader in that genre of the Floating World. Besides Eizan's pictorial ability and sense of color, this success was brought about by two ingredients: he embraced Utamaro's visual imagination, without copying it directly, and his companionship with another successful ukiyo-e artist, Toyokuni (1769-1825), who was one of the most contemporary artists of his time. He had a influential, blooming studio, and assisted Eizan to enter the market at a high level.
'Eizan Face'
Eizan also founded the Kikugawa school, whose main pupil was the extraordinary Keisai Eisen (1790-1848), and became one of the most productive producers of female beauty of his time. He was so much committed to this genre that the term 'Eizan face' (eizangao) was invented to indicate his specific style of portraying women.
Key Feature
From c.1808 Eizan started to produce erotic works. Soon his characteristic trademarks; his passion for color, and the rich patterns of flowers, plants and other motifs from nature were incorporated in his shunga. These particular elements can be attributed to his family background, and are a key feature of his art.
Click HERE and check out some great content on Eizan's famous pupil Keisai Eisen…!!!
If you have any suggestions (artists/subjects/genres…etc.) for future articles please let me know in the comment box below!