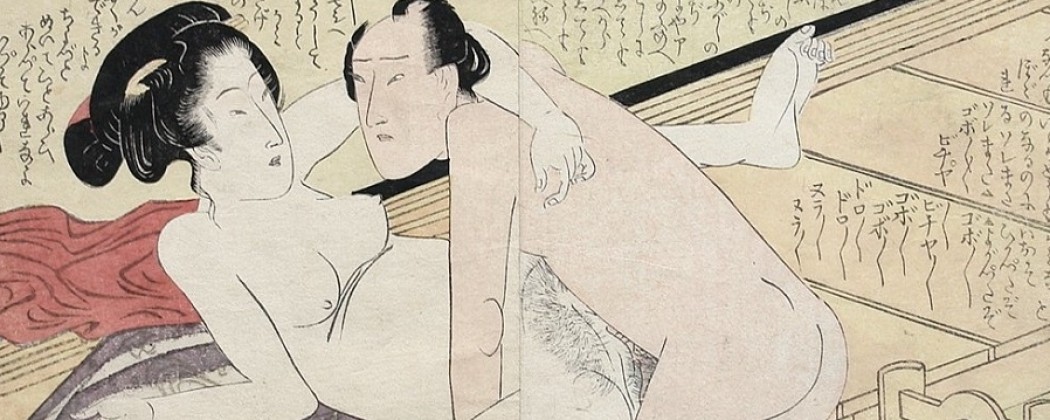 The Scarce Erotic Art by the Osaka Artist Goshichi
On the internet little information is shared on the Osaka artist Harukawa Goshichi (b.1776-). Wikipedia only mentions that he was a pupil of Harukawa Eizan (not to be confused with the Edo artist Kikugawa Eizan) who was active in the 1790s.
Portraits of Actors
Goshichi was born in Koishikawa in Edo (now Tokyo), and lived in Kyoto from approximately the end of the Bunka period (1804-1818). He lived in the neighborhood of Obara Yasaka in Kyoto. During the period he lived in Edo, he drew and published narrow-format portraits of actors.
Novels
According to one source,"Using his alias, Kamesuke, he wrote manuscripts and also personally drew and carved the artwork as well. It seems that many of his novels, such as Ten-en kigu (three volumes) and Kuchi Hatcho (middle-sized work) included artwork that he had done himself." From this and other evidence, it seems that he had a hand in the entire production process of his novels.
Glans Penises
Though Goshichi used various pen-names, pseudonyms and artist names he did not seem to mind using his artist name Harukawa even for his shunga work. It is said that his artwork in books resembles Hokusai's work and show a resemblance to Hokusai's style. Another striking feature of Goshichi's style is the depiction of the phalli and the emphasis on large glans penises.
Kamigata
His shunga work was done in kamigata (Osaka, Kyoto) style printing. Although kamigata-style multi-color printing is reminiscent of Edo-style printing, the tone of the colors of the first is less clear and more opaque because powder has been added to each color, making them more pastel.
The following series is called 'Fuzoku wakamizu' and is from the 1810s…
Geisha Pillows
A courtesan directs the penis of her client to her private parts while he holds on to the geisha pillows (takamakura) behind him.
Homoerotic
A rather remarkable close-up design with homoerotic connotations. The set includes another design that is less mysterious in its visual explanation of cunnilingus. So the above design could very well be hinting at oral gay sex.
Old Lady
A couple in a complicated intimate pose watched upon by a fascinated old lady.
Vessel
Another design that show us the participation of an elderly person in an intimate encounter. The younger male is laying underneath a porch about to penetrate the courtesan sitting on the veranda while the old man caresses one of her breasts. In the background a vessel burns to scare off mosquitoes.
Bathhouse
In a bathhouse a completely naked male is standing in a tub while penetrating his beloved wife.
This video shows you 10 other striking erotic designs by Goshichi:
Click HERE to explore the erotic work by Hokusai who was an important influence of this Osaka artist…!!!
The above art is available in our gallery and can be found through the following link…!!!