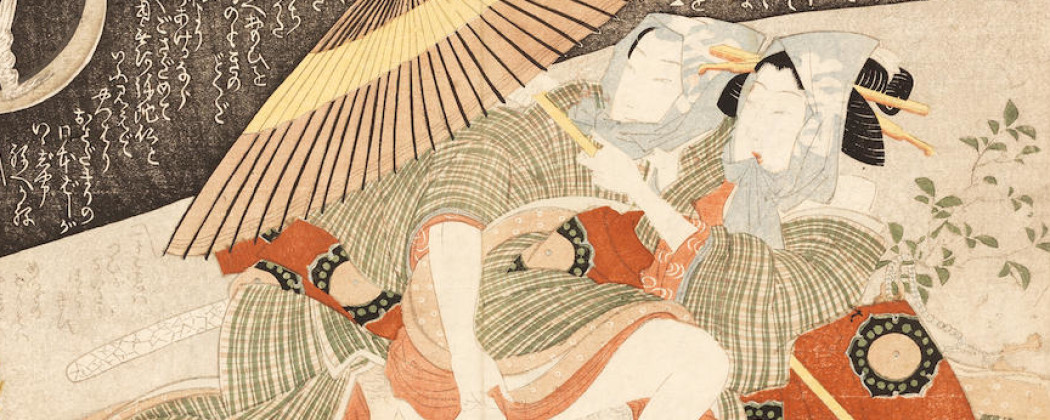 Harukawa Goshichi and His Image of the Ominous Flight of the Hototogisu
According to the late ukiyo-e expert Richard Lane, the Osaka artist Harukawa Goshichi (1776-c.1832) is one of the most difficult yet intriguing of the shunga artists. He bridged the gap between Edo and Kyoto ukiyo-e.
Social Backgrounds
The compelling plateau in this post is from a discerning untitled series Goshichi produced in the late 18th/early 19th century. The set consists of twelve aiban*-sized shunga prints from an album depicting twelve sensual scenes of love-making with twelve couples from various social backgrounds and professions including a courtesan and her client, a middle-aged woman and a priest, and a samurai and a princess.
Menacing
A compelling print with a rather menacing scene set in a dark setting on a hill in a rice field. We are clearly looking at a secret rendezvous here, as emphasized by the umbrella they are hiding behind and the scarves they have wrapped around their faces.
Hototogisu
The clandestine lovers are startled by a hototogisu (Japanese cuckoo) flying overhead lit by a waning crescent moon in a pitch-black sky. In Japan, it is believed that the cuckoo calls spirits to the next world. It symbolizes the transience of life as well as loneliness and melancholy. The cuckoo is also the symbol of spring and is normally included in more peaceful shunga designs (Fig.3).
White Text
Another striking feature that makes this image stand out is the choice to use white text (normally black) depicted in the black sky.
Click HERE for another article on the rare shunga work of Harukawa Goshichi….!!
*aiban is ca. 9″ x 13″ (34.2 x 22.5 cm). It is in between ōban (10″ x 15″ / 25 x 38 cm) and chūban sizes ( 7″ x 10″/ 19 x 25 cm).