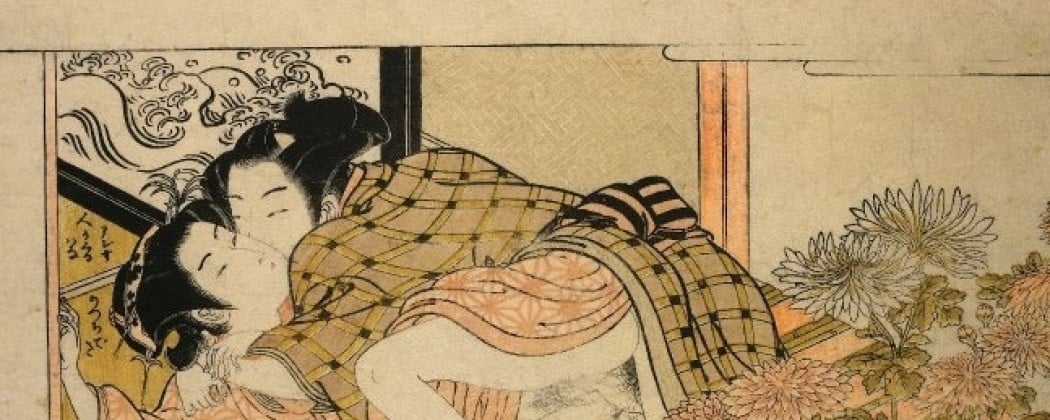 The Sensual Dialogue Between a Young Couple and the Chrysanthemums
Many couples in shunga select "dangerous" places for their secret rendezvous, and are anxious of being caught. The veranda which wrapped around traditional architecture is one such locale. The energetic thrust of the young man's love-making here pushes the woman back into the room, and she braces herself on the door.
Surging Waves
The surging waves on the screen painting echo the powerful sensations. Also there seems to be a sensual "dialogue" between the merging bodies and the overhanging chrysanthemums on the right.
Anxious
The young couple appears anxious and the woman is nervous that her parents will return and discover them: "Someone's coming. Let's go inside", she says.
Pablo Picasso
The great Spanish artist Pablo Picasso (1881-1973) owned an impression of the above Koryusai print. The compositional layout and the configuration of the couple in Koryusai's work shares similarities with Picasso's set of etchings, The Embrace (Fig.2). Like Koryusai before him, Picasso merges the two bodies to become a compact, unattainable whole.
Impossible Postures
It is this compositional arrangement and the seemingly impossible poses that permit a glimpse into the relationship between shunga and Picasso. Furthermore, it has often been noted that one component of shunga is the emphasis on the figures' faces and genitals through their exaggeration and the framing of the genitalia by textiles and contour lines (Fig.3).
Click HERE for another lovely piece from this series by Koryusai involving a peeking infant…!!!
Source: 'Shunga, Erotic Art in Japan' by Rosina Buckland
'Erotic Japonsime: The Influence of Japanese Sexual Imagery on Western Art' by Ricard Bru