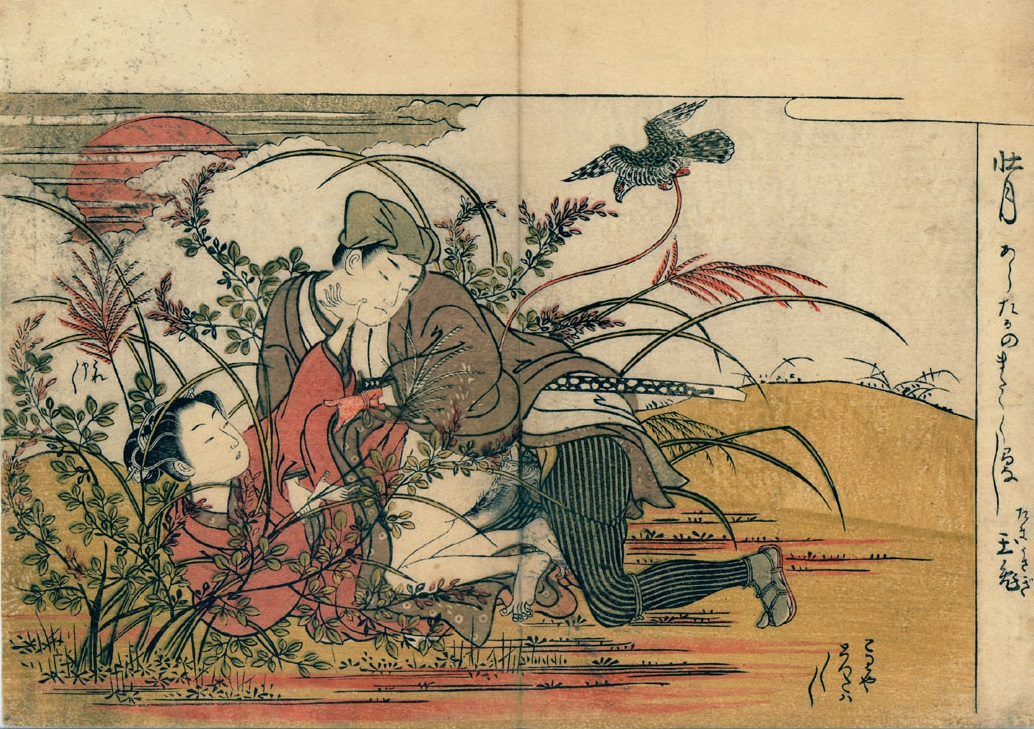 A Shocking Shunga Design Featuring a Raping Falconer
The disquieting erotic image by Isoda Koryusai (1735-1790) that we'll discuss today is from a set of twelve chuban (mid-size format) designs called 'Prosperous Flowers of the Elegant Twelve Seasons (Furyu juniki no eika)' published around 1772-73.
An aggressive shunga scene showing the rape of a young girl. A falconer forces the girl down to the ground in the middle of grass and Japanese clover and mishandles her violently. The girl tries to push the man away, but he is obviously too strong for her. The falcon, fastened to the man's wrist with a rope, watches the scene from the air.
Falconry
Falcons symbolise power and heroism. The sport of falconry was introduced to Japan from Korea in about 350 AD and was mainly practised by the upper classes. This image represents the eighth month (Hazuki).
The last two characters of the text in the right margin form the word Gyoku-to ('Jewelled Hare', 'Red Hare', 'Moon Rabbit' or 'Jade Rabbit'), which according to legend, lives in the moon, and often sits under a cassia tree. Cassia leaves turn red in the autumn, which explains the brilliant red lustre of the moon in this design.
The haiku poem reads:
Arataka no
matataku mo nashi
tama nashi
A miracle
in the blink
of an eye:
the hare in
the moon.
The meaning of the verse is that in the blink of the eye the form of a hare becomes visible on the moon's surface, just like the falconer who suddenly crosses the path of the lovely young girl.
The following video (only visible on our site!) features more heinous shunga designs featuring the act of rape:
Sources: 'Japanese Erotic Prints, Shunga by Harunobu & Koryusai' by
Inge Klompmakers
'Japanese Erotic Fantasies, Sexual Imagery of the Edo Period'
by Chris Uhlenbeck