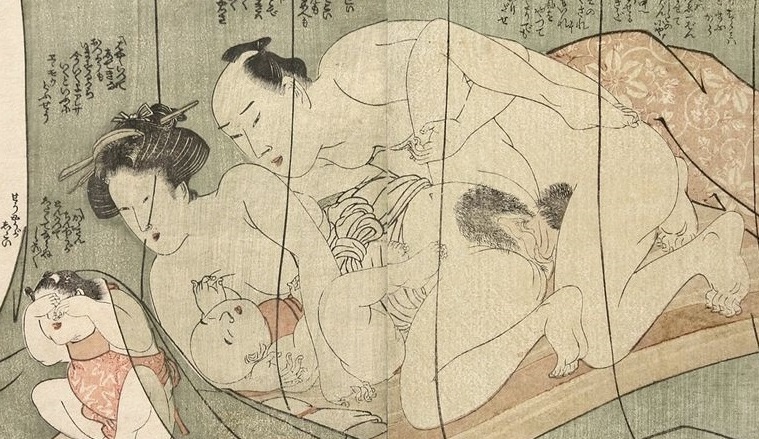 Shunga by Utamaro Depicting 'Couple and Kids Underneath Mosquito Net'
Why is the little boy in this shunga design crying? And what does the 'Rabbit in the Moon' fable has to do with this?
A lovely family scene depicted from behind a mosquito-net. The husband is making love to his wife while she's breastfeeding their youngest child.
The older boy is whining and has seperated himself from his parents. A lovely detail is the newborn's little hand pinching his mother's chest !
Translation of the Japanese text by Airi Nakano:
"The married couple having intercourse underneath the mosquito-netting have awoken their offspring. There are two children.
The crying child: "Mom, I don't want to see the rabbit anymore."
Rabbit in the Moon
In Japan, it is said that there are rabbits on the moon (called Moon Rabbit or Jade Rabbit). This is because the shape of the lunar crater looks like a rabbit pounding rice cake (mochi) with a mortar and pestle. In Japan the rabbit in the moon is called 'Tsuki no usagi'.
If you have any requests or suggestions for future posts/articles please don't hesitate contacting me!