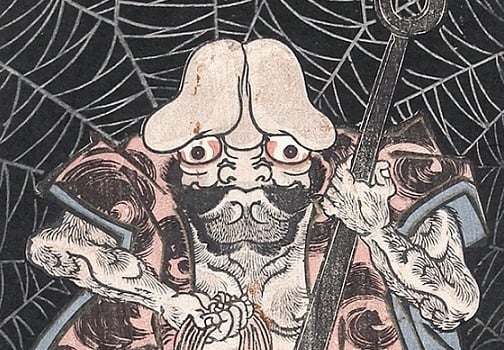 Picasso's Erotic Dialogue With a Levitating Phallic God
In the summer of 1903, one year before Pablo Picasso (1881-1973) moved permanently to Paris, he created a series of drawings that clearly establish an aesthetic dialogue with Japanese erotic imagery. This series was produced on the back of business cards for the Barcelona store Juner Hnos.
Gigantic Phallus
The drawings included imaginary representations analogous to shunga. Because a lot of Picasso's erotic works have been lost these drawings are today among some of the young artist's richest and most original erotic pieces. For instance, a gigantic phallus with a human face (Fig.1.) that approximates an illustration in 'Fashionable Men of the Zodiac Year' (Fig.2.) by Utagawa Kunitora (act.c. 1804-1844).
Inspiration
Although a young Picasso dismissed any interest in Japonisme, years later he would ultimately assemble a magnificent shunga collection. This collection became a source of inspiration for some of his later series of erotic prints.
Big Whiskers
The phallic god in Kunitora's print is levitating above a Gomoku board game and in front of a cobweb. In contrast to the determined look of Picasso's phallus figure, Kunitora's phallic god looks at the viewer with sad-looking eyes. In his hairy hands he holds a higozuiki rope (sex toy) and some kind of iron scepter. His melancholic facial expression is emphasized by his striking lower jaw that sports big whiskers.
In another design by Kunitora you can witness the shocking abuse of a long-necked demon!
Click HERE to learn about another famous artist who was fascinated by shunga!
Source: 'Erotic Japonisme: The Influence of Japanese Sexual Imagery on Western Art' by Ricard Bru