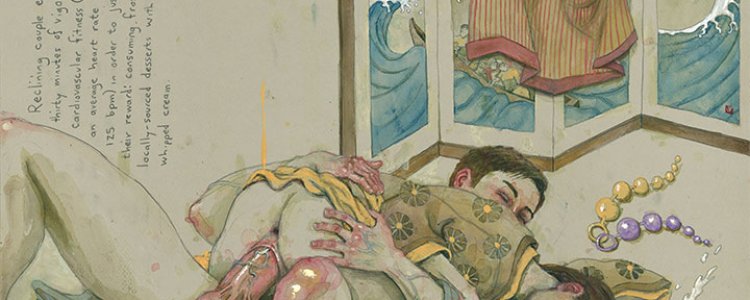 Jeff Faerber's Vigorous Cardiovascular Fitness and One Half of a Duo
The modern shunga artist Jeff Faerber has just finished two new paintings. I love the yellow coloring details in the first one, the ode to Hokusai's The Great Wave featured on the folding screen in the background and the orgasmic whipped cream spray…
iPhone
An amusing adaptation in the above painting is the dialogue during sex with the woman communicating, through her iPhone, with an external source. In the traditional Japanese shunga the dialogue was often a vulgar exchange of words between the portrayed protagonists.  The purple eggplant emoji has various sexual meanings in contemporary communication.
Click HERE for more compelling content on the subversive art by Jeff Faerber (also includes an engaging interview with the artist)…!!!
If you want to own one of his controversial pieces you can explore it here…!!!