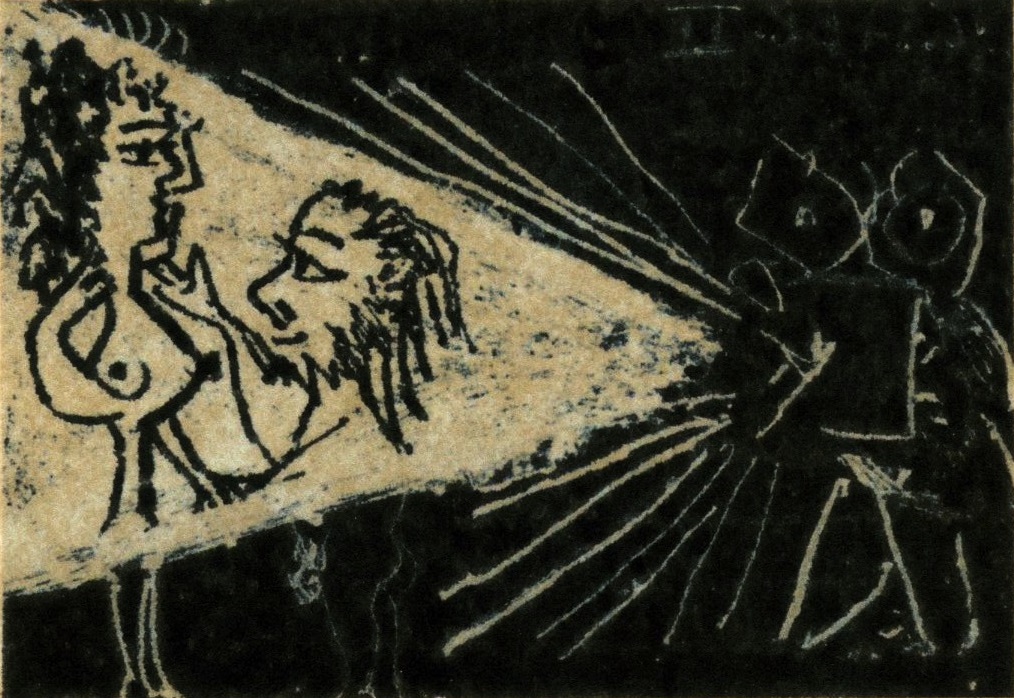 A Conversation with a Boston Collector on Picasso, Shunga, Dali, and Much More
This week we had an extensive conversation with one of our long-time clients. James Holland is a humble retired photojournalist, real estate broker and art collector from Boston, Massachusetts. He shares his personal story, tells about his art and book collection, his special encounter with Salvador Dali and a phallic oriented Japanese artist, how he got inspired by Frank Lloyd Wright, what intrigues him about shunga and offers some nice insights on Picasso etchings.
When did you start collecting shunga?
I didn't start collecting shunga until my mid-fifties. One of the reasons for that starting date was that the pencil-signed Picasso etchings I'd previously been collecting were becoming too expensive for me. Most of my Picasso prints are from his 347 Series. That series takes its name from the prodigious output of 347 prints completed between March 16th and October 5, 1968. The series were made in collaboration with the master printer Aldo and Piero Crommelynck at their South of France Studio at Mougins.
Picasso's 347 Series
The 347 Series is famous because it was produced at a rate of nearly two original images per day. The subject matter represented most of Picasso's favorite themes. Those themes included bullfights, circuses, politics, sex and women. Picasso was creating parody, especially against the church in a very sexual and bawdy manner or as one English critic so aptly wrote, "The artist playing on sex and humour, pays scant respect to major episodes in the Judeo-Christian tradition."
When his art dealers would go to see Picasso and pick up prints from the 347 Series they would bring a suitcase full of cash. Picasso and the dealer would sit at a table and every time Picasso signed another print from the series with his pencil, the dealer would hand him another 5-franc note.
Gary Cooper
I'd always been fascinated by Picasso since one of my favorite photojournalists, David Douglas Duncan, who had become friendly with Picasso published his photo biography of the artist "The Private World of Pablo Picasso" and followed that book with two more high quality collections of Picasso's art. Duncan's work showed the artist relaxing, visiting with guests and or course, working.
Actor Gary Cooper visited Picasso in the 1950's and brought along an American Indian Eagle Feather War Bonnet and a Wild West cowboy's gun belt and revolver. Picasso was soon trying on the Chief's war bonnet and playing with the gun belt and pistol.
Motion Picture Industry
He also created two small etchings as a tribute to the motion picture business. While this limited edition of 50 pencil signed prints and 17 pencil signed proofs are extremely rare and much sought after by the motion picture industry, I was lucky enough to acquire one of the pencil signed images and it's one of the favorite pieces in my personal collection (see Fig.4.). I've had several opportunities to sell it at a huge profit, but I prefer to keep it for one of my sons who is also in the motion picture business.
8 Tons of Books
Over my lifetime I collected many different things including American pioneer gold coins, books, (over the past few years I've donated 8 tons of books to various public libraries), pre-Columbian art, photographs, paintings, etchings and Japanese Art including shunga. Shunga prints were much less expensive than most of the other items I collected. Most of my shunga collection consists of works featuring Octopus and Abalone Pearl Divers. The second largest part of my shunga collection is works showing demons, wizards and Japanese magic.
Frank Lloyd Wright
I was inspired by World Famous Architect Frank Lloyd Wright who reportedly gathered together one of the largest collections of Japanese Art and shunga prints while he was working in that country. He was also a very successful dealer in that Japanese art form and used his profits from his Japanese art dealing to live on while working on his architecture endeavors. Many of the Japanese art pieces he collected ended up in the finest American Museum Collections. He loved ukiyo-e (pictures of the floating world) that consisted of mass-produced colored woodcuts that appealed to the typical citizens of Edo, now modern Tokyo during the eighteenth and nineteenth centuries.
1000 Structures
I was stunned to learn that the world famous American architect who designed more than 1000 structures, of which 532 were actually built, had to supplement his work and lifestyle dealing Japanese woodcut prints of "the floating world." I figured if it was a good enough collectable for Frank Lloyd Wright, it was certainly something I could also appreciate and collect, alas on a much more modest scale.
Books and model ships were my first collections. I quickly grew tired of the model ships but the book collecting has lasted a lifetime.
My mother was an amateur artist who eventually became a successful interior designer so that's probably where my artistic sense originated.
Amazon's Top 500 Book Reviewers
Starting in my sixth grade class at Roundtree Elementary School I started writing articles and reviews of books and movies. That habit of writing movie and book reviews has continued for more than sixty-five years. Until recently I was the movie critic for a blog and would still be doing that if the blog hadn't ceased publication. I still write an occasional reader review for Amazon and did that regularly until the IRS decided that reviewers would have to declare and pay income taxes on the free books they got from Amazon.
Rather than spending 20-40 hours reading one of Amazon's Review books, then spending a couple of hours writing a review, the fact that the IRS wanted reviewers to pay income taxes on the free review copies, I decided my reviewing books habit was just too costly. At one time I was one of Amazon's top 500 book reviewers.
Karate and Kung Fu
When my three children were taking karate lessons, my wife and I also joined the adult classes. We also competed in the same karate and kung fu tournaments that our children did. We were really into the karate competition and for several years we traveled to tournaments all over North America. We were all regionally and nationally ranked black belts in our separate age divisions That interest in karate lasted until my sons got fully involved in little league baseball and my daughter in tennis. Now, only my youngest son Eric practices Kung Fu.
Our years of karate was another reason I liked Japanese Prints as well as movies such as "47 Ronin" starring Keanu Reeves. The world of the samurai portrayed in that movie is much the same world captured in shunga from the Edo Period.
Ditto for the earlier 1954 Japanese epic samurai drama "Seven Samurai, although it lacked all the demons and evil witches illustrated in "47 Ronin". "Shogun" with Richard Chamberlain also wet the fancy of a public curious about Japanese history, but again without the demons and witchcraft of shunga themes.
What is your favorite ukiyo-e (shunga) print and why?
Wave and Pearl Diver
"The Great Wave off Kanagawa" by Hokusai is probably my favorite Edo Period print. I like a couple of other images in Hokusai's series "Thirty-six Views of Mount Fuji." My favorite shunga image is "Dream of the Fisherman's Wife" also by Hokusai. Also known, as "Tako to ama" which translated from Japanese to English is "Pearl Diver and Two Octopi." This image reportedly caused Sigmund Freud to develop an entirely new area of sexual theory. Even Picasso copied the image's subject matter in one of his paintings in 1903 that was later shown next to Hokusai's original in exhibits about the influence of 19th Century art on Picasso.
Background Story
It's not easy for me to introduce myself because I'm what most people would consider a Hill Billy born and raised in the Ozark Mountains of Missouri. I'm sometimes recognized only because I went from a Hill Billy from the Ozarks to a Hill Billy living on Boston's Beacon Hill after a brief couple of years in Beverly Hills, CA. I'm the son of ordinary working class parents. Beginning when I was 12 years old I started cutting lawns dawn to dusk in the neighborhood on Thursday, Friday and Saturday.
Baseball Cards
Everyone wanted their lawns looking nice for Sunday. In the winter I shoveled snow, helped out on a newspaper route twice a week, and worked in a used bookstore after school. On weekends the owner of that bookstore would have me go to estate sales being held in town. Primarily I was looking for books to buy especially copies of rare children's illustrated books. I was also looking for collections of long-forgotten baseball cards. Unlike me, not every baseball card collector used their cards to make their bicycles sound like motorbikes by attaching them to the bicycle spokes with clothespins.
Steak and Shake
I was making so much money with my lawn cutting business that I never went to work at any of the nearby factories or farms. They didn't pay nearly as well and required at least 40 hours of work. I did spend a summer before college working in a Steak and Shake fast food company for a dollar an hour. Twice a week, after my long days of opening the shop at 5 a.m., preparing the burger patties, peeling potatoes and half cooking the fries and then working the ice cream fountain or grill I'd unload the semi-trailer truck before returning home. Then I'd go out to photograph little league baseball teams and horse shows. I had a partner who printed the photos and we split the profits, if any.
Photography
At college I continued my freelance photography and worked part time in the campus bookstore. I transferred to three other colleges before finally graduating with a BFA from Ohio University in Athens Ohio. I was photography major with minors in art, art history, journalism and economics because of all the classes I'd taken at the other colleges. I won a top prize at Ohio University for my personal book collection.
National Geographic Magazine
I was a good photojournalist and ended up with a summer internship as a photographer for National Geographic Magazine. I was surprised that my internship, which was a 24/7 job, paid less than I had been making with my lawn cutting business, but then it was a dream job and I had an expense account when I was working out of Washington, D.C. In the fall I attended the University of Missouri School of Journalism at Columbia, MO. After one term I left and enlisted in the U.S. Navy. I was promised that for my six-year enlistment I'd be trained and employed as a photographer. That sounded much superior to sitting in a rain-filled foxhole in the jungle.
Successful Shooter
While I'd passed the Army Induction Physical when I turned up for actual induction, I failed the Navy physical and was sent home with a 4F draft designation. Since I'd already left graduate school and even sold my car I decided to freelance and was soon working as a contract photographer for National Geographic. I was a successful shooter, but knew that NGS was not the place for me. All the photographers were divorced because of their frequent months away from home and family.
When the Christian Science Center in Boston offered me a job as an audiovisual and film producer, and promised to train me, I jumped at the opportunity for some stability in my life. The next half dozen years were the only time I was a regular employee of any company or institution. Even while there I wrote and had published three books—"The Amazon", " Mr. Pops: Arthur Fiedler", and "Tanglewood."
At this time I'm working on either my 24th or 25th book, depending on whether the total number allows major revisions with 25% more material to be counted as separate titles. I'm also trying to get all my hardcover titles also released as E-Books.
Real Estate Broker
I met a wonderful Irish-American woman and settled down to married life. We bought an old brownstone of Commonwealth Avenue and over the next few years renovated it and then repeated the process on some other brownstones. I'd continued to do freelance work, but once we were blessed with three children I went to work as a real estate broker in order to make more money, again as an independent contractor and not an employee.
Our real estate business prospered and we continue to invest in it. Eventually, we were even making money and we could start collecting something other than brownstones. We made a small fortune, lost about half of it in an economic downturn, but then rebuilt our little real estate empire. Sometime the only way to save a business is to prune it.
Rare Pioneer Gold Coins
During these years I was constantly collecting various kinds of things. When I was collecting rare pioneer gold coins I was also taking the pictures for my favorite coin dealer's sales catalogues. I enjoyed that task because of the history I was learning while doing it. I was handling rare pennies that Ben Franklin may have used to buy several loaves of bread. Those same copper pennies, in excellent condition, are today worth enough to trade for a new car.
Mormon Gold
When photographing Mormon Gold I learned that most of those coins were melted down because they were all short 10% of the coins supposed gold content. But they were much in demand today because every Mormon Church wants to have a collection of the old coins for their individual churches.
Rising Prices
The rising prices of rare coins during the Carter Presidency soon made my collecting of that product too expensive. I switched to "pattern coins" or copper coins used as designs for the gold coins. The pattern coins are usually much larger. I remember at one time I owned three or four of the only six copper pattern coins ever created for the $20 Pike's Peak Pioneer Gold Coin.
$250,000 Roof
During all these years I continued to produce books, monographs, magazine articles, book and movie reviews. I also continued my various collections, but at a much more modest pace. My wife and I donated one of our 22-unit brick and concrete apartment houses to Drury College in my hometown of Springfield, MO. It was a good solid building with a brand new $250,000 roof and new air-conditioning system. Drury immediately tore the structure down and made the site into a park. A couple of years later they built new housing on the park. They had plenty of donations for new construction but none for buying and renovating older historic structures.
Paul Revere
Over the years I've been a patron to various local artists and have as many as 200 oil paintings from some of them. I've also collected original individual prints and works by the masters, but they are too expensive to collect in volume. They are also usually quite small and black & white while I love colorful oils. Long after I'd photographed a lot of Colonial Currency printed and signed on the plates by Paul Revere I was working on one of my 40-year book projects entitled "Boston's Notable Addresses: Historic Homes and the Residents That Made Them So."
I was researching the oldest houses in Boston's North End and I unexpectedly found myself holding fragile parchment deeds, transfers of property and other legal documents signed by Paul Revere as a witness. I was stuck by the fact that these rare historic documents were so accessible to anybody who asked about the properties. I wondered how long before those original Paul Revere signed parchments would end up in private autograph collections. I'll bet that happened not long after I was studying them. Their care and location didn't seem to be major concern of the Boston and Suffolk County government agencies.
Salvador Dali
In 1967 a photographer friend of mine I was staying with invited me to join him for a meeting with the Father of Surrealism Salvador Dali at the hotel where he was staying during his visit to NYC. We met in the dining room and Dali introduced us to the young Japanese Artist with whom he was discussing art. Her name was Yayoi Kusama and she was busy designing phallic furniture or something to that effect. It was basically chairs and beds made up entirely of erect plastic and cloth penises instead of traditional springs.
Phallic Furniture
After my brief meeting with Dali I collected many of his artworks including some really erotic and pencil signed self-portraits, I never did add any of Kusama's work to my collection. At the time we met she was mostly involved in her phallic furniture and posing in the nude with it for publicity as well as presenting public body painting installations so she wasn't an artist I could easily collect.
I've always been amazed at how lucky my wife and I were with our real-estate businesses. We always figured it was because of the six years I worked for the Christian Science Church for not very much money.
James wrote several books on various topics such as the Klan Rally, the art of William O'Keefe, Diamonds and Photography. They can be found at Amazon..!!
All the above shunga pieces were bought at our gallery…!!
All the above pieces are part of the James R. Holland Sr. collection.
Click HERE for more shunga collector's stories…!!!