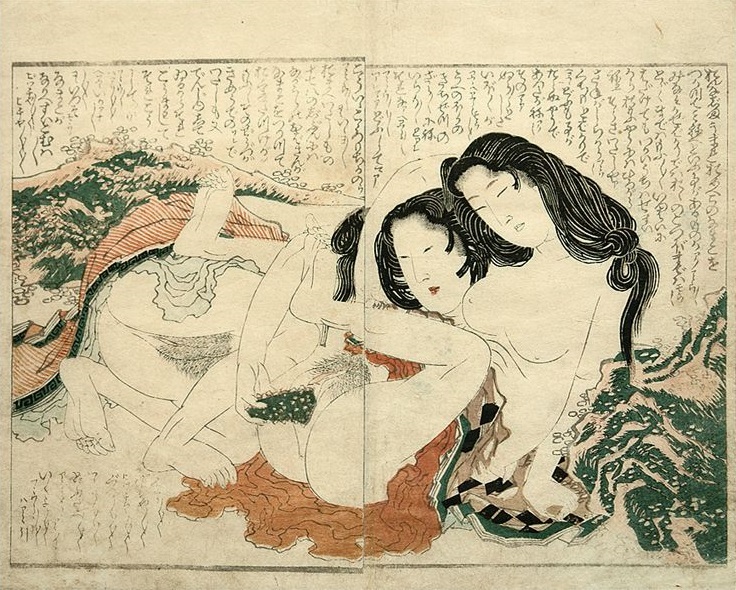 The Mesmerizing Lesbian Abalone Divers By Hokusai
A superb shunga fantasy scene by Katsushika Hokusai (1760-1849) featuring two love-making Awabi (ama/ abalone) divers. One of the young females gently moves a sea-cucumber (a makeshift dildo) into her lover's private parts, with the sea in the background as their silent witness. This scene reminisces Hokusai's earlier 'The Dream of the Fisherman's Wife' (c.1814) which has a similar isolated setting, a cleft between two rocks, where the action takes place.
Lesbian Couple
Hokusai's well-known series 'Young Pine Saplings (Kinoe no komatsu)' includes an image which depicts a lesbian couple in a similar pose with one of them wearing a harigata (dildo). The abalone (Awabi or Ama) diver was (and is) a profession practiced by women who dive for pearls wearing nothing more than a loincloth.
Hokusai's Nude Figure
Hokusai took an interest in the nude figure in a way that was rare in Japanese art. Such an impression is reinforced by the manner in which he drew it, which is far closer in concept, if not in style, to Western expressive considerations.
Hokusai is indeed reputed to have used his daughter Oi, who was also an artist, as a model for such prints (just as Utamaro is said to have made preporatory studies from his younger sister). His nudes, for all their linearity, have about them the air of direct observation as opposed to the more schematic, more conceptualized, representations of the majority of his colleagues.
Click here for the translations of the Hokusai designs The Horny Widow and The Malicious Monk.
Please don't be reluctant if you have any questions or want to add comments, remarks, or suggestions for other subjects, artists…etc. in future articles! I will refer to you in that particular article!