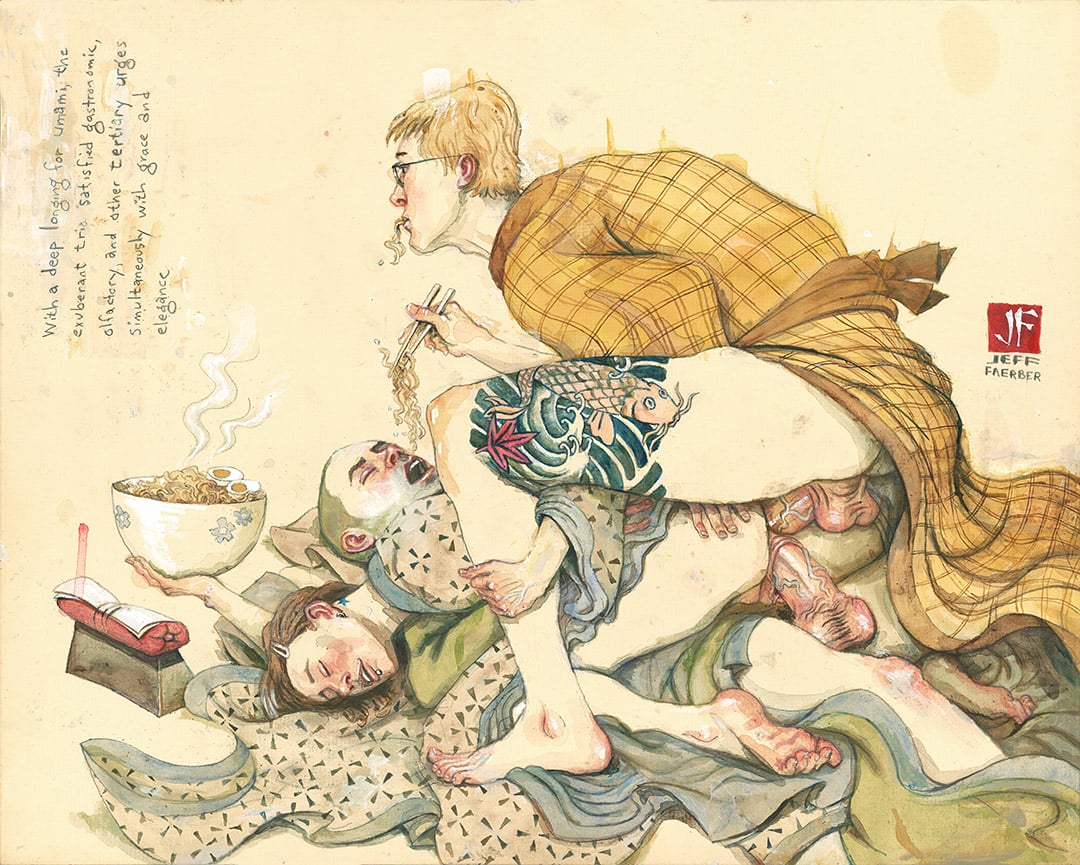 The Sensuous Longing For Umami During a DP Session
This new piece by Jeff Faerber displays a threesome involved in a double-penetration session. The spectacled multi-tasking male on top penetrates the underlying man while eating and feeding umami* to the latter.
Thigh-bone Tattoo
The woman, who has a labret piercing, holds the bowl with the steaming umami in the air, while holding onto the leg of one of the males at the same time. The above male sports a striking thigh-bone tattoo of a koi fish jumping the waves. The reference to classical shunga can be seen, for example, in the placement of the slip of the yellow kimono revealing the genitals.
The artist was so kind to share some thoughts on this work…
"With our busy lifestyle, there is a tendency to try to multi-task. I tried to think of the most intense sex act and thought it'd be funny if those engaged in it, decided to pack in a meal during it. Thus, we have a three-some with double penetration. I figure that a large bowl of broth would be hard to consume (yet alone balance) with all of the movement, and thought the slurping sounds from eating noodles could mirror the wet sounds of skin-on-skin contact. Also, I figured that these figures deep love for food would parallel their other bodily enjoyment. All of their senses engaged at the same time."
Kunisada
Threesomes in ancient shunga involving two males and one female are pretty rare! Below you can find an example by Kunisada…
What do you prefer, modern shunga or ancient shunga? Please leave your reaction in the comment box below!