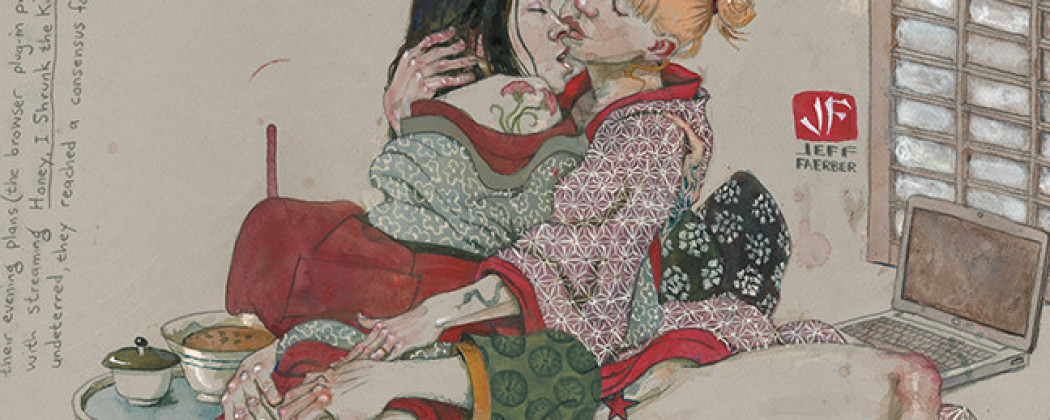 Threesome with Lesbian Impulses by Jeff Faerber
We close this month with Jeff Faerber's creative "newborn". Between the heap of clothes and human flesh in this painting, we can discern a sensual threesome involving two young women and a man.
Lesbian Impulses
While the man is copulating and performing cunnilingus on the females sitting on top of him, the latter surrender themselves to lesbian impulses. As always there is a lot of special attention for the authentic Japanese costumes.
The artist on this work:
"I have several pieces with threesomes that I tentatively think of as triangles, (not love triangles although the term "love triangle" will eventually end up in a title somewhere, but literal figures forming triangles) and this was one of those.
Honey I Shrunk the Kids
I love the idea of having the married couple be same sex and the man the odd one out. I actually came up with the title months ago and something about referencing an old movie "Honey I Shrunk the Kids" felt right to me. Oddly enough, I believe I read since then that they are actually making another one in the series (only the third one).
Corporate Movie
At that point, I thought I ought to find another 80's movie to swap instead but I couldn't get one that felt as right. So hopefully this get out into the world before it feels like pre-marketing for a global corporate movie.
Click HERE so that you can check out a Faerber painting that refers to another movie….!!