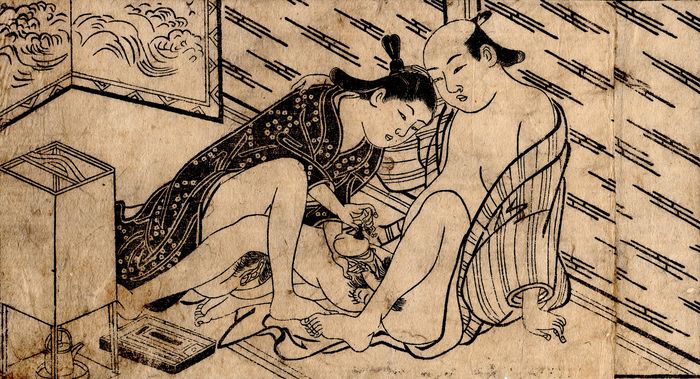 Nishikawa Sukenobu: The Great Shunga Master of the Kamigata Area
Nishikawa Sukenobu (西川 祐信, 1671-1750) is by many critics considered the greatest ukiyo-e artist coming from the Kamigata region (Kyoto and Osaka). His exceptional mastery in portraying the female figure meant that he was in great demand for shunga illustrations.
Female Beauties
Sukenobu studied painting under Kano Eino of the Kano school in Kyoto; he may also have studied under Tosa Mitsusuke of the Tosa school. His earliest known works are book illustrations that date to 1699. Sukenobu specialized in images of female beauties from various classes in their everyday lives. He also created books of kimono patterns, musha-e (warrior portraits), illustrations for classical novels, erotica (shunga) and paintings.
Grandeur
Sukenobu's both erotic and non-erotic works expose his stylistic qualities. Into his figures, particularly those of women, he infused a refinement of features, and a sense of grandeur in the expressions and gestures. He influenced all the great ukiyo-e masters of later generations from Harunobu to Utamaro, from Okumura Masanobu to Chobunsai Eishi down to the later phases of the work by Hokusai.
The discussed shunga illustrations below show, among other things, Sukenobu's great sense of humor…
Click HERE for sensual art by an important contemporary of Sukenobu…!!