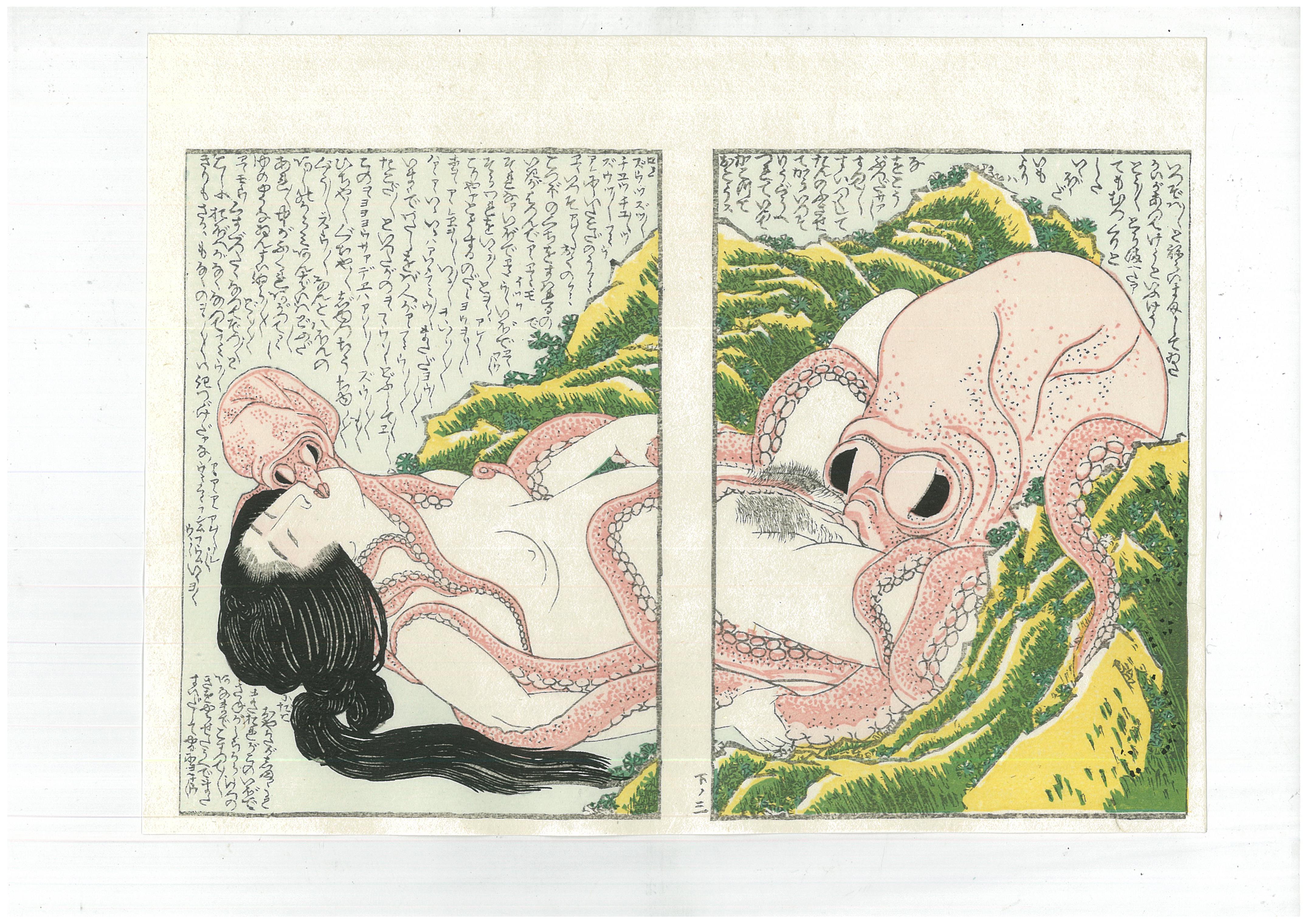 For Sale: Excellent Woodblock Remake of The Dream of the Fisherman's Wife Print
Finally…we are very thrilled to announce – for the first time in over 100 years – a new genuine woodblock reproduction of Hokusai's acclaimed The Dream of the Fisherman's Wife of 1814. This unique remake is created by Yuuya Shimoi, who is one of the few professional woodcut craftsmen working in Japan today.
Painstakingly
Shimoi made new blocks and painstakingly designed, carved and printed it in the traditional manner, one block for each color. It is his dream to let the contemporary fans experience the authentic feeling of the ukiyo-e prints from the Edo period, and not just to see them as decorative material.
Green and Pink
This elaborate remake really displays the whole authentic feel of the original including all the features with excellent green and pink coloring. The applied pigments, in this case, sumi, turmeric, indigo, sufflower red and aobanagami, have been carefully selected.
Elaborate Research
A lot of the authentic materials as used in the Edo period already disappeared and no traditional craftsman working in Japanese woodblock prints today has inherited this. As a result of this, the contemporary print maker has to elaborately research these kind of details and create them himself.
Unique Opportunity
Few reproductions of Hokusai's iconic image are known. Years ago I came across one from the Meiji era (1868-1912) and the seller had attached a hefty price tag to it (close to $3000,-!). But as far as we know, not another one has been made in the last century. So this will be a unique opportunity for you to finally obtain one.
Size
The image size of this amazing reproduction is close to the original one. Image size is 7 1/3″ x 5 1/4″ inches (18,7 x 13,4cm). Total size (including margin): 11 2/5″ x 8 4/5″ inches (29 x 22cm).
Two Editions
It will be issued in two editions; one of the first state (using more expensive materials approaching the original even more) and a second state. The print in the above images is the second state version. The work is printed on Japanese washi paper.
Price
The price for the first state is (Sold Out*) and the second state $600,- (Still available!)
Hammered Down At $900,-
At a recent internet auction (see screenshot!) the remake of The Dream of the Fisherman's Wife was hammered down at $900,- (excl. 12% buyer's premium and shipping costs). The estimate was $900 – $1,200,-!
Increasingly Scarce
These are clear indications that this sought after print is becoming increasingly scarce and that the price will rise proportionally.
Shipment
The prints are ready for shipment and will be sent by registered mail as soon as we received your payment.
Limited Amount
Since we'll only have a limited amount available (a few dozen) please be quick to order NOW.
Take Your Chance Now
If you don't want to miss out on this excellent piece you can order it by clicking >>>HERE..!!
Testimonials:
"Dear Marijn, The octopus has arrived safely. Wonderful, wonderful. I suspect from the robust packaging that you've sent this kind of thing before. I was wondering if you'd thought of making a nicely printed version of the translated text to accompany it, perhaps on the same (format) paper but a different technique. Could be a nice add-on. Anyway, it's great. My compliments to the artist. What's next, ha ha." (Mark P. – Amsterdam, The Netherlands)
"Received with thanks! Superb." (Henry K. – Toronto, Canada)
"Dear Marijn, Just wanted you to know that I received the print in perfect condition and I am extremely pleased with it! I am so happy that I had the opportunity to add this special print to my collection. Thank you very, very much! All my best, Alan." (Alan J. – MA, USA)
"The remakes arrived last Friday in perfect condition. Thanks a lot. Kind regards, Philippe." (Philippe – Paris, France)
"Hi Marijn, Item is very nice. I just purchased the first state which is great and very similar to the original. I am always interested in an old edition. If anytime you can provide, please, let me know." (Miquel – Majorca)
"Hello Marijn, I've successfully received the print. The quality is great, it's a lovely job. I'm very grateful, and I'm seeking for the best place in my home to place the print! (Olga L.Z. – Nayarit, Mexico)
Wow. Almost as if on cue I have to say the print is stunning – can't wait to get it framed but it won't be until December before I give it to the recipient – it's a Christmas present. Have a great week and thank you. (Gabby M., Sydney, Australia)
*You can subscribe (and leave your shipping address) for the first state by clicking  >>>HERE (when we have enough subscriptions we'll order an additional lot!)
You can click HERE and obtain your own rare copy now…!!