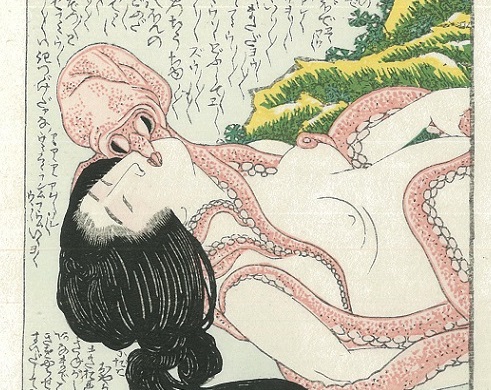 Blog Contest: How Can You Win This Remake Of The Dream Of The Fishermans Wife Print?
Why a Shunga Gallery blog contest? Although, Japanese shunga is considered as erotic art of the highest order globally, as underlined by important exhibitions such as that of the British Museum in 2013, of its fame we have only seen the tip of the iceberg.
Without The Fear
It's our intention to offer a platform (including a forum later this year) for shunga fans and collectors to enjoy, discuss and learn more about this fascinating and important art without the fear of censorship.
Attractive Prizes
In our neverending efforts to promote this great art we have decided to hold frequent contests with the chance of winning attractive prizes for all the followers of our blog and on social media.
Simple
The contest is simple. All you have to do is to comment to this post and leave your name (in the comment box below this page!).
Randomly Selecting
The winner will be announced both through our newsletter and the social media platforms on which we are active on the 20th of March after randomly selecting a name by drawing it out of a bowl the old fashioned way.
Winner
So what's in it for the winner? A lovely genuine woodblock reproduction of Hokusai's classic 'The Dream of the Fisherman's Wife' print ! Carved by the highly-skilled Japanese artist Yuuya Shimoi who is one of the few schooled woodblock craftsmen working in Japan today.
Exclusive
Published only in a small exclusive edition, this coveted woodblock print can be yours! In short, the rules again. Comment and leave your name. Random winner selected on March 20th and will be announced March 22nd. Prize will be shipped worldwide and free. Good luck!
Announcement of the winner
First, we want to thank all the particpants of the contest and for the many enthusiastic reactions we have received. This means a lot to us and we are further strengthened in our conviction to make shunga known to a large audience. But enough talk…
who is the winner? …Drum roll…
Olga (e-mail: insideawhale…)! Congratulations Olga to winning this lovely remake of The Dream of the Fisherman's Wife! Be sure to e-mail us your complete shipping address. Thanks to you all for your participation and making this a successful contest!
Don't worry if you didn't win. ShungaGallery.com will organize more contests and competitions in the future!
I will take some time to respond to all your nice comments individually in the coming week!
Click HERE for more information on the The Dream of the Fisherman's Wife print remake…!!