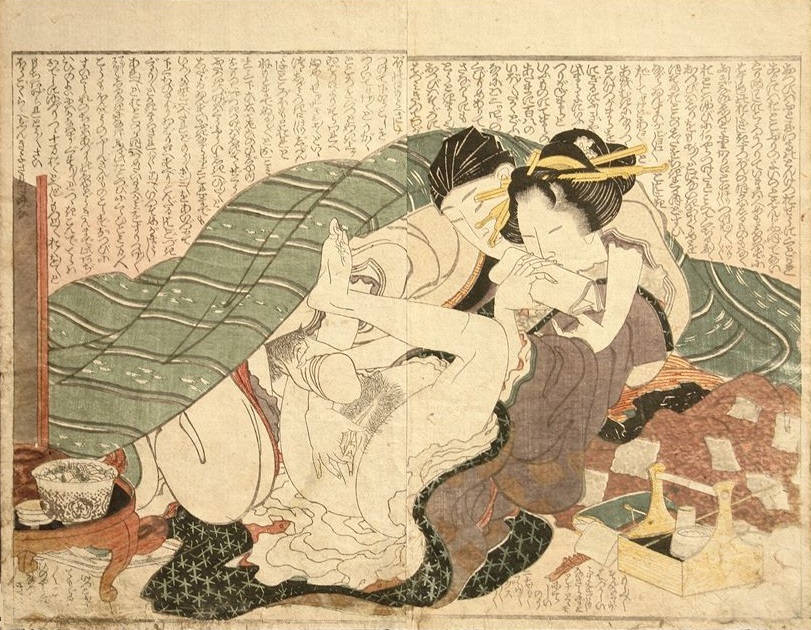 Hokusai Print of Otsubi's Passionate Encounter with a Monk
In this print design Hokusai depicts one of the main characters of his The Gods of Intercourse (1821), Otsubi in her encounter with Tonketsu. The latter is a Buddhist priest from the suggestively named Gyokumonji (Temple of the Jewelled Gate). He lives next door to her, and has been watching her when she encountered a male prostitute.
Mysterious Techniques
The text tells us that she was dazzled at the sight of Tonketsu's marvellous mara, while he displayed 'mysterious techniques' in his love-making. Here they enjoy a tryst at a renowned lotus cuisine restaurant in Ueno; a dish of food sits on a tray to the left. Sadly, Tonketsu brings ruin on himself and his temple by throwing all his money at Otsubi, and after giving himself totally over to pleasuring her, he dies of exhaustion.
More info on The Gods of Intercourse-series can be found here…!!!
This Hokusai print is available in our gallery. You can find it on the following page…!!!
Source: 'Shunga, Erotic Art in Japan' by Rosina Buckland
Hokusai is definitely one of my most favorite artists ever. He not only created some of the most iconic pieces in the history of art (such as The Great Wave and The Dream of the Fisherman's Wife) and was the Japanese artist who influenced the Western art the most, but what makes it extra special is that Hokusai was already an older man when he created his best work.
He famously said, 'From the age of 6 I had a mania for drawing the shapes of things. When I was 50 I had published a universe of designs. But all I have done before the the age of 70 is not worth bothering with. At 75 I'll have learned something of the pattern of nature, of animals, of plants, of trees, birds, fish and insects. When I am 80 you will see real progress. At 90 I shall have cut my way deeply into the mystery of life itself. At 100, I shall be a marvelous artist. At 110, everything I create; a dot, a line, will jump to life as never before. To all of you who are going to live as long as I do, I promise to keep my word. I am writing this in my old age. I used to call myself Hokusai, but today I sign my self 'The Old Man Mad About Drawing.'
Who is your favorite Japanese artist and why? Share your thoughts in the comments below!