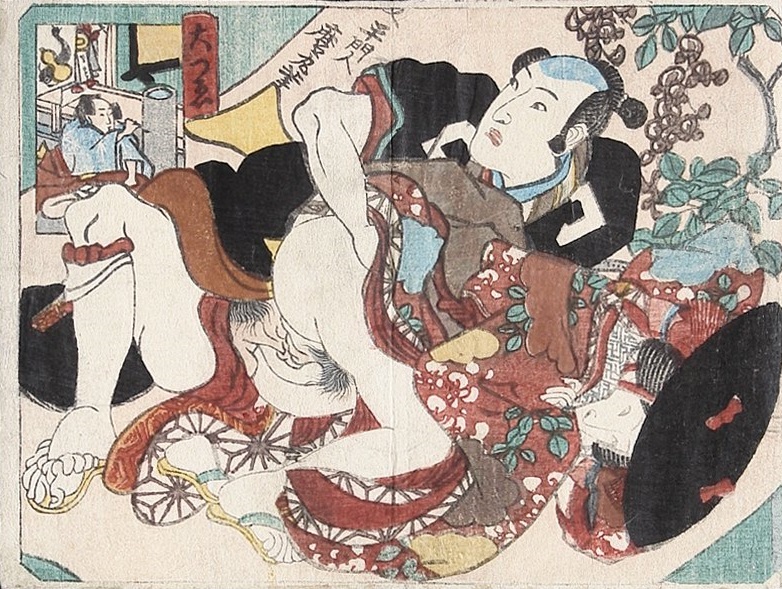 Join Our New Free Blog Contest and Win This Charming Shunga Gem
Welcome again to our new blog contest in which you can win a lovely shunga piece. Just like the previous contest in March the rules are simple. All you have to do is to comment to this post and leave your name (in the comment box below this page!).
Expires May 4
You can subscribe until Saturday, 4 May (expires at midnight!). The winner will be announced both through our newsletter and the social media platforms on which we are active on Monday, May 6 after randomly selecting a name by drawing it out of a bowl the old fashioned way.
Prize
So what's in it for the winner? A rare koban-sized shunga featuring a furtive rendez-vous between an attentive samurai and a female traveller wearing a giant hat making love behind a giant curtain in the open-air. The insert features a male smoking a pipe.
Koban
It was designed by an unidentified member of the Utagawa school around 1850. Koban size: 4 4/5" x 3 2/3" inches. Fine impression (with metallic pigment details), color and very good condition. Slight folding (barely visible).
Rare Gem
This rare shunga gem can be yours! In short, the rules again. Comment and leave your name in the comment box below. You've got until Saturday, 4th May (midnight!) to subscribe. Random winner will be selected on Sunday, May 5th and will be announced Monday, May 6th. Prize will be shipped worldwide and free. Good luck!
And the winner is…
Alan James! Congratulations Alan to winning this ancient shunga piece! Be sure to e-mail us your complete shipping address.
Thanks to all participants and good luck at our upcoming contest later this month..!!