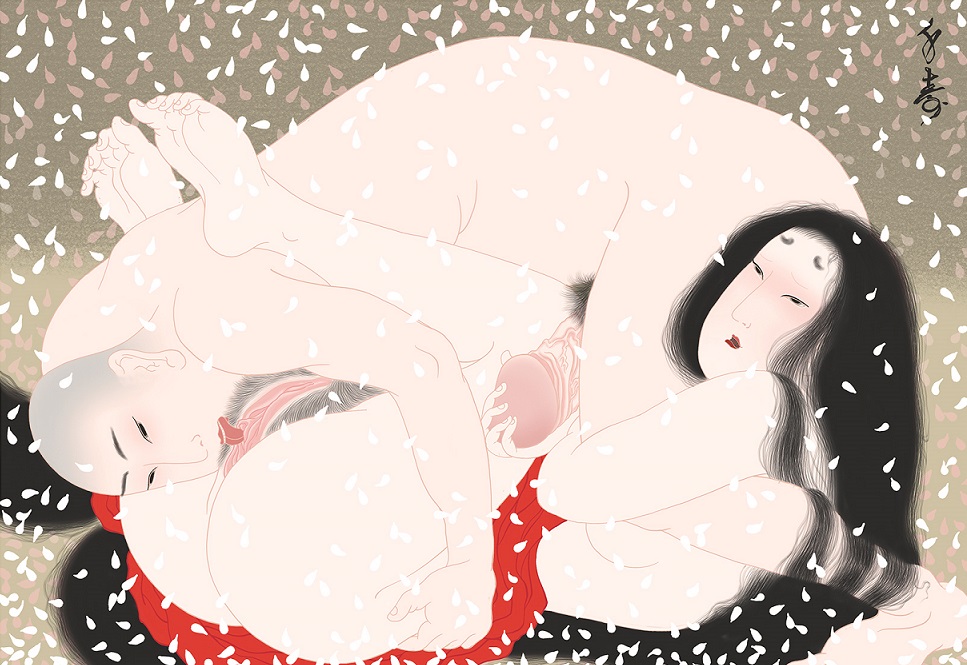 Sensual Hokusai Homage by the Neo Shunga Artist Senju Shunga
The following three pieces are a sensual homage to the genius of Katsushika Hokusai (1760-1849), who is the favorite painter of the prolific Swedish artist Senju Shunga (1968). The designs refer to Hokusai's iconic Fukujuso (The Adonis Plant) series that was issued in various editions between 1818 and 1828.
Leaves and Butterflies
Senju has retained the poses and Hokusai's characteristic drawing style with the figures almost completely dominating the composition. Instead of the text and the sparing use of objects included in The Adonis Plant series, Senju alternately added leaves and butterflies that seem to fall from the sky like snow. Striking is that the male participant in Senju's update is bald-headed (probably a Buddhist monk).
Egg-shaped
Reference point for this piece is the well-known 12th plate that portrays the "egg-shaped" couple in the 69 pose. The hair of the woman wrapped around the lower leg of the male is a stylistic detail that is quintessential of Senju. Hokusai's original design can be found on the following page..!
Near-acrobatic
The source for this one is Plate 5 from The Adonis Plant with two lovers in a near-acrobatic position. You can check out Hokusai's tableau by clicking here (it's Fig.1)
Diving Girl
This piece differs most from the Hokusai original that includes a fisherman and diving girl "accompanied" by a richly filled basket of shellfish. You can check out the original design from the Fukujuso series that inspired Senju Shunga on the following page.
Click HERE for more exciting Senju Shunga art…!!
What do you think about this Hokusai homage? Leave your thoughts in the comment box below…!!