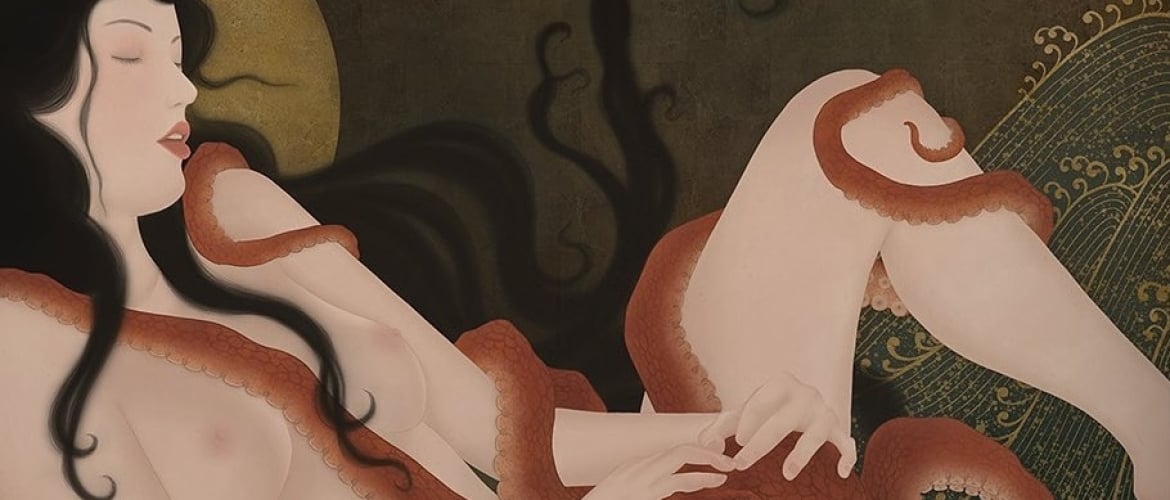 Senju Shunga's Lesbian Version of the Octopus and the Pearl Diver
After eight years of creating art influenced by the traditional Japanese erotic art called shunga, Senju Shunga finally got around to creating an homage to the most famous shunga of them all. Katsushika Hokusai's original work, first issued in 1814, has become a symbol in itself, and when shunga is brought to mind, many of you immediately think of Hokusai's fantastic image of a large octopus and smaller congener being intimate with a young nude woman.
The Dream of the Fisherman's Wife
In the west, this work is usually referred to as "the Dream of the Fishermans Wife" However, Senju prefers the title which is used most commonly in Japan – "Tako to Ama ( the Octopus and the Pearl Diver – Fig.1)". The western title stems from the later 1800's, an era in which a woman could not be anybody without being the other half of a man. Ama, traditional female Japanese pearl divers, have always been regarded as strong and independent, so when switching the title, and the accompanying cultural context, the underlying narrative becomes quite different. Also, in my painting, the octopus is female.
Female Octopus
This idea came to him in the early stages of creating this painting. He imagined than many have assumed that the octopus in Hokusai's iconic design is of the male genus. But what if it's not? What if the octopus is female? Behold Senju's 'lesbian' interpretation…
Update 4/8 2021;
The following text is a blurb on Tako to Ama exclusively provided to Shunga Gallery by the artist:
"Since I paint digitally, there are usually very few steps of the process recorded in a traditional manner. However, since I switched software to Procreate, I am now able to keep a diary in the form of time lapse video. I have found that my followers are very entertained by this. I am also learning how to edit video so in the future I will be able to better document the process.
Here are some notes on the process of painting "Tako to Ama";
Human-animal Sex
– I decided early on that my scene was going to have a female octopus. Not that Hokusai's original distinctly points out that the octopi in his image are male. However, I think that most people have always assumed so. Changing the gender of the octopus set me free to create a more sensual painting, one that could not be interpreted that the octopus in any way was forcing itself on the diver. I wanted to show mutual consent and thereby true sensuality. One must keep in mind that this is a fantasy image and it should not be interpreted as human-animal sex. This is beyond such assumptions.
Mistaken Interpretations
– It was important for me to use the title by which it is commonly referred to in Japanese. There is a big difference in how the piece is experienced by doing so. I don't really know why the western title mode the Ama into "the fisherman's wife" but in my mind it is a testament to how old western pseudo christian patriarchal values, as so many before, imposes its own set of values on Japanese art. The wests assumption that it is the center of the world undoubtedly contaminates many mistaken interpretations of Japanese art, and the lack of deeper understanding, even by scholars, continues to distort  original meanings and intentions of many Japanese works of art.
Klimt's Water Serpents
– For this painting I wanted to bring back some of my use of gold, which had been absent from many of the works created by me during the pandemic. As always, I found great reference, not only in Japanese art, but also in one of my favorite painters – Gustav Klimt. Especially his painting "water serpents" (Fig.4). Unfortunately, this time my love for Klimt's work sent me on a wild goose chases and for many days I confused myself by trying to implement some of that painting into the one I was creating.
Temptation to Duplicate the Success
I fell victim to the delusion that time stands still and that I was still the same person as I was when I created "Kuchidzuke – the Kiss" a few years back. The temptation to duplicate the success I had with that piece made me blind to other possibilities. In the end I had to take a small brake from my creative process. I spent a few days searching for ideas, and as so many times before, I found what I was looking for in the world of Kimono patterns. Some of my books on these patterns are by now becoming very worried and well used. When I finally returned to the painting, the completion of it was swift and full of confidence in my ability to create my own unique art.
Delusional Behavior
-The most time consuming part of my creative process is these sometimes fruitless detours taken just because I want to create something that my fans will like. This is a very delusional behavior, but also one that I think I share with many other artists striving to survive in the art world. Nevertheless, I always feel grateful for the lessons learned, and I never consider it as failure or time lost. It is precisely this slow polishing of the diamond that is my art that will keep me moving forward." (Senju Shunga)
Two short time-lapse videos following the process of the painting…
You can obtain this new Tako to Ama piece on the following PAGE….!!
Click HERE for a profound article on tentacle erotica including over 155 mesmerizing images with love-making tentacles….!!
What do you think about Senju's new version of Hokusai's classic? Leave your reaction in the comment box below…!!