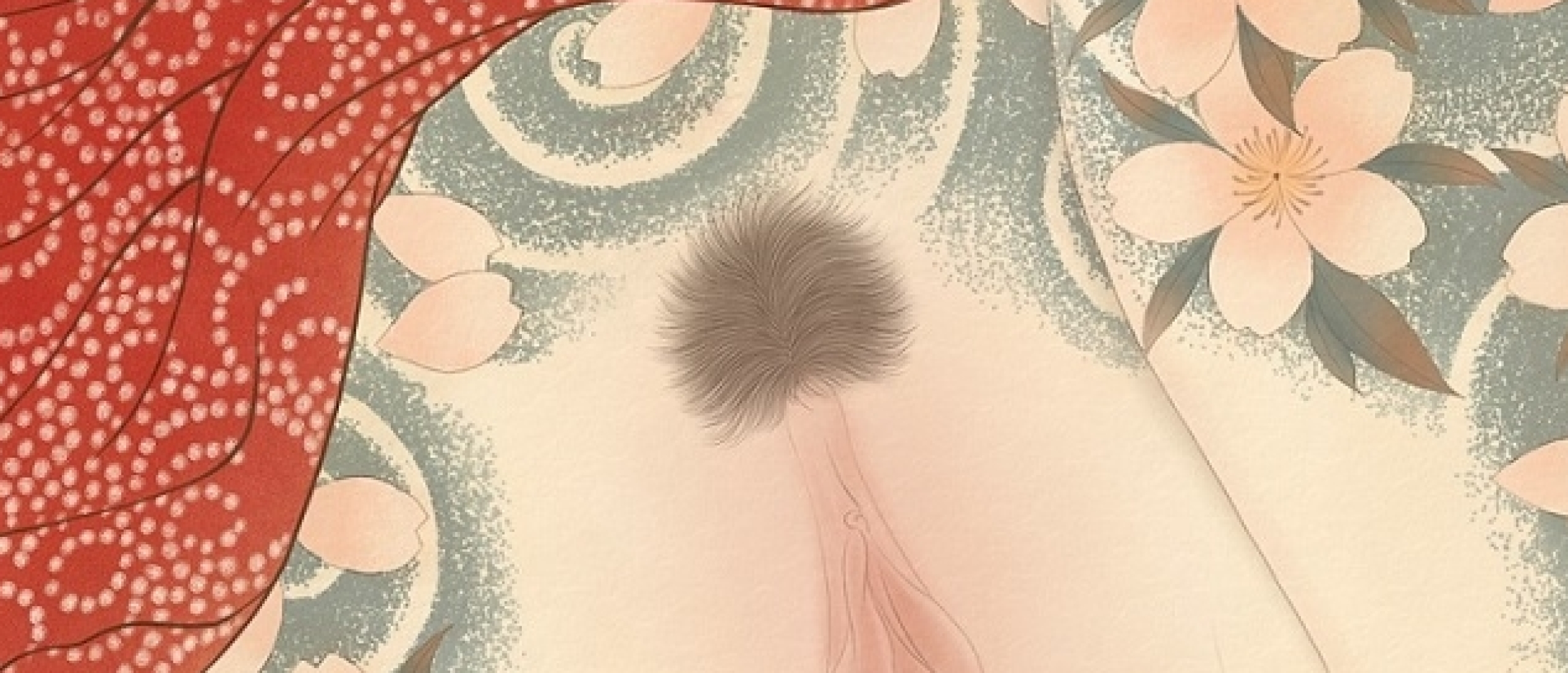 Vagina Reflection Referring to the Spring Season
This painting (Fig.1) marked the first step on a journey that still seems to me without end. It was also the beginning of my transformation into an artist. I struggled over weeks with limitation and frustration, trying to find my voice, slowly learning to harness my artistic energy into a genuine expression. In the end I simply let go of who I had used to be and the process itself showed me the path forward. I had arrived.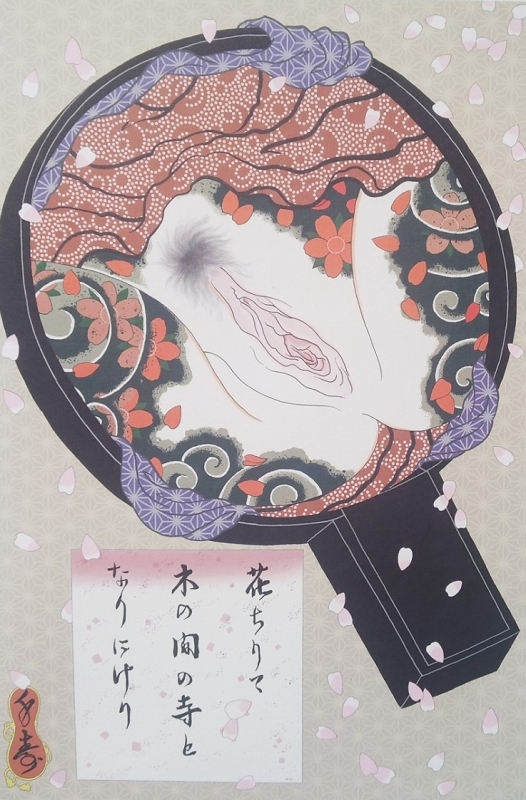 Fig.1. Haru (Spring), 2013
The haiku by the Japanese poet Buson (1715-1783) reads:
                                                             hana chirite
                                                       ko no ma no tera to
                                                            nari ni keri
                                               Cherry blossoms are falling -
                                                and now between the trees,
                                                      a temple appears.
This is a portrait of a young woman reflected in a Japanese Edo period handheld polished bronze Kagami (mirror). Her body is tattooed in the traditional Japanese full body suit fashion called Irezumi or Horimono, which tells us that she is an individual of integrity. She will not let others decide who she is. Petals of the Sakura (cherry blossoms) tumble down around her, whispering the joys and sadness of love. The symbolic meaning of the falling flowers is that life is short but beautiful and even though we are only allowed to exist for a limited time, there will always be another spring. This insight, that all things are of a fleeting nature, lies at the heart of Japanese art and culture. You can perhaps best translate it into what we call the bitter sweet.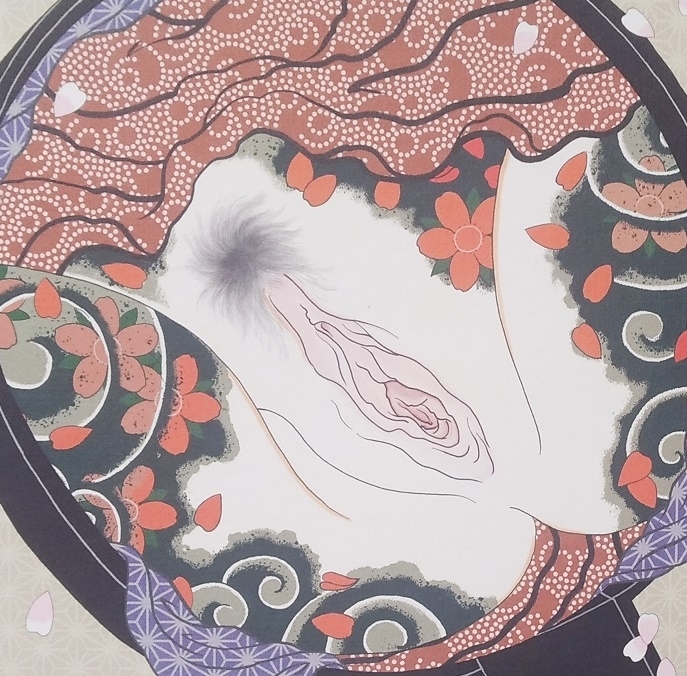 Fig.1a.
Love, just like sex, is a matter of here and now, about being in the present moment treasuring every second as it unfolds. When we lose ourselves to the delusion of past and future we also lose ourselves. We become ghosts lost within the idea of time. This is something that simply does not exist  except in our own imagination. Your reflection in the mirror is no more real than what it is reflecting. It is the inner you that transforms it into your reality. The true beauty of this is that we ourselves decide for you what your reflection is going to be and trust only the mirror that tells the truth about you.
The falling petals do not need you to feel sad for them.
In 2019 produced a new version of this design...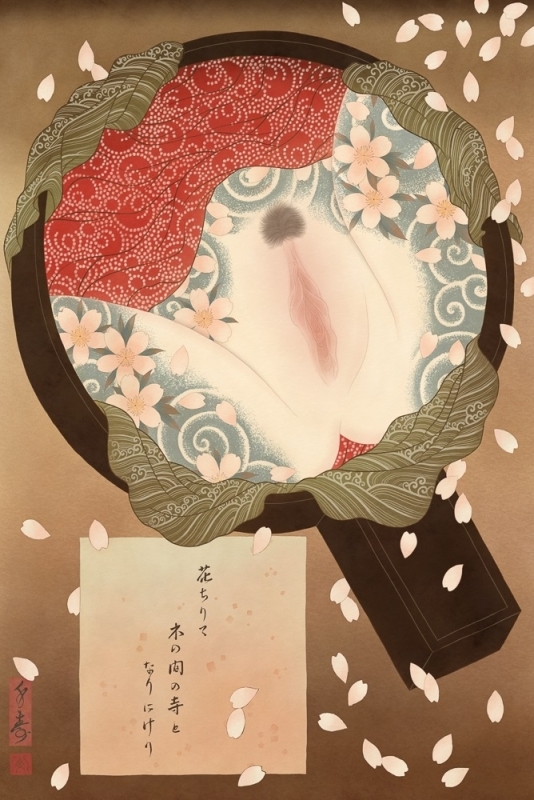 Fig.2. Haru (Springtime), 2019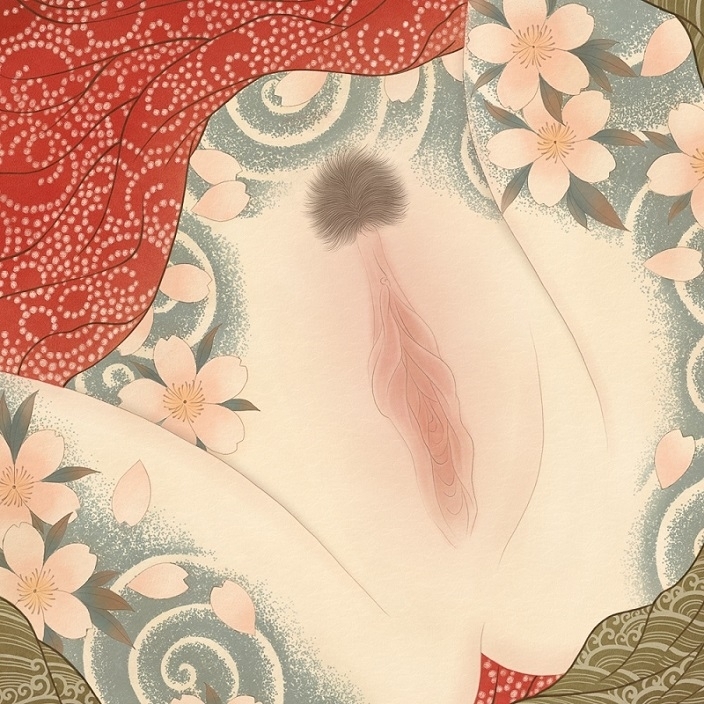 Fig.2a.
In the extended Premium version of this article, you can find the detailed story by Senju on another "mirror" piece referring to the autumn season entitled Aki.
Click HERE for Senju's lesbian version of the iconic "Octopus and the Pearl Diver" design
The 2019 print version of Haru (Springtime) is still available in the artist's gallery.
Source: Kagami - Contemporary Shunga by Senju Shunga
Let us know your thoughts on this piece in the comment box below..!!