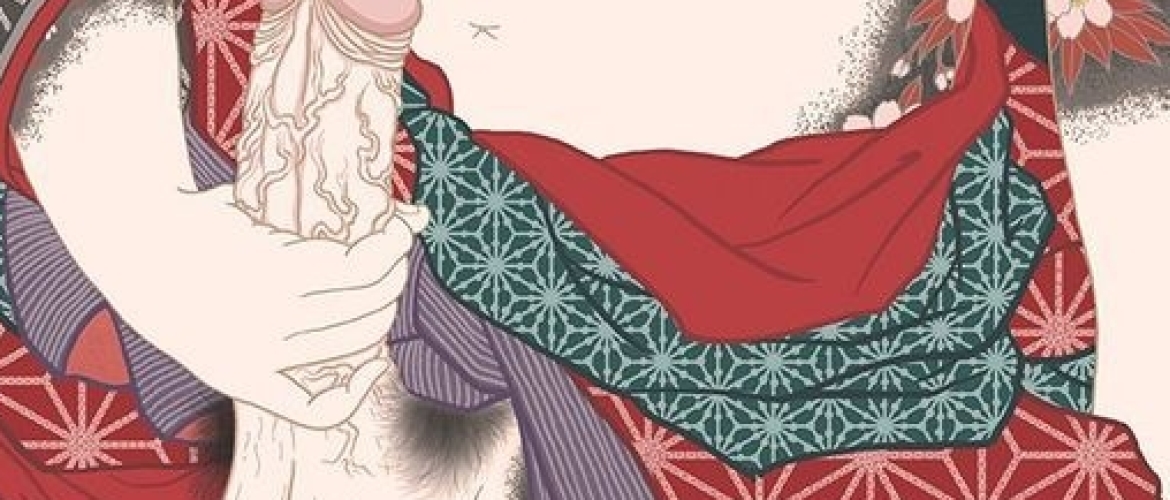 Senju Shunga's Fascination for the Tattooed Kabuki Character Benten Kozō
The excerpt below comes from the book 'Kagami: Mirror Images of a Sensual World – Contemporary Shunga' by Senju Shunga. Artwork and text are from the artist…
Another Kabuki character that interests me is that of Benten Kozo Kikunosuke (Fig.1) from the play Aoto Zōshi Hana no Nishikie. Just as Sukeroku (ed. another famous Kabuki play – Fig.3) he represents the sort of anti hero the people of Edo celebrated and took to their hearts.
In Irezumi, the traditional Japanese tattoo, he is sometimes chosen for the main full back motif, often surrounded sakura, cherry blossoms, in order to further emphasize his heroic nature. In the play he is the son of a wealthy merchant but runs away at a young age and becomes a gangster. The famous scene of Benten Kozō shedding his female disguise in the Hamamatsuya Draper shop has been the subject of many famous woodblock prints by artists like Kunisada (ed. Fig.2) and Kuniyoshi. However, I have chosen to place him in a completely new scene born out of my own imagination.
This painting should be regarded as a companion to Sukeroku (Fig.3) and the idea to begin a series of male Kabuki characters in an erotic setting was simply an irresistible one. The primary reason is of course that I simply love Kabuki. The highly stylized drama, enveloped in lavish clothing and aesthetically pleasing set design, creates an almost surreal experience.
The second reason is that males pleasuring themselves is a motif that I have found rare within the realms of both shunga and other erotic arts. The fact that Benten Kozō wears female make up and hair, accompanied by women's clothing at the same time he is a very hetero normative male, supplies ample opportunity to pose questions regarding hereditary values and norms when it comes to the idea of masculinity. The image of a beautiful man stroking his cock while wrapped in the appearance of a woman is simply to good not to explore.
Also, masturbation is a good way to relax both mind and body. Something which I hope Benten Kozō will inspire you to indulge in.
We all have preconceived ideas regarding what is masculine and feminine. Mostly these identifiers and concepts are taught to us by parents, school and the prevalent culture of society. But are they real? And do we really need to adhere to them, pass them on to our children and maintain a status quo that in all honesty have done little to improve the quality of human life. Just switching one robe for another will not work either and what I am daring to suggest is that we all begin to view our world through eyes that no longer suffer from conceptual blindness.
Click HERE for the censored and uncensored version of Senju Shunga's Seishin…..!!
More stories behind Senju's paintings can be found in his richly illustrated book Kagami. I saw that there's a nice deal (the book + bonus print) at the moment..!!
Are you a fan of Senju's art? Let us know what appeals to you about it in the comment box below….!!