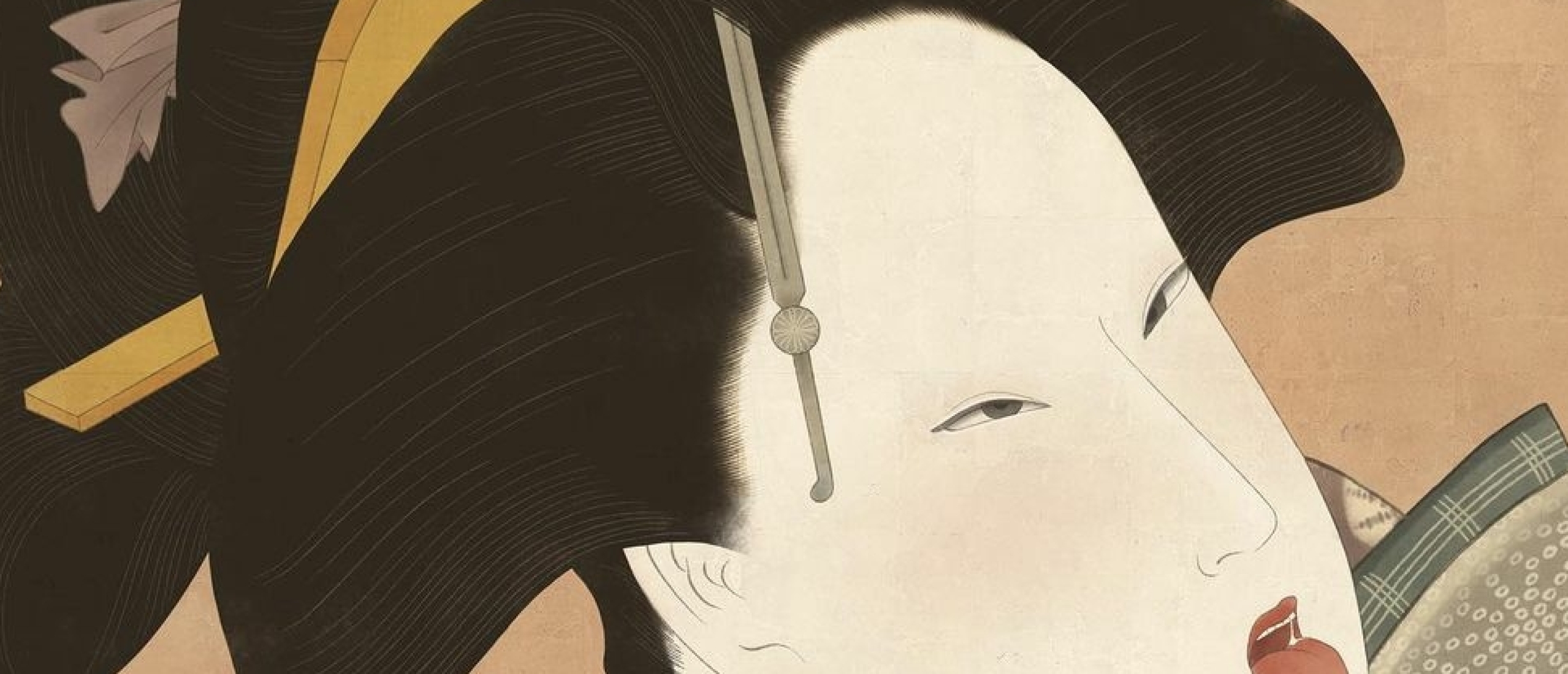 Senju Shunga's Beauty with Orgasmic Facial Expression After Utamaro
At the end of the eighteenth century, the ukiyo-e master Kitagawa Utamaro (1753-1806) produced a series of 5 woodblock prints entitled Kasen koi no bu (Anthology of Poems), that are considered among the absolute highlights in the history of ukiyo-e.
Ordinary Women
The series title parodies the section headings in waka and kyōka poetry anthologies, and takes the theme of love. The women depicted are ordinary women and not courtesans or others employed in the pleasure districts, who were the typically subjects of ukiyo-e portraits of beauties.
€745000.-
The prints were printed by the acclaimed publisher Tsutaya Jūzaburō using luxurious techniques such as dusting the backgrounds with rose-colored mica. In 2016 the print Fukaku Shinobu Koi set the record price for an ukiyo-e print sold at auction at €745000.-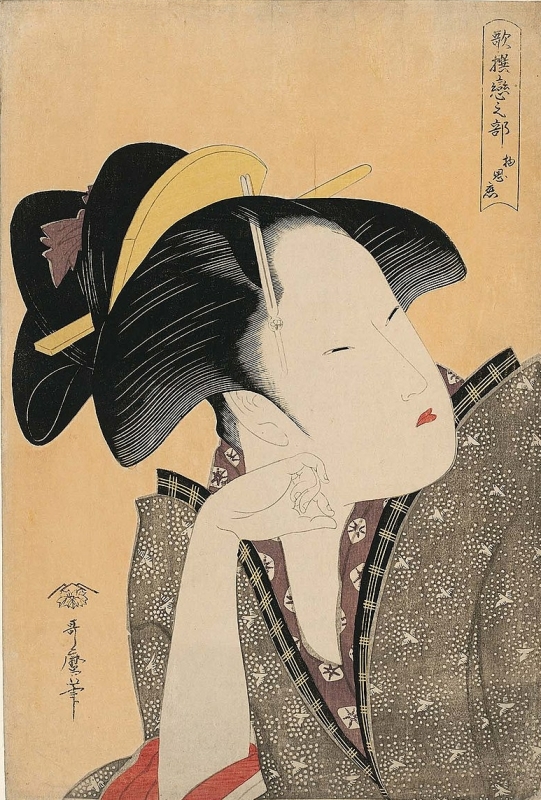 Fig.1. 'Mono-omoi Koi' from the series  'Kasen Koi no Bu (Anthology of Poems)' (c. 1793/94) by Kitagawa Utamaro
Anxious Love
The masterpiece among the masterpieces is the design entitled 'Mono-omoi Koi (Anxious Love - Fig.1) ' depicts a middle-aged married woman (or widow), suffering the dscomforts of love: her eyes are narrowed in passion, jealousy or some related emotion. This significant early experiment at psychological portraiture is likewise a tribute to the woodblock printer's art;  it makes effective use of a mica ground and of kimono patterns in predominantly somber hues.
Sleek Bun
She's looking over her shoulder, her hand held to her cheek. The gray kimono she wears features an intricate pattern of flying birds and tiny dots over a plum colored robe with a seashell design. Her hair is pulled back into a sleek bun with wings at the side, ornamented with a simple comb and a few hairpins, and her eyebrows are shaved (an indication she's married).
Fig.2. 'Jobiraki (beginnings)' (Dec 2021)by Senju Shunga
Strong Emotions
The latest work 'Jobiraki (Beginnings)' of Senju Shunga pays tribute to Utamaro's design. The Swedish artist offers a humorous take with the woman here displaying a cross-eyed look whose saliva drips from her tongue. The cross-eyed glare refers to the nirami pose as performed in the kabuki theater, that expresses a character's emotions at their peak.
Orgasm Face
This new painting will be part of the upcoming 'Ahegao Exhibition 2022' group show at DUB gallery in Akihabara, Tokyo. The term 'Ahegao' can be translated as "orgasm face". It has been made popular through Manga and Anime. Since the aforementioned two art genres traces its foundations back to Edo period Ukiyo-e woodblock prints, Senju chose to create a Ahegao version of this very famous ukiyo-e print by Kitagawa Utamaro.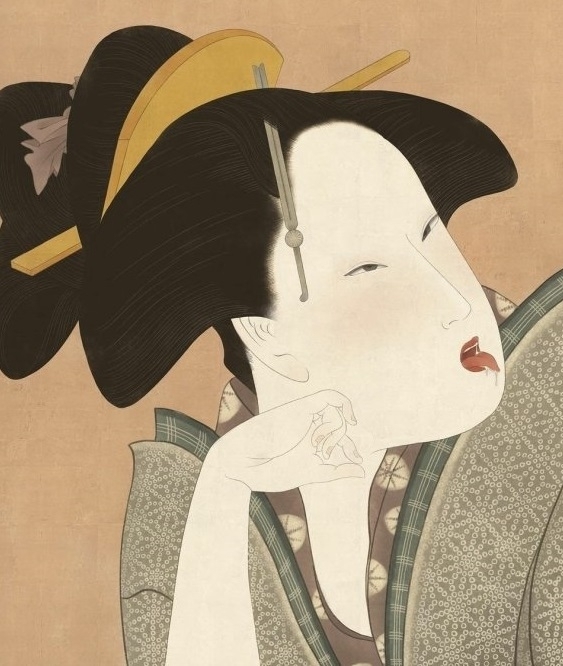 Fig.2a. Close up 'Jabiraki'
Future of Things
During the process of creating this work Senju found himself suddenly back at where he began back in late 2012. As he remarks on his Instagram account, 'Things have a tendency to work out like that. After walking a long and winding path of great learning in which my art has become ever increasingly complex, it feels very refreshing and energizing to suddenly arrive back at the beginning of the journey. Of course it's not going backwards in the sense of the word, but rather to arrive in the future of things.'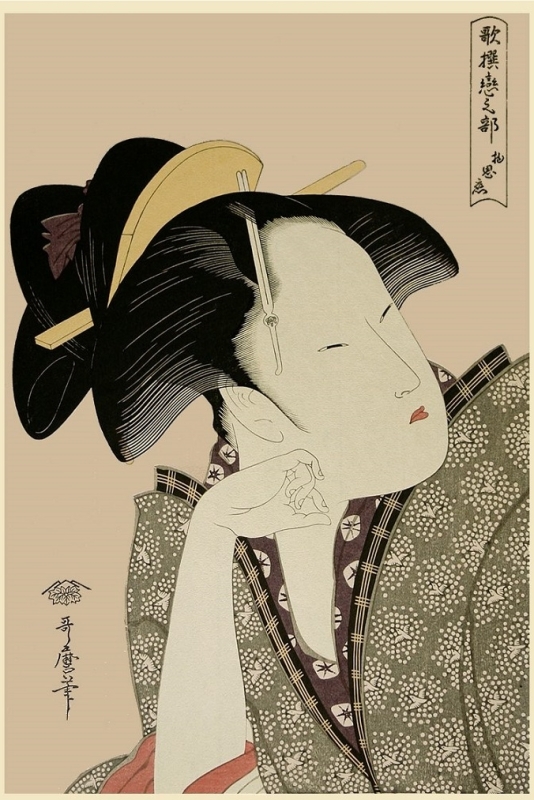 Fig..3.  Later Showa era remake  (Euro 350,-)

Click HERE for a post on three earlier Senju works that were inspired by another ukiyo-e master Katsushika Hokusai.....!!
Source: Senju Shunga
What do you think about Senju's ode to Utamaro's masterpiece? Leave your reaction in the comment box below...!!