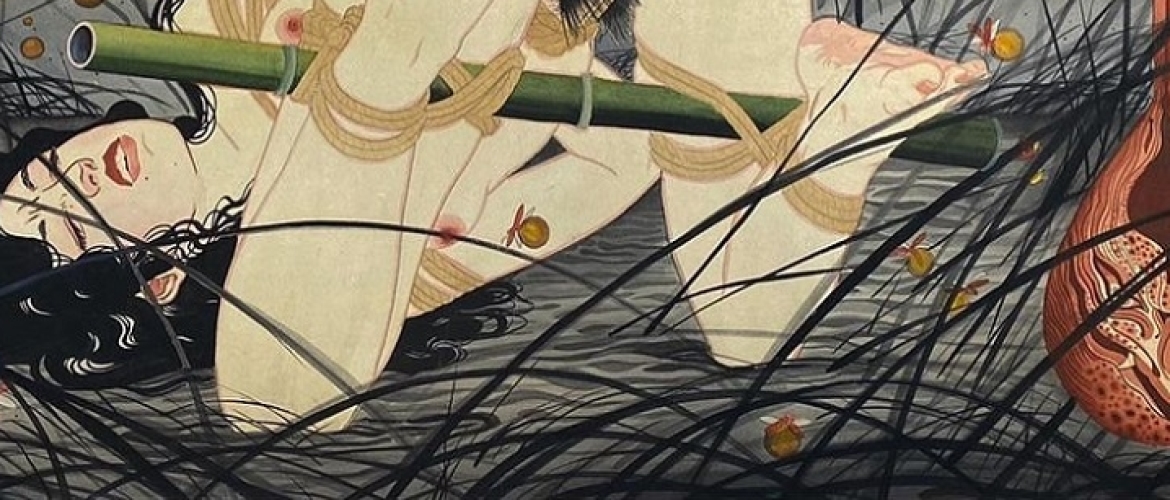 Gerald Feliciano Presents an Enchanting Mix of Art Nouveau and Shibari
The shunga artist Jeff Faerber introduced me to the erotic work of his friend and tattoo artist Gerald Feliciano that made a big impression on me. Up to now he made four paintings that offer a wonderful fusion between the Japanese bondage art called shibari and the Art Nouveau style by in particular Alphonse Mucha*.
Best Tattoo Artists
Based in New York, Feliciano works as tattoo artist alternately in the Lower East Side of Manhattan and in Brooklyn. This way he remains informed on what makes the industry tick. Surrounded by the best tattoo artists in New York, he never lacks inspiration. His fascination for tattooing started in 2004 when he studied art at VCU in Richmond Va. In an earlier interview with Tattoodo he says, 'I grew up around tattoos and people who enjoyed collecting them so naturally I gravitated to it.' Over the years he has created his own distinguishing style combining sensual fine art with decorative organic illustrations.
Dark Art Nouveau
Besides creating these highly detailed body illustrations, Feliciano also paints and illustrates artwork using watercolor or mixed media. His paintings are a "dark" translation of the classic Art Nouveau style from the late 19th and early 20th century. Inspired by its important representatives like Gustav Klimt, Egon Schiele, Alphonse Mucha, and Anthony Gaudi, With his recent "bondage" paintings, in addition to being an established name in the tattoo world, he will now also make his mark as a painter.
Gerald Felicano's Blurb
Before we are going to enjoy these captivating "bondage" pieces you can learn first more about the interesting background on this work by the artist himself:
"As an art enthusiast I've always been attracted to Art Nouveau. Artists like Alphonse Mucha, Gustav Klimt, Egon Schiele, Antonio Gaudi have always been a source of inspiration for me. The past decade I've been obsessed with Japanese watercolor and woodblock prints especially erotic/ bondage. Bringing both Japanese and Art Nouveau aesthetics together just feels natural to me. The blend of flowing tendrils of hair, framework and foliage with the vulgarity of erotic bondage creates a balance that I love.
Magic Mushroom Sprouts
At the moment I'm working on a series of large scale Shibari paintings depicting the shifting of seasons using flora and foliage of plants that are common in traditional Japanese artwork. The following images are my two Spring paintings (Fig.3 and 4) both using Green / Gold as the primary colors with accents of Blooming Cherry Blossoms and Magic Mushroom Sprouts. The last two images (Fig.5 and 6) are Fall with my favorite Red Japanese Maples as the primary colors." (Gerald Feliciano)
Now without further ado Feliciano's new artworks…
New Technologies
The rise of Art Nouveau coincided with the new technologies of color lithography and color printing at the time. Therefore, it became possible to create and distribute the style to a broad audience in Europe but also outside. Art was no longer limited to art galleries and museums, but featured in illustrated magazines and hanging on walls. This explains the longer narrow format (like the hashira-e prints in Edo japan).
Tied Right Leg
In this first painting (Fig.3), Feliciano chose for the vertical format (the other three are all horizontal). A large part of the composition is dominated by the tied right leg of the woman hanging in the air, while the pink flowers are carefully scattered over the image plane. Her face is only partially visible. Behind her, a stained glass window in the characteristic Art Deco style.
Satyr
The insert (Fig.3a) features a satyr walking through the tall grass while carrying a huge magic mushroom. The satyr comes from Greek mythology and was known for its hedonisitic behavior such as excessive drinking and lavishness. In Greek art they were portrayed as male figures with a horse's ears and tail, but in Roman portrayals (like in Feliciano's depiction) as a man with a goat's ears, tail, legs and horns. A lot of satyrs shared a bon with nature and were keen to play their pipes.
Psychedelic vibe
The visual dialogue between the insert and the main image depicting a half-naked, red-haired female lying on a bed of magic mushrooms and the intoxicating light blue and black colors and lines surrounding her, give a strong psychedelic vibe.
Exposed Genitals
In this simultaneously beautiful and sinister painting we see a helpless young female hanging from a tree, trapped in a web of ropes (Fig.5a) with the autumn full moon in the background. The way she is tied and how her genitals are exposed, give the impression that she serves as some kind of bait.
Black Widow
The insert (also a recurring feature in shunga) depicts a black widow spinning a sophisticated web in order to trap its future prey. Both human and animal (both victim and predator) seem caught in a trap.
Peeing
A tied-down Japanese girl is peeing in a wooden bucket filled with gold leaf. The gold leaf is almost tangible due to the embossed paint.
Kappa Yokai
The shibari painting entitled 'Summer' takes place in a swamp and depicts a naked young woman tied with rope to a bamboo stick with a lit candle sticking out of her asshole. She's surrounded by fireflies and a kappa yokai (ghost) in the below right corner.
You can follow Gerald Feliciano's creative activities on Instagram or check out his limited edition prints on Etsy…!!
Click HERE for an article on the Swedish artist Senju Shunga who also gets his inspiration from Art Nouveau….!!
*Alphonse Mucha (1860-1939) was a Czech painter, illustrator and graphic artist, who lived and worked in Paris during the Art Nouveau period (most popular between 1890-1910). At 35, he had his breakthrough when the famous actress Sarah Bernhardt asked him to design the affiche for the play Gismonda (Fig.5).
Sources: Gerald Feliciano, Tattoodo.com.
Let us know your thoughts on Gerald Felciano's bondage art in the comment box below..!!