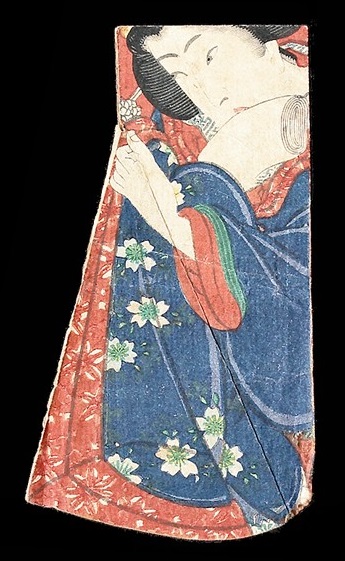 Check Out the Sensual Secrets of the Vulva Fan
A charming cylindrical-shaped shikake-e (toy print) which on the front-side features a nice portrait of a geisha with a bundle of tissues between her lips and when the flaps are opened it reveals three hidden scenes with various vulva's.
Kanji
The backside features a lovely composition of floral and fan-shaped motifs with kanji characters in gold pigment. The size is 5 1/8" x 2 3/4" inches and produced by an important member of the Utagawa school. It was published c.1845.
Unfortunately this piece has been sold but you can find other shikake-e for sale in this section…!!!
Click here more exciting posts featuring other toy print art or more vagina close-ups by clicking here…!!!