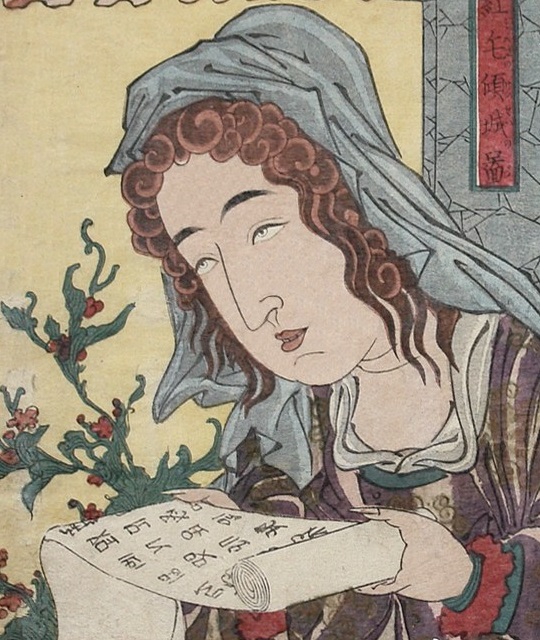 Extremely Rare Genital Close-Up of a Dutch Couple
The following set of shunga prints by the notorious Keisai Eisen (1790-1848) were designed in a period when the influence of his mentor Hokusai is still visible in some of the designs. Striking are Eisen's references to Western art and culture (Fig.2. and 3).
Dutch Traders
The included tone effects (Fig.3) that are characteristic of Western copperplate engravings show that the artist must have seen real life examples or at least reproductions that were imported by Dutch traders.
Suckling
A charming image with the female leaning backwards with her loose hair elegantly draped along her neck in the characteristic Hokusai style. The man tenderly suckling one of the woman's breasts is a lovely detail.
Curly Pubic Hair
This is the first time we've come across a genital close-up design of a copulating Western couple. In this case it concerns a Dutch couple as emphasized by the curly pubic hair and the 'ram-shaped' glans penis. A very rare variation on a coveted topic.
Dutch Beauty
A striking variation on the half-length portraits (okubi-e) that normally portrayed beautiful Japanese geisha's. In this case we witness a Dutch beauty (probably inspired on a religious print) reading a letter with "special letters". Often okubi-e depicting bijin (beauty) feature Japanese courtesans caught in a private melancholic moment reading for instance a love letter. Metallic pigments have been applied to emphasize the ornate patterns.
First Western Woman
In August 1817 the Dutch Titia Cock Blomhoff and her son arrived in Dejima. She was the first Western woman to ever set foot on Japanese soil.  Her husband Jan Cock Blomhoff was a Chief Agent (Opperhoofd) at the Dutch factory. The latter has been portrayed several times by Japanese artists, often making love to Japanese courtesans.
Crotch
An impatient client can't wait to make love to a courtesan and grabs wildly into her crotch. Eisen's teacher Hokusai often depicted similar poses in reverse.
Strung Bow
The love-making position of this couple was very popular among ukiyo-e artists as it enabled a more naturalistic depiction of the genitalia and endowed the composition with a tension likened to a tightly strung bow.*
Click HERE if you are interested in the price or want to explore the other pieces from this series…!!!
Click HERE for another striking example of an Eisen shunga depicting a Dutch couple…!!!
*Lane and Hayashi [eds] 1995-98/2000: vol.13 and 16).