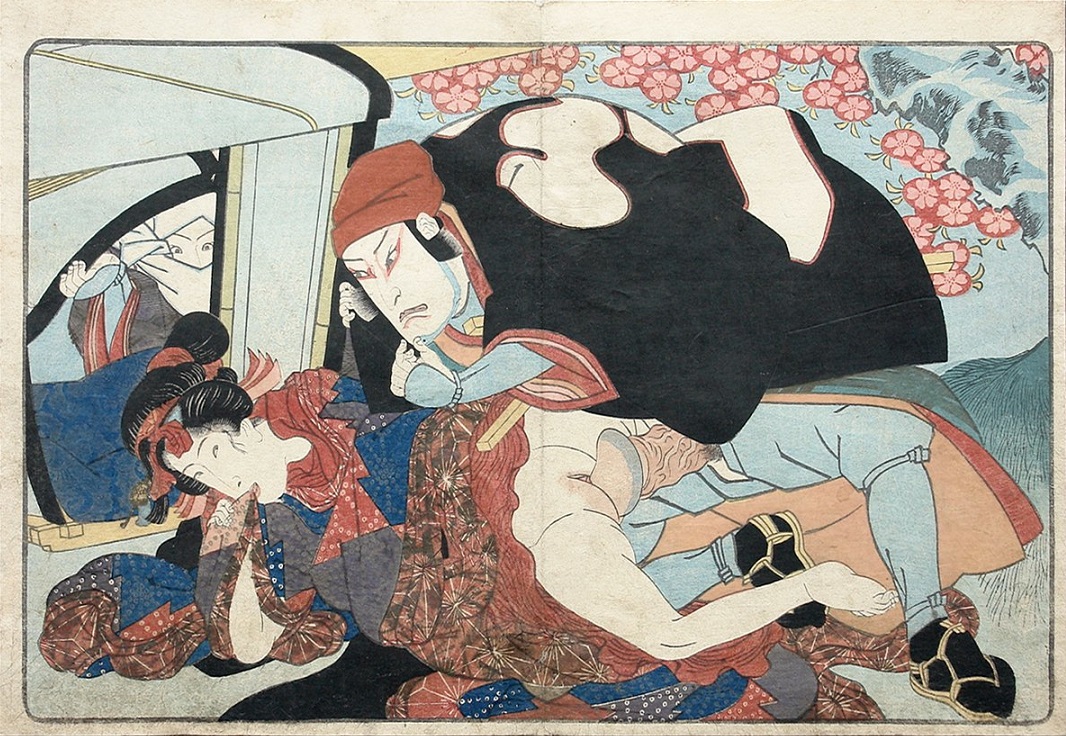 Kuniyoshi For Sale: Relentless Sex in a Peaceful Surrounding
This oban-sized plate is from a rare series called Enseki zasshi (c.1833) attributed to Utagawa Kuniyoshi (1797-1861) that features all kinds of distinguishing designs
Strong-Willed
It portrays an alluring scene with a large strong-willed male wearing a black kimono wetting his fingers by spitting on it before he penetrates the enticed female passenger.    He is being watched by a masked acquaintance sitting in the portable litter (kago). Both men wear armored sleeves (kote) that indicates their samurai background. Striking are the soft pastel colors that contrast with their relentless love-making and the absence of text.
Bakin
The series is inspired by a book by the author Takizawa Bakin (1767-1848). Bakin is best known for his masterpiece Nansō Satomi Hakkenden (The Chronicles of the Eight Dog Heroes of the Satomi Clan of Nansô).
Another impression of this design is depicted on p.374 (Fig.13) in 'Japanese Erotic Art, the Hidden World of Shunga' by Ofer Shagan.
Click HERE if you want to check out the price of this Kuniyoshi piece…!!!
HERE to discover more sensual content on Kuniyoshi's art…!!!