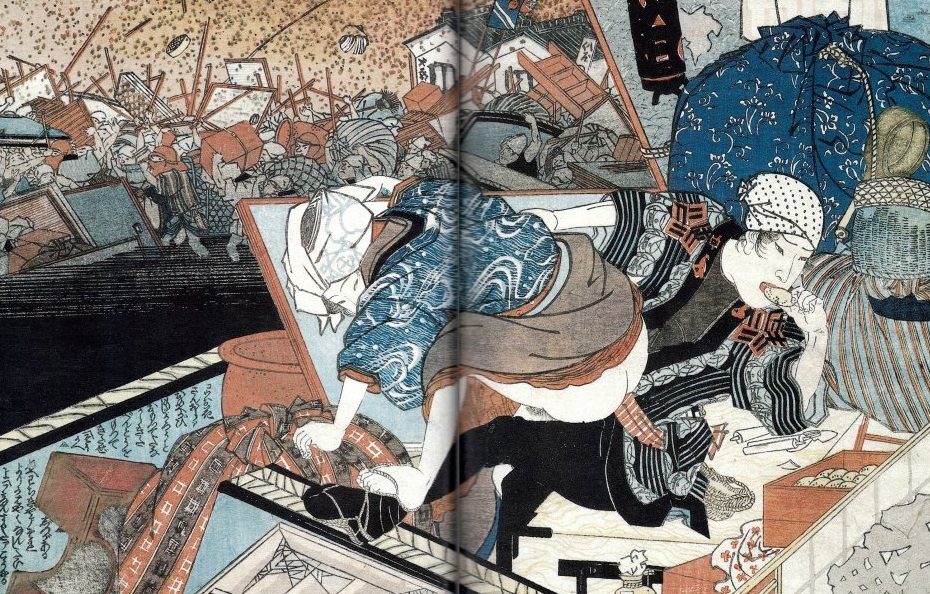 The Negligent Fireman of the Excellent Calendar of Flowers Series
Kuniyoshi's series Hana goyomi (Calendar of Flowers) was published at New Year's 1835 (Tempo 6), at a time when he had ripened substantially as an artist and writer. Hana goyomi is considered one of his best shunga works.
Fireman
The entertaining shunga from the series in this post, with a couple that continues to make love while Edo (now Tokyo) burns around them, is a nice example of this. This fireman has come to the rescue but instead enjoys the sex in the midst of the conflagration. He takes a break to eat the delicacies left behind, but for the desperate geisha this is no time to eat! She says: "Please hurry! Me wants to do it!"
Breath Away
Shunga expert Hayashi Yoshikazu (1922-1999) comments on the Hana goyomi series: "…The overall quality of Hana-goyomi was enough t0 take the reader's breath away. It was colored in gold and silver, and incorporated artistic use of gauffrage (karazuri), skilled carving and printing techniques, and amazingly skillful depictions of the bewitching beauty of the female subjects. The nuanced shading and gradations of both the indigo blue and the sumi black are impressive and beautiful throughout."
Click HERE for more bizarre Kuniyoshi shunga prints…!!!
Source: 'Shunga, Japanese Erotic Art' by Shirakura Yoshihiko