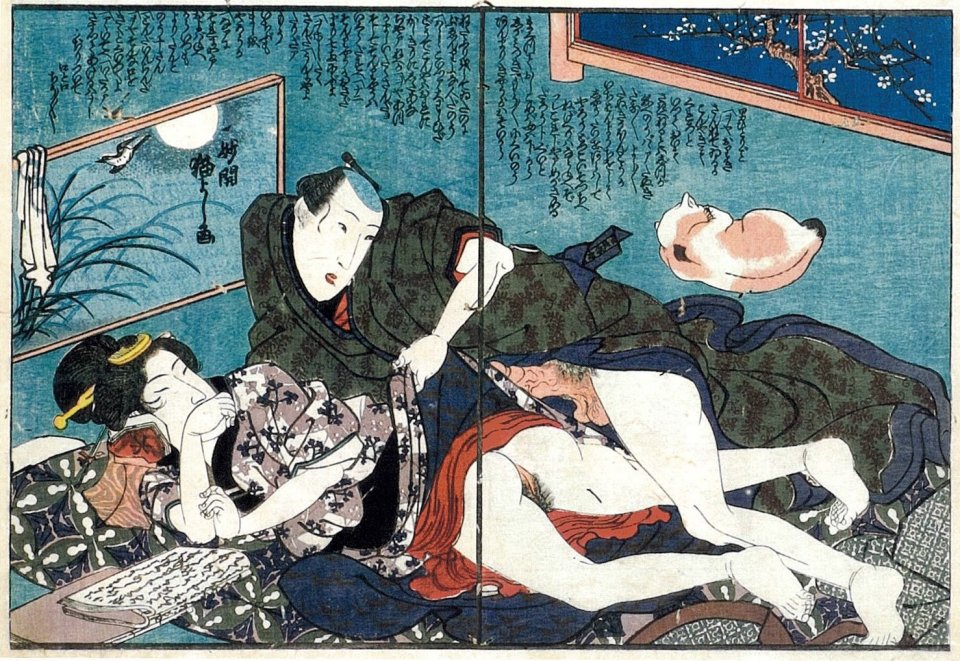 The Prostitute Oriki, Her Secret Lover and a Sleeping Cat
In this well-known design from the Hana ikada series by Kuniyoshi a man cautiously approaches his female lover while observing the cat behind them. The following dialogue ensues, 'Is Oriki really Sleeping? She asked me to come, and yet she's already asleep. I bet she's just pretending (literally 'racoon-dog sleeping'). We'll soon see which it is.' Oriki murmurs, 'He was so late turning up that I pretended to be asleep, but that hasn't stopped him.'
Joke
They joke about how much he has to pay her, suggesting that she is a prostitute but that this is her secret lover rather than a client (erotic depiction of prostitutes are typically such scenarios). They end up exchanging a passionate kiss. The peacefulness of the sleeping cat is beautifully counterbalanced by the restlessness of the couple. This was a popular design at the time since it also appears in Kuniyoshi's Hana goyomi.
Click HERE if you want to check out a post that features some Kuniyoshi gems for sale…!!!
Source: 'Shunga, Erotic Art in Japan' by Rosina Buckland
If you have suggestions for future posts or want to share any insights on the art of shunga please use the comment box below!