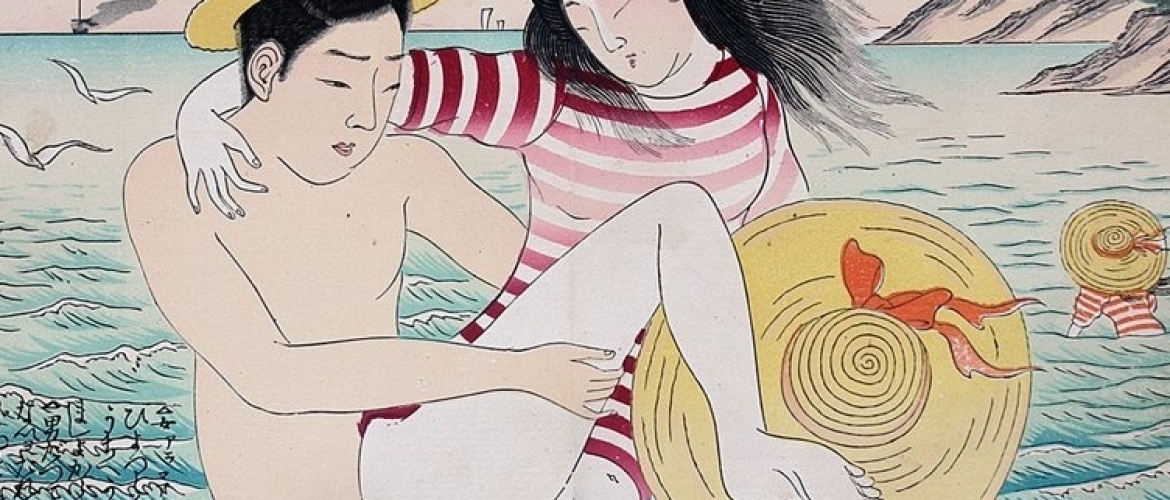 The Sensual Dialogue Between a Copulating Couple At the Beach
This suggestive image attributed to Terazaki Kogyo (1866–1919) is one of the best-known shunga designs of the Meiji era. It features a young couple wearing the latest fashion making love while standing in shallow water.
Meiji-era Erotica
The design is from a set of twelve prints entitled Izumo no chigiri (Pledge of Izumo). In terms of its themes, characters, novel scenarios and palette of bright lithographic colours, the set is represantitive of late Meiji-era erotica. The title clearly plays on the popularity of Yakumo no chigiri (Poetic Interlude aka. Pledge of Yakumo) by Tomika Eisen, while referring directly to the ancient Izumo shrine in Shimane prefecture.
Seaside Bathing
The custom of seaside bathing was introduced in the Meiji era (1868-1912), and provided the opportunity for women to socialize with men and to show off their figures in fashionable new bathing suits.
Dialogue
In the dialogue the woman here says, 'Stop! Someone might see. We should go home.'The man replies, 'I can't wait till we get home. There's no one around; it's fine. But mind your footing, and hang on to my neck.' He is obviously oblivious to the other bather close by.
Beach Girl
One of Kogyo's most well-known designs, a landmark piece for the kunchi-e (frontispieces of books) genre and Japanese prints from the early 20th century in general, is the one entitled 'Beach Girl'. The image shows a young girl in a bathing suit on the beach, her long hair flowing down her back. She is holding the ties of her straw hat while leaning on a large rock. This outstanding illustration was part of the novel 'Bijin no Kaisuiyoku'. It was printed in the traditional Japanese woodblock technique and issued in 1903.
3D video by Gidon Kobayashi…
Click HERE for an article on the masturbating woman design from Eisen's famous Yakumo no chigiri !
Source: 'Shunga, Sex and Pleasure in Japanese art' by Timothy Clark et al. (The British Museum)
Do you prefer Meiji or Edo era shunga? Leave your reaction in the comment box below….!!