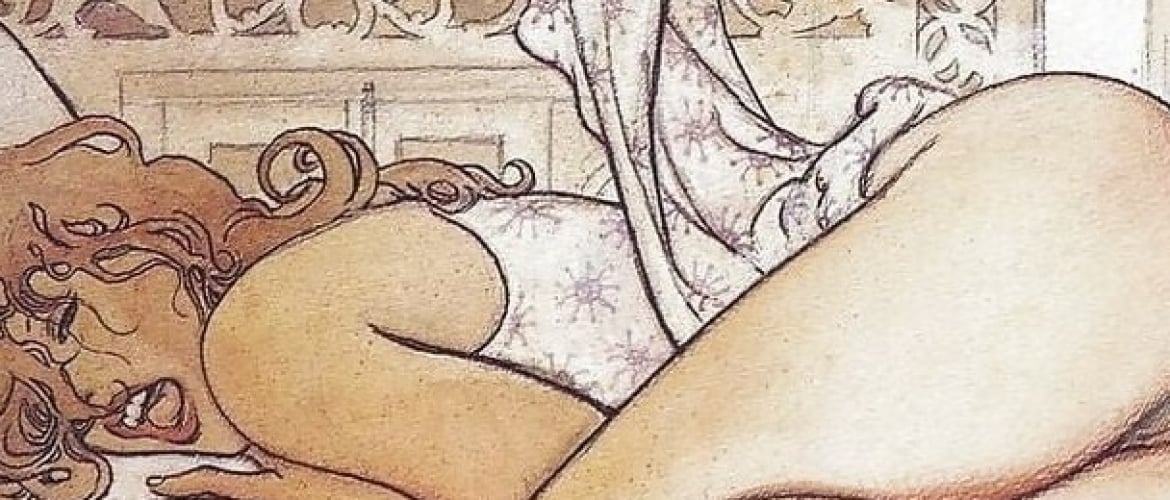 Milo Manara: The King of European Erotic Comics (91 Lustful Pics)
No one draws beautiful women better than Milo Manara (1945), no one has pushed more boundaries in the comic than the Italian comic book author and artist. He is the unrivaled king of the erotic comic, and his portrayal of graceful, delightful women placed in absurd and fantastical erotic scenarios are unmatched.
Joyful Sensuality
What really stand out are his joyful sensuality and the absolute ease and delicacy in which he depicts these fanciful scenes. This is especially true of his comics series, 'Giuseppe Bergman' (Fig.1), which is a mixture of experimental narrative and explicit sex.
Italian Psyche
Manara is a household name in Italy and his memorable output of eroticism is part of the Italian psyche. In his long career that has lasted for more than 50 years up to now, he always celebrated the beauty and seduction of women in erotic positions and in very little clothing. Born in Luson, a picturesque mountain village near Bolzano, Manara was already fascinated by art from an early age, and as a kid even ran away from home to see an exhibition of the painter Giorgio di Chirico. The latter, as well as Peter Paul Rubens and Caravaggio (Fig.2) would become his most important inspirations.
Teenage Years
As both his parents were workers, Milo and his brothers started doing small jobs during their teenage years in order to be self-sufficient. When Milo was 12 he made decorative panels on commission. Later he worked as an assistant to sculptors. His interest in comics was stirred up in the late 1960s, and produced his first work for 'Genius' pocket books, and magazines such as Terror and Charlie Mensuel.
Erotic Work
In the early seventies Manara created, among other things, the sexy pirate 'Jolanda' with scriptwriter Francesco Rubino for publisher Erregi. But he really established himself as one of the great masters of erotic comic art with the book 'Déclic' ('Click' in English, 1983). Click (Fig.3) was popular for its enticing subject matter – a woman is abducted by a scientist who surgically implants a remote-controlled device into her brain, that makes her sexually insatiable upon activation. Click 2 and Click 3 were issued in 1991 and 1994 respectively.
Fellini
In 1987, Milo collaborated with the filmmaker Frederico Fellini, whose Otto e Mezzo (8 1/2 – Fig.4) greatly influenced him, and provided the illustrations for a screenplay that was published in the Italian newspaper Corriere della Sera.
Spider-Woman
In the U.S., he is best known for his work for Marvel comics. His cover art for the comic Spider-Woman No.1 (Fig.5), in particular, caused a lot of controversy, because of its sexualization of Jessica Drew. The cover was later hammered at $37,500 at Heritage Auctions' European Comic Art event between Oct. 3 and Oct. 4, in 2020.
Lockdown
During the lockdown in 2020, he started paying homage to pandemic's heroic females (such as nurses, cleaners, cashiers, doctors) through his art by posting illustrations of them on Facebook. Manara,'I felt it was time to celebrate other virtues, like courage, selflessness, and altruism. I somehow wanted to pay off my debt.'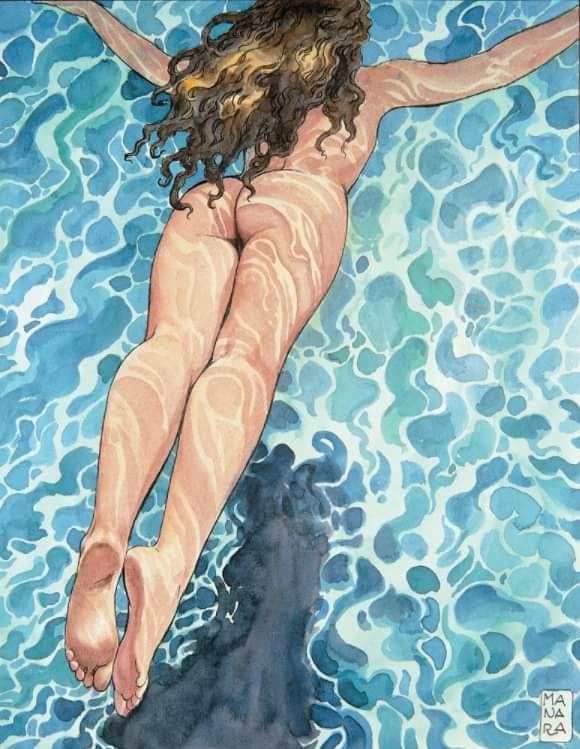 Fig.87.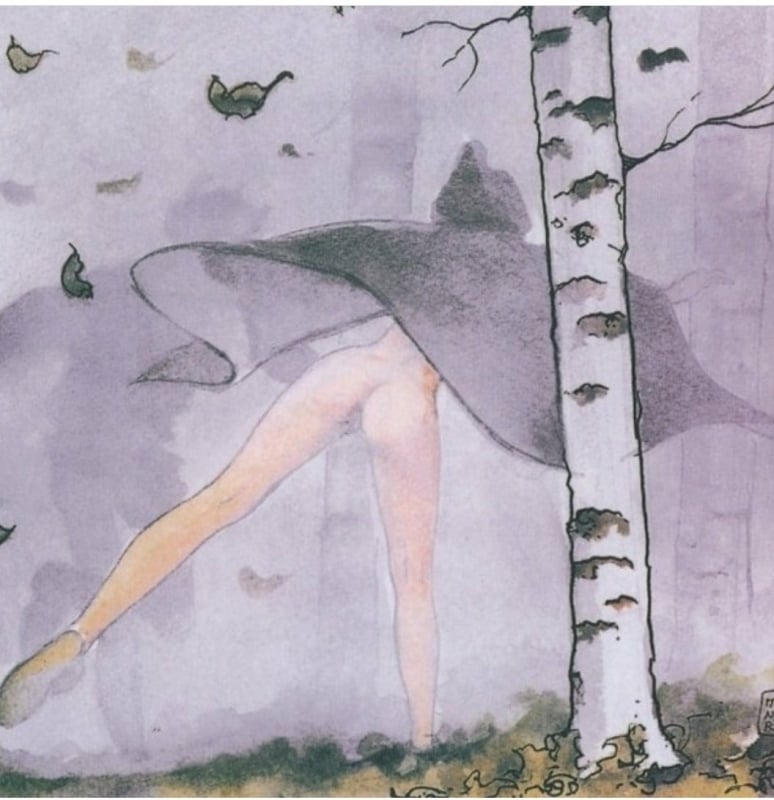 Fig.88.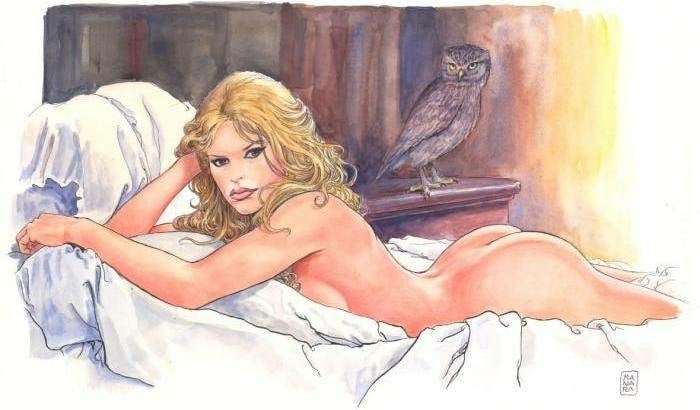 Fig.89.
Fig.90.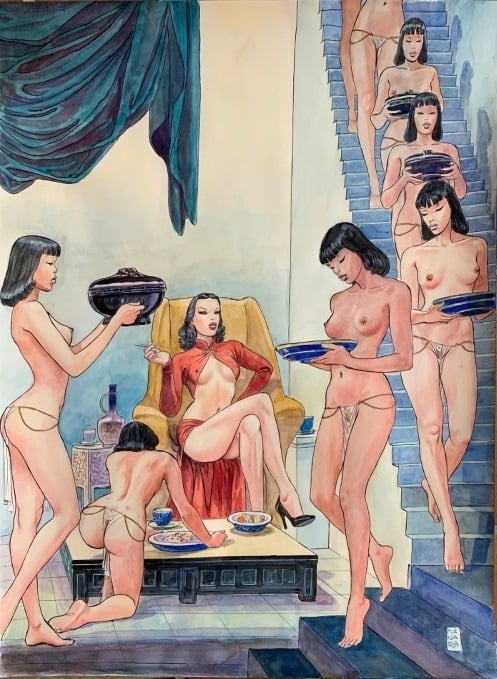 Fig.91.
The following video shows how the artist draws a sexy girl…
Click HERE for the sensual comic version of the Kama Sutra by the French artist Georges Pichard….!!
More of Manara's art can be found on the artist's site…!!
Sources: Milomanara.it, Lambiek.net, Honesterotica.com, WashingtonPost.com
What is your favorite illustration of the above? Leave your reaction in the comment box below….!!