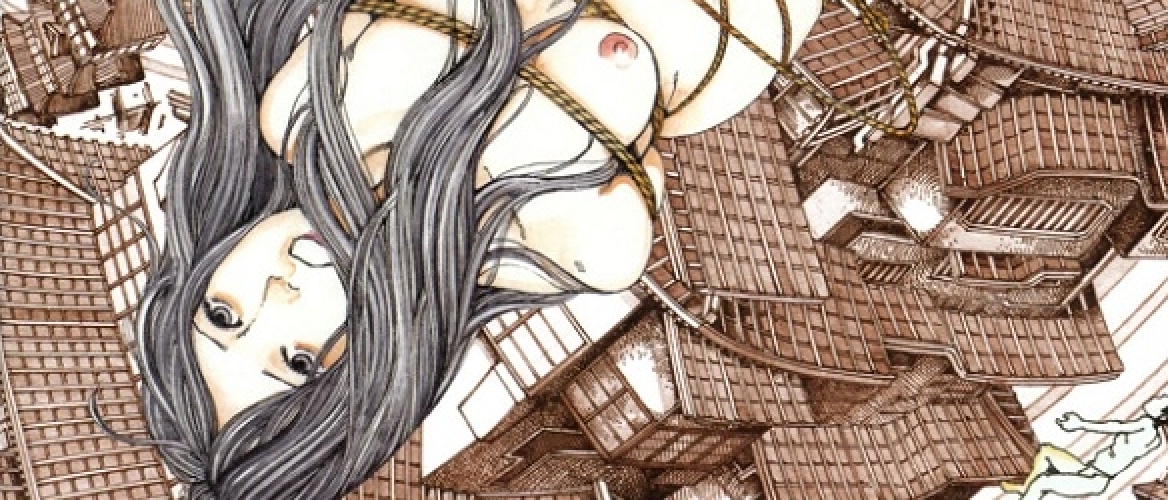 The Erotic, Grotesque and Nonsense World of Shintaro Kago
The work of Japanese artist Shintaro Kago (1969) is known at home and abroad as one of the great expressions of the ero guro nansensu. Much more thought of as a set of cultural trends, which emerged during the Taisho era and the beginning of the Shōwa era, than an organized movement, the ero guro nansenu began in literature, with works by Edogawa Ranpo and Yumeno Kyūsaku, unfolding, in the following decades, in painting, engraving, sculpture, cinema and music.
Yoshitoshi and Kyōsai
However, it's possible to identify antecedents that connect the ero guro nansensu to the Edo period, such as the works of Tsukioka Yoshitoshi (Fig.1) and Kawanabe Kyōsai. In a way, Shintaro Kago's manga and drawings can be seen as a mixture of the preferences of these two artists, since his work unites violence and satire as a possibility of analyzing the society in which he lives.
Extreme Violence
The best known part of Shintaro Kago's work concerns manga, whose transgressive and experimental narratives are loaded with extreme violence, madness and black humor, ranging from narratives with few pages, such as those in the series that they constitute the two volumes of the manga Dementia 21, going through manga such as Fraction, which flirts with the giallo, until epic works, such as The Princess of the Never-ending Castle (Fig.8).
Cannibalism
In addition to narrative works, Shintaro Kago is dedicated to making small books from 15 to 90 pages, known as art books. In these art books, the artist, no longer conditioned by the narrative, creates a series of images of kawaii-style girls torn apart and tortured in more unusual ways. In the books Panna Cotta and Candy filled girl's head, the reader is invited to contemplate Shintaro Kago's peculiar humor through mutilations, cannibalism, monstrosities, murders, suicides and eschatology, in which the body, all the time, is transgressed as if it were a toy being broken by a child.
Monty Python
Perhaps it's no wonder that the taste for black humor, in Shintaro Kago's images, reminds us of Jonathan Swift's work, since the Japanese artist is admittedly a fan of the Monty Python group, whose nonsense humor has a lot of similarity to that practiced by Irish writer.
How to Suicide
If these images of girls break with any notion of the idealized body, by being fragmented in a labyrinthine and permutative way, in other art books, we can see how the insertion of texts leads the images to expand their satirical load, not just about the constitution of kawaii, but also about specific social behaviors, as in After-School, and comprehensively in Funeral Views volume 1 and 2, How to Suicide (Fig.26 to 29), Sexual Games and Japanese Ghosts, in which Japanese traditions and rituals, taken to the extreme,  become elements of laugh.
Sex, Absurdity and Violence
This strange world of Shintaro, an expression that even gives its title to another volume of art books, has no limits to the forms of expression that the artist constantly seeks to explore, by combining sex, absurdity and violence through laughter, following Georges Bataille's maxim: "no longer leaving out laughter tearing the fabric of which man is made, on the contrary, knowing itself guaranteed by insignificance until thought is not itself a deep tear in the fabric, and its object – the being itself – the torn fabric".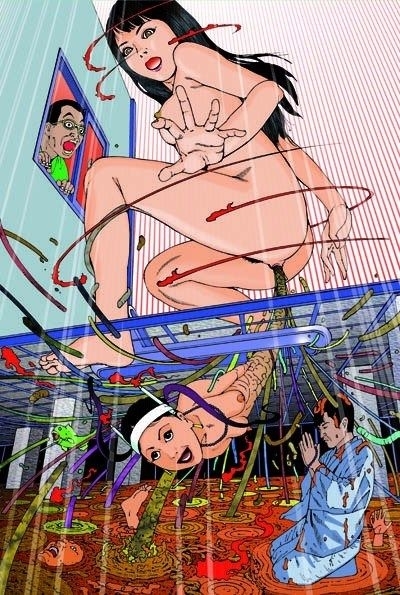 Fig.35. 'Shitting Girl '
In our extended Premium version of this article you can find more bloody images...!!
Click HERE for an article on the important representative of ero guro art Suehiro Maruo….!!
You can follow Shintaro's new work on Instagram..!!
Let us know your thoughts on the macabre sensuality of Shintaro Kago in the comment box below…!!