Ashley Wood's Post-Apocalyptic Erotic World
The Perth-based illustrator Ashley Wood (1971) is one of the big names in the international comic book industry. He started in the UK where his drawings of the character Judge Dredd stood out. As a result, he attracted the attention of great American publishers such as Marvel Comics and DC Comics and subsequently worked for Image from Todd McFarlane (for whom he worked on the character Spawn) and IDW Publishing.
Popbot
Wood's breakthrough came in 2000 with the comic Popbot. In a 2001 interview Wood described Popbot as a 'mixture of 'Jacob's Ladder' and 'Fritz the Cat', with a side serving of David Lynch weird ass salad.'  The tale is about a cat that was once a world-famous rock star whose career is in decline and who has to reimburse huge amounts of debt to various parties. The tone moves from eccentric parody and absurdity to haunted house and contemplation.
Long-limbed Amazon Girls
The gloomy post-nuclear world portrayed in his graphic novels and paintings is inhabited by heavily-armed robots, rabid zombies, dead cosmonauts, long-limbed amazon girls, sexbots, new age ninjas, violent soldiers, and other predatory creatures. Wood's painting style is very loose and expressive with a rich lush patina. His realm of thought and style can probably be best described as Philip K. Dick meets Cézanne.
Erotic Work
In his erotic work the intimate protagonists are placed at desolate impersonal locations such as poorly lit factory halls. The alienating atmosphere is enhanced by the invisible or partially visible (in the pin up scenes) female face. The male faces are completely absent since they wear either an astronaut helmet, an oxygen or a gas mask. In the intercourse scenes the faces are never visible. The young scantily-clad girls (Amazones) often only wear light stockings and lean or sit on helmets or so-called Popbots while the man often only plays a supporting role.
Oil painting 'Nude with Popbot' (2010)
Shunga inspired ink-drawings by Ashley Wood:
Image by ashleywood3a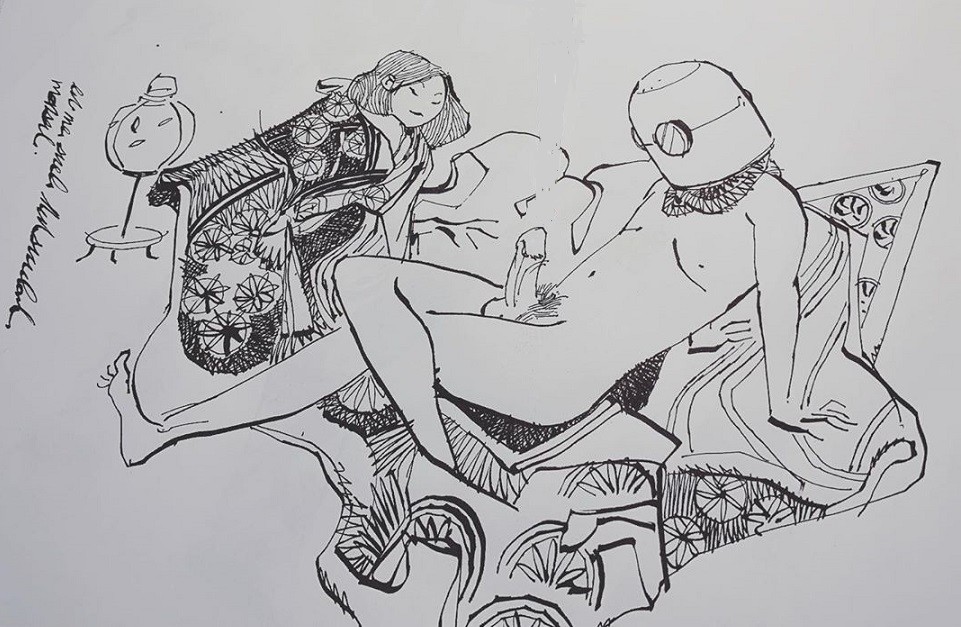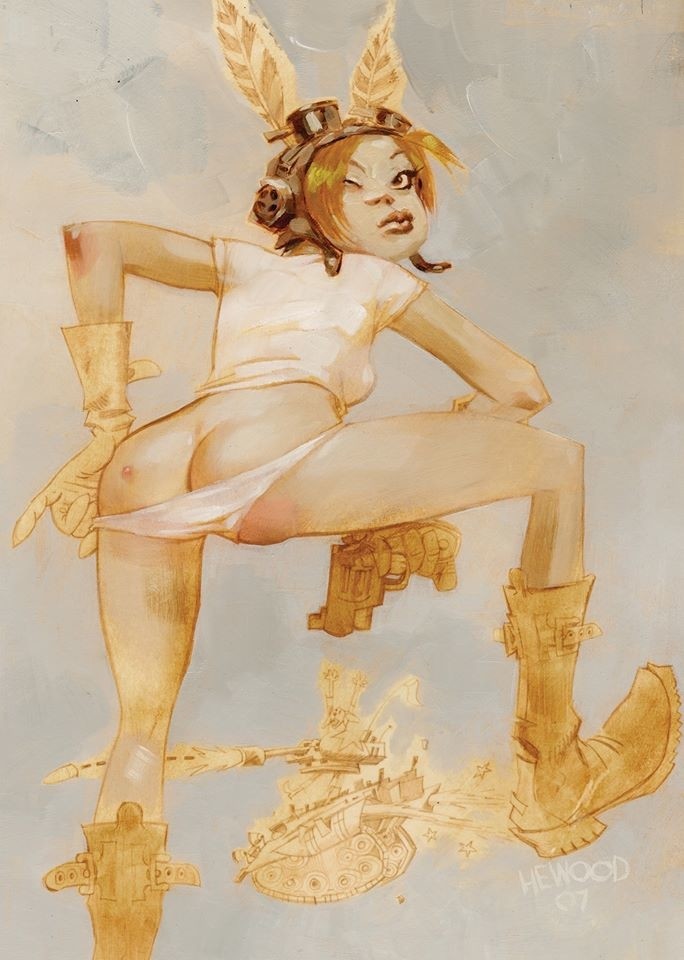 More publications on the magnificent art of Ashley Wood can be found on his site 7174publishing
Click HERE and discover the subversive nature of modern shunga art…!!!
Source: Ashley Wood, 7174publishing.com, pinterest.com, twitter.com
Let us know your thoughts on Wood's post-apocalyptic erotica in the comment box below...!!