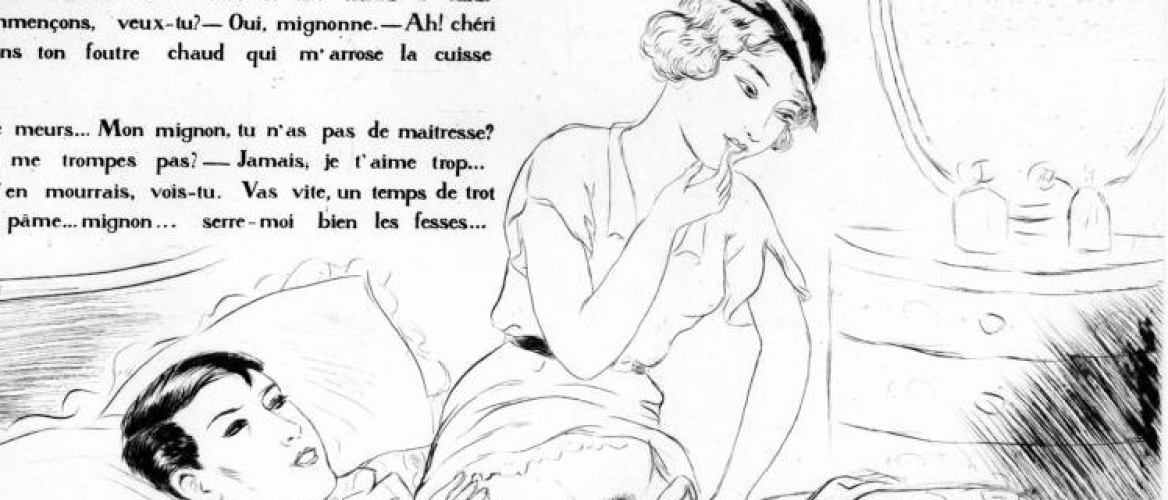 Erotic Book "For You, For Me" Written and Illustrated by the French Artist Léon Courbouleix
Léon Courbouleix (1887-1972) was a French interwar painter, engraver, and illustrator, who produced many sensual sets throughout his life. Some of them you can watch at honesterotica.com.
For You, For Me
In our article, we'll especially focus on his book "Pour Toi, Pour Moi (For You, For Me)" published in 1935 by Priape Ardent. Courbouleix not only produced erotic illustrations but also provided the text. So, this time we show you pictures accompanied by our exclusive literary translations of fifteen erotic poems, which you can compare with the originals.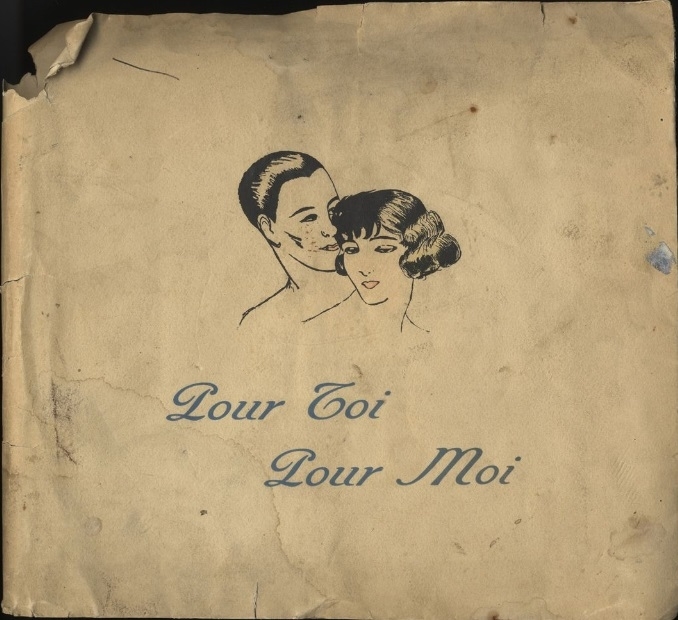 Fig. 1. The cover (drouotonline.com)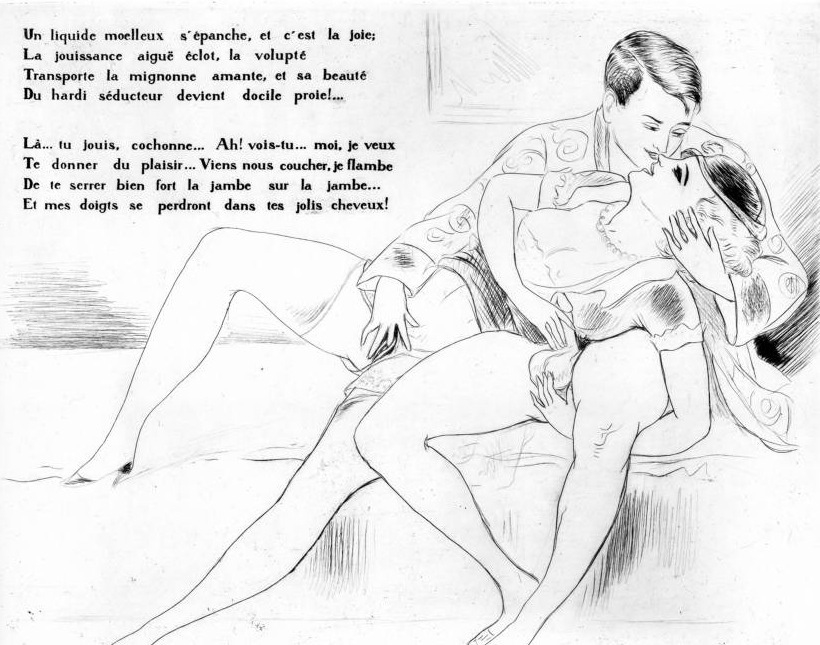 Fig. 2. corquevols.blogspot.com
Un liquide moelleux…
The liquid's spilling out, and it's a joy;
This titillation carries her away
And turns into a weary docile prey
Her savage beauty, which can never cloy.
Uh.. Little slut… Your body is the core
Of pleasure… To the bed for more delight!
I'll squeeze your thighs I'm burning for tonight,
And kiss your breasts and make you scream «encore!»
Fig. 3. corquevols.blogspot.com
Et puis c'est la Beauté…
And now he lets the beauty take control,
Sprawls out like he's an idle dreaming beast.
And she evokes the source of woman's bliss,
Inserts it in for him to take her soul.
Sometimes it is the darling who lies down
And spreads her legs to quench his endless thirst.
The hidden ruby makes her shake and burst,
Its' twins are gems of every ancient crown.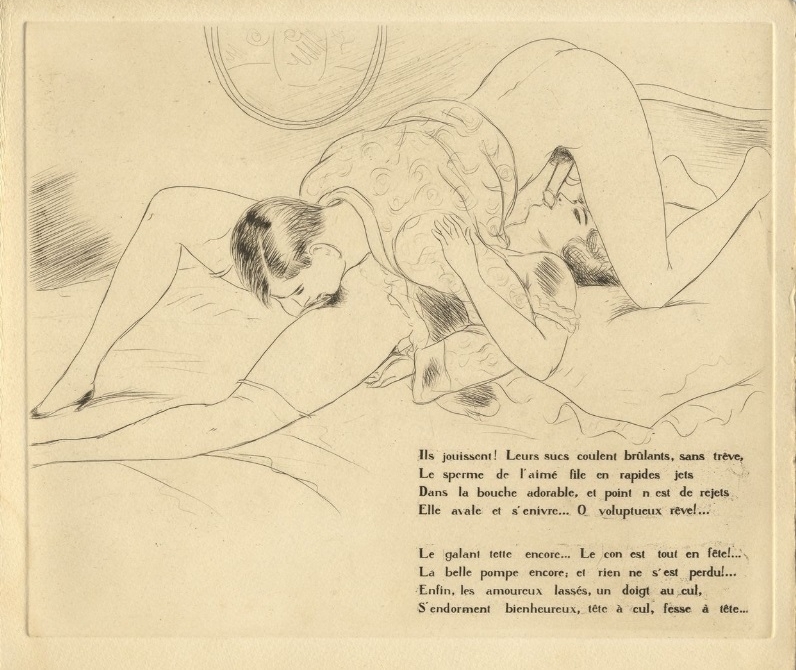 Fig. 4. drouotonline.com
Ils jouissent! Leurs sucs coulent…
They're having fun! Their juices flow and flow;
The lover's sperm arrives as rapid jets
In craving lips. The mouth never rejects,
And she gets tipsy lying down below.
The gentle sucking and the pampered cunt…
Another take and not a drop is lost!
The weary children with their bedding tossed
Sleep cheek to buttock, having done their stunts.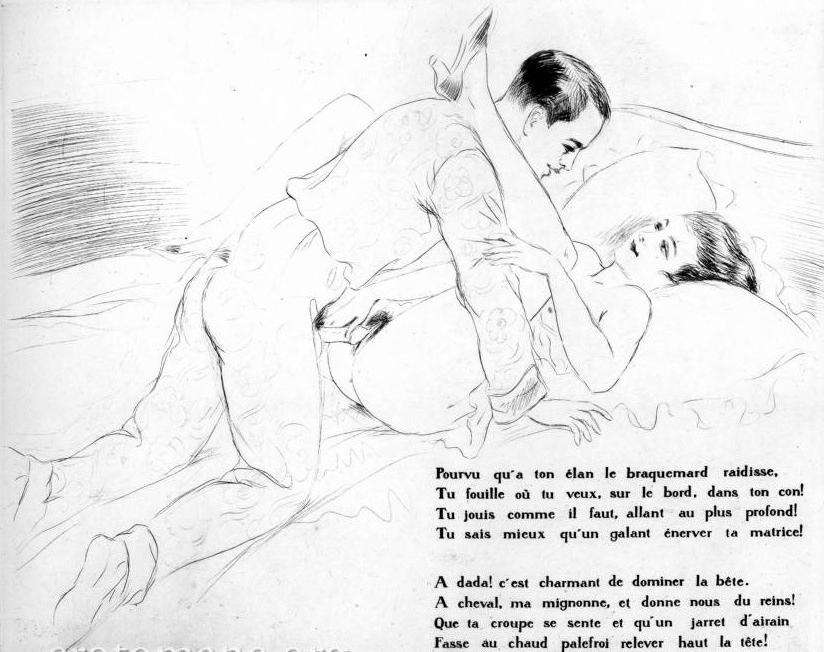 Fig. 5. corquevols.blogspot.com
Pourvu qu'a ton élan le braquemard raidisse…
– You're like a dowser with your stiffened rod,
You seek a spring regardless of how deep
It's hidden. And your impulse is a leap
Of reckless faith that takes you on this road.
– The hobbyhorse becomes a beast at once,
To gallop is the only way to tame
The fire of our loins, which starts the same
Caused by a spark I notice in your glance.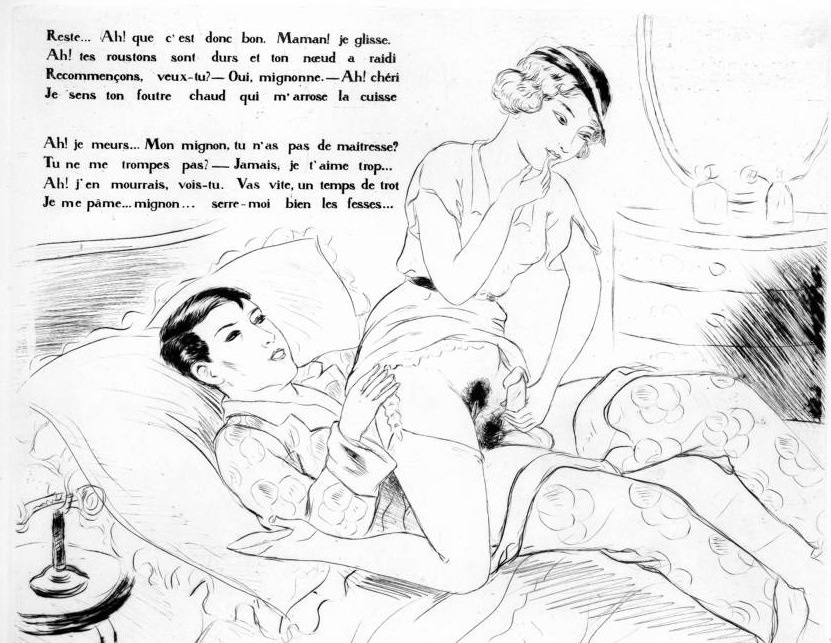 Fig. 6. corquevols.blogspot.com
Reste… Ah! que c'est donc bon…
– Wait! That's so good! O gracious god, I slide.
Your balls are hard again, so is the knot.
Let's start it over? – Yeah, my love, why not?
– I feel your cum's already on my thigh,
I'm dying, sweetie!.. dying now to know
If you are cheating… – Honey, why would I…
– Just to imagine is enough to die…
I'm swooning!.. Hold me tight and don't let go!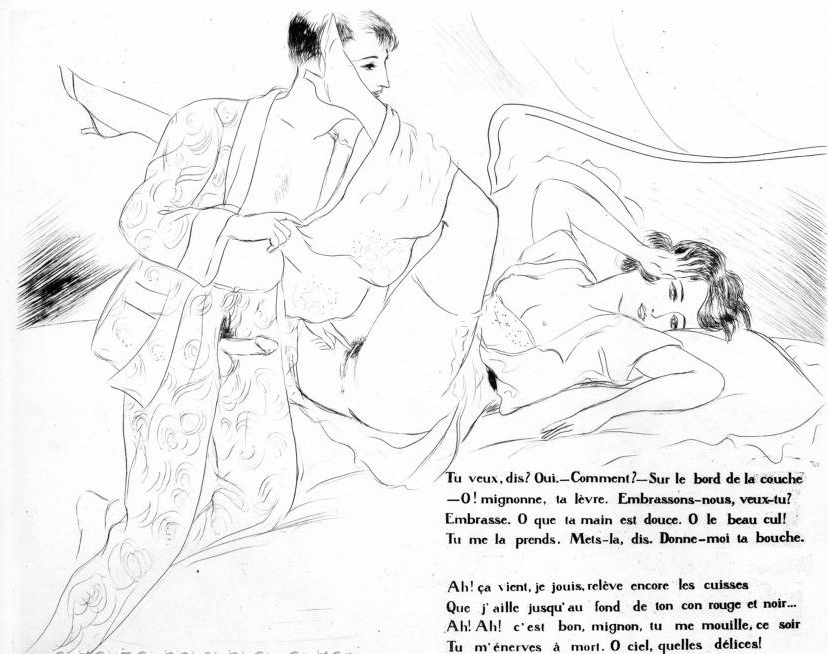 Fig. 7. corquevols.blogspot.com
– Tu veux dis? – Oui…
– How do you want it? – Do me on the couch!
– What 'bout a kiss? –Yes! – On the mouth? – Of course!
– Your scarlet lips are petals of a rose,
Your perfect ass is meant to kiss and touch…
– Ah, here it is! I'm coming! Lift my thighs!
– To penetrate as deeply as I can…
– You make me wet! You make me cry again!
Oh, hell and heaven, honey, what delights!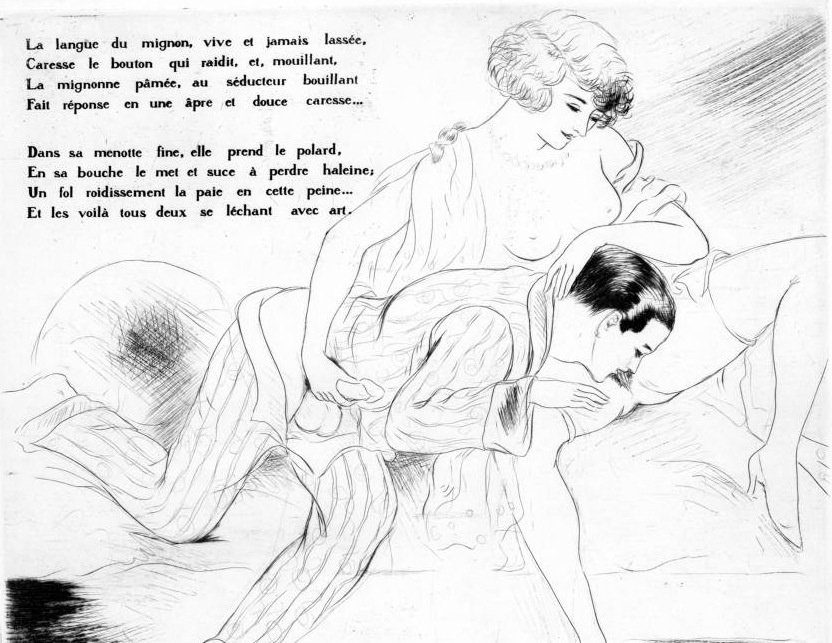 Fig. 8. corquevols.blogspot.com
Le langue du mignon…
The sweetheart's tongue is restless and so quick,
Caresses make the button stiff and wet.
She's almost lost herself to it and yet
She keeps caressing back the lovely stick.
The pretty mouth is longing to complete
What her small hand's begun… The gentlest part!
They're sucking now each other. In this art,
They only with each other can compete!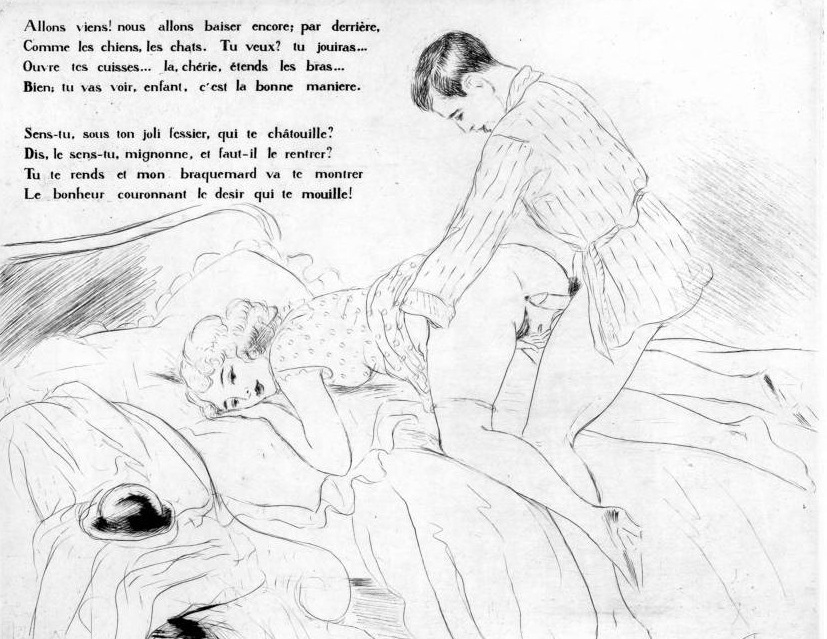 Fig. 9. corquevols.blogspot.com
Allons viens! Nous allons baiser encore…
Come on, my love, let's do it from behind.
What's natural is surely not so bad.
Stand on all fours and spread your legs. I bet
My baby will enjoy this thing tonight.
Your buttocks are so soft… My cock grows hard.
Get ready, hun… As soon as you give in,
You'll feel how burns relentlessly within
What makes you moist so quickly at the start.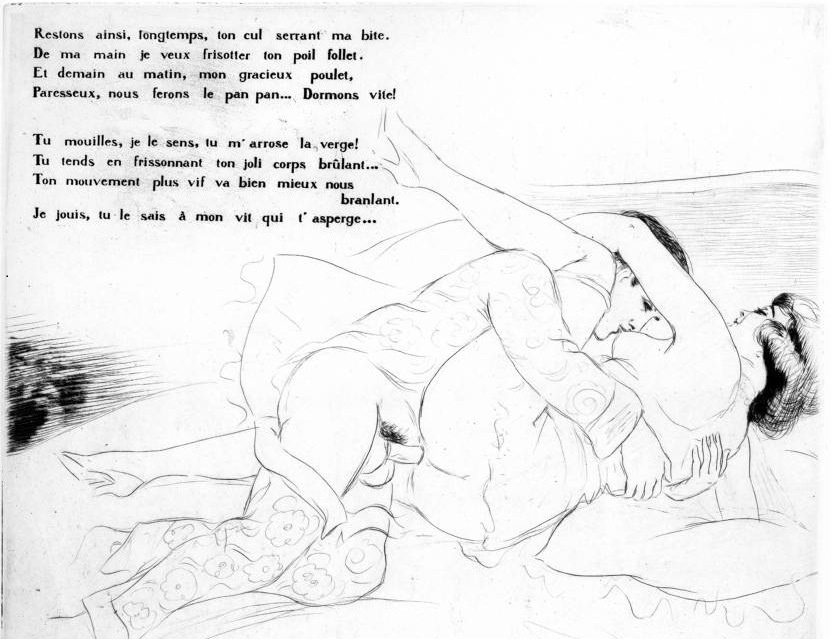 Fig. 10. corquevols.blogspot.com
Restons ainsi, longtemps…
Your buttocks squeeze my cock… Let's stay for long
Like this… My tender fingers can't but curl
Your wispy hair. Let's fall asleep, my girl,
We need to gain some vigor to go on.
Insatiable, you're wriggling like a worm
And wet my cock, which is no longer still.
It stiffens now, encouraged by your will,
And wets your buttocks with the sprinkling sperm.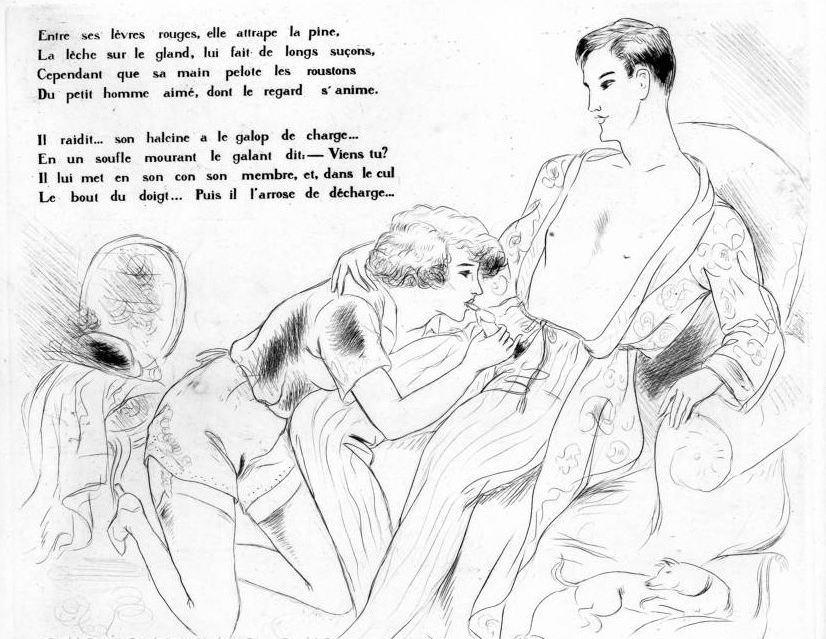 Fig. 11. corquevols.blogspot.com
Entre ses lévres rouges, elle attrape la pine…
She grabs the penis with her scarlet lips,
She licks the glans, then gives it longer sucks.
Such a sweet-tooth, she was a kid who snuck
Into the kitchen for the box of sweets.
Her little hand is bound to adore,
And with its' help, he's close now to the peak.
It's time to share his gorgeous candy stick
With lower lips that need it even more.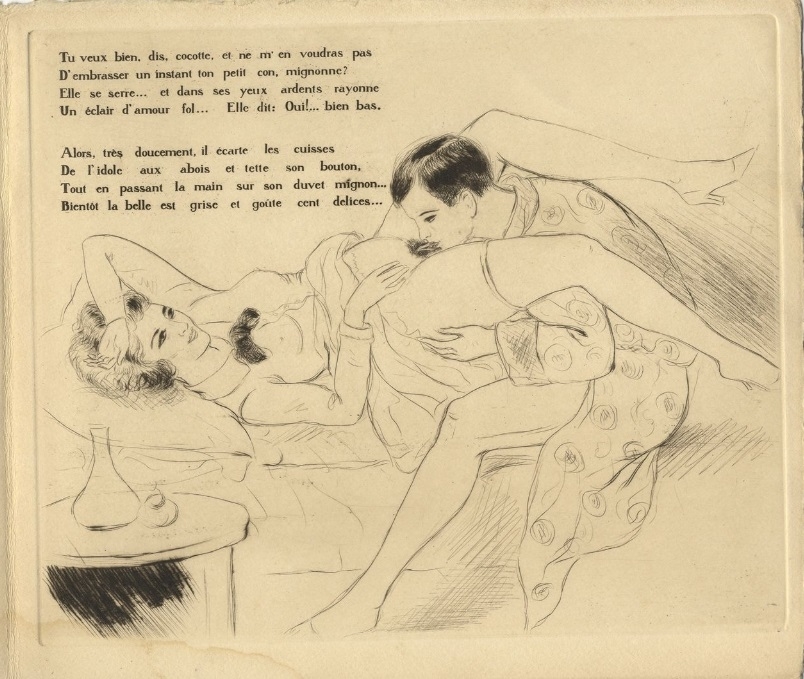 Fig. 12. drouotonline.com
Tu veux bien, dis, cocotte…
– Oh, tell me, won't you mind, my honey hoe,
Me giving you a little kiss in there?
She tightens, and her lovely cunning stare
Repeats the words: "Yeah! Kiss me, boy… down low!"
He touches and spreads her legs the gentlest way
And sucks the clit, which brings a little death
To his sweet angel getting out of breath…
How many times they're goin' to die today!
Fig. 13. drouotonline.com
Oui, tu vas loin, chéri…
– So deep… I'm 'bout to die right now… Oh, god!
Your penis is a murderer, not less…
My wolf, your cum is moistening my ass,
Our pleasure very well can cause a flood.
– Your nipple's hard. The wolf is goin' to bite…
– And does he love me? – Oh, he does, my rose!
– How much? – As much as he adores this pose…
Say, do you want him to go deep at night?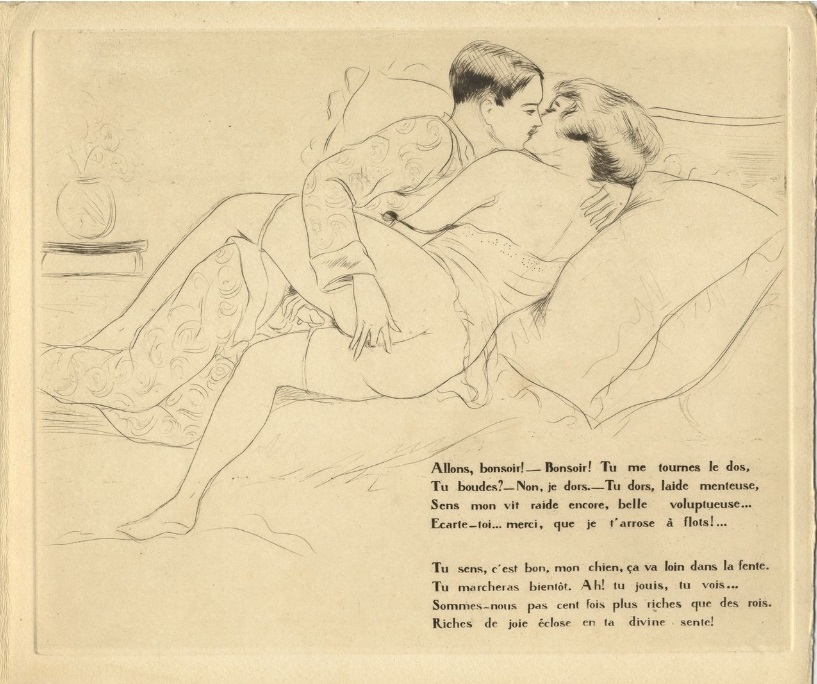 Fig. 14. drouotonline.com
Allons! Bonsoir!..
– Enough… Good night! – Good night? Already? Why?
You sulk at me… For what? Oh, for god's sake…
– I'm just asleep… – My penis is awake!
And it's your fault! I feel you're wet… You lie!
So, my dog's goin' for another walk!
I'll be a beggar when you turn your back,
But now you make me richer than the check
Will ever do… – You wanna fuck or talk?..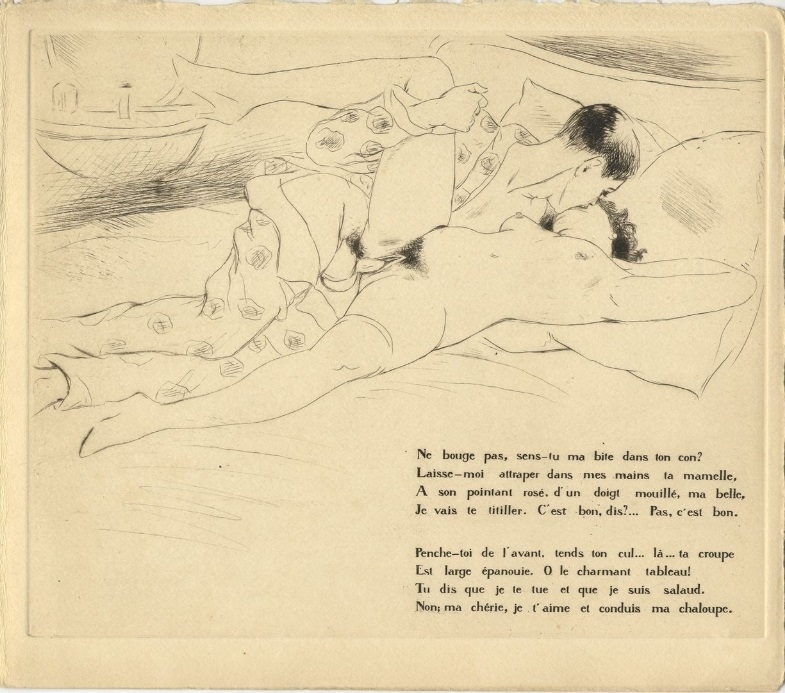 Fig. 15. drouotonline.com
Ne bouge pas…
Stay still! Don't move to better feel it, hun,
Inside your cunt… One hand is for the breast
Another's for the clit. And what's the rest,
My loving mouth, is for your naughty tongue.
Your little ass is making me unload…
Lean forward… Let me… What a tasty dish!
You call me bastard… Call me as you wish,
I cherish you and rule our pleasure boat.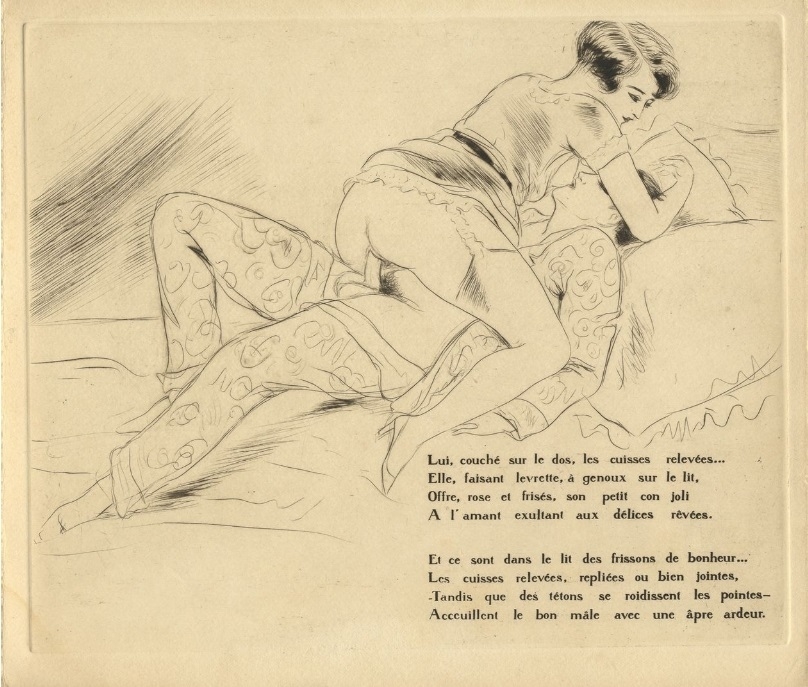 Fig. 16. drouotonline.com
Lui, couchė sur le dos, les cuisses relevées…
He's lying on the back and gives a ride
To his beloved whose cunt is pure bliss.
Can it be real?.. Can they just dream of this?..
Two souls are taken by the flowing tide
Of their desire… Though the tale is told,
It still amazes us at someone's will.
How can this liquid flame provide a chill
That makes her nipples stiff as if it's cold?
Sources: drouotonline.com; corquevols.blogspot.com
Click HERE for the tactile homoeroticism in the drawings and poems of Jean Cocteau….!!
Let us know your thoughts on the erotic poems and illustrations of Léon Courbouleix in the comment box below….!!