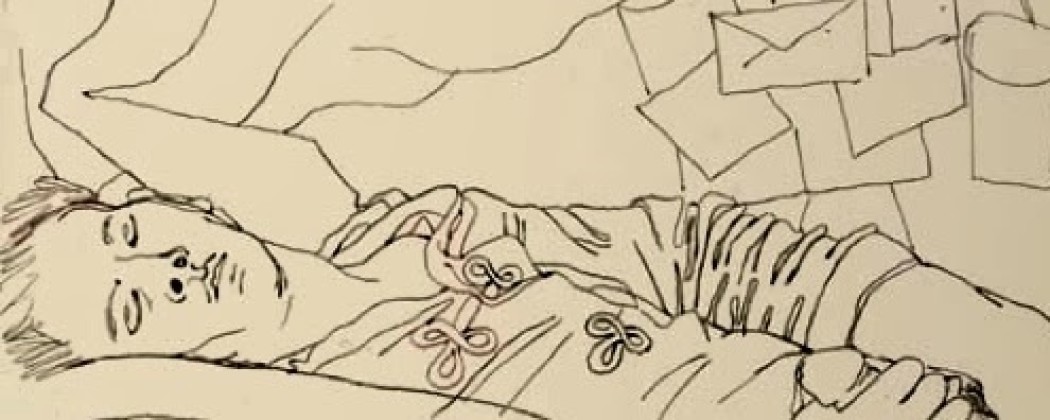 Homoeroticism in the Drawings and Poems of Jean Cocteau
Jean Cocteau (1889–1963) was a writer, painter, and a director who began his way in art as an avant-garde representative and became a living classic by the end of his life. He is mostly known for his surrealistic films like "Orpheus" (1950) and "The Testament of Orpheus" (1960). Remarkably, Cocteau insisted on calling himself a poet and defined his works in different spheres of art as "poetry," "novel poetry," "theatrical poetry," "critical poetry," "graphical poetry," "cinematic poetry."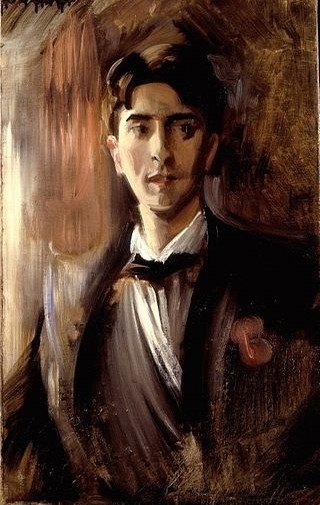 Portrait of Cocteau by Frederico de Madrazo y Ocha, ca. 1910-1912
A Father and a Grandfather
The father of Cocteau was a lawyer and amateur painter who committed suicide when Jean was 9-year-old. His grandfather took the role of Jean's mentor and, being a collector and a music lover, developed in a grandson the artistic taste. There were paintings of Delacroix and Ingres in a family collection. At the age of 11, Cocteau began attending the Lycee Condorcet, which was one of the best Parisian educational institutions.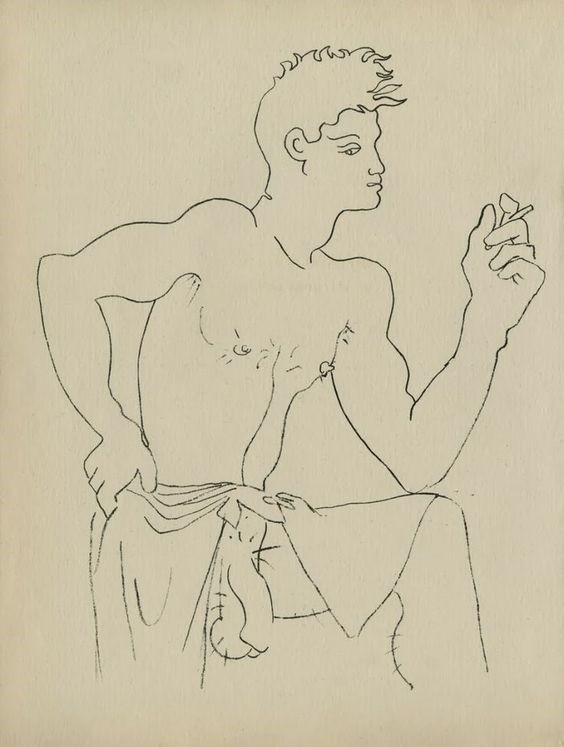 The Boy (pinterest.com)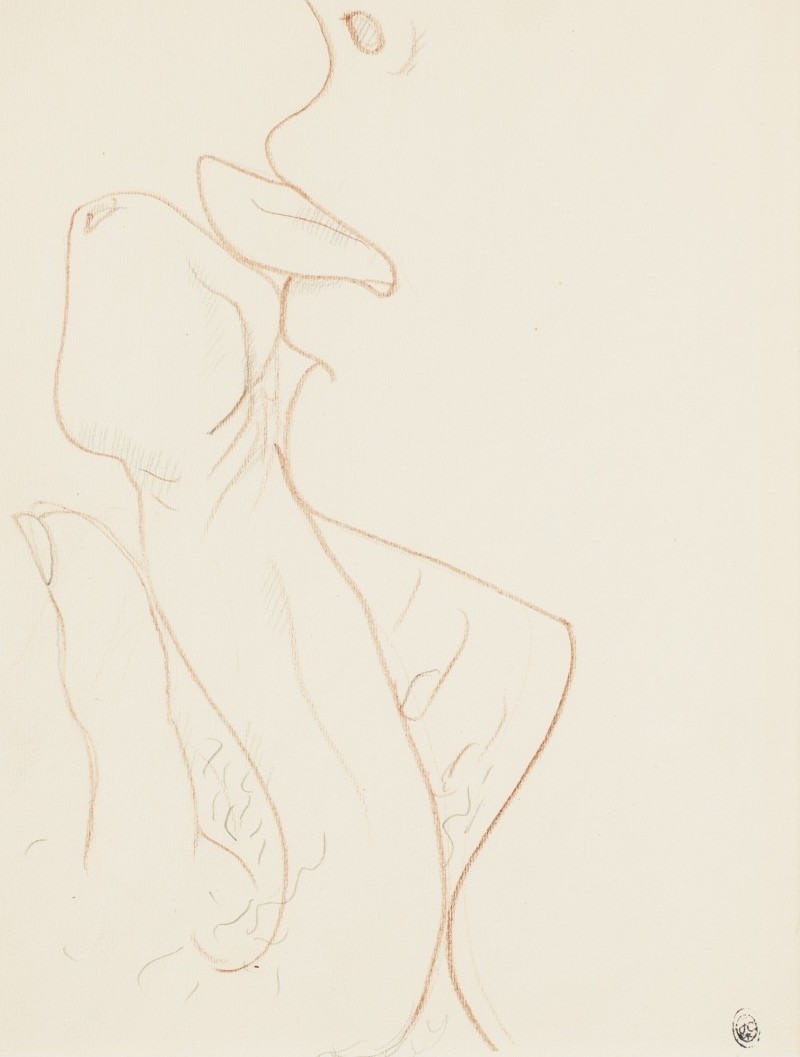 Fellatio (pinterest.com)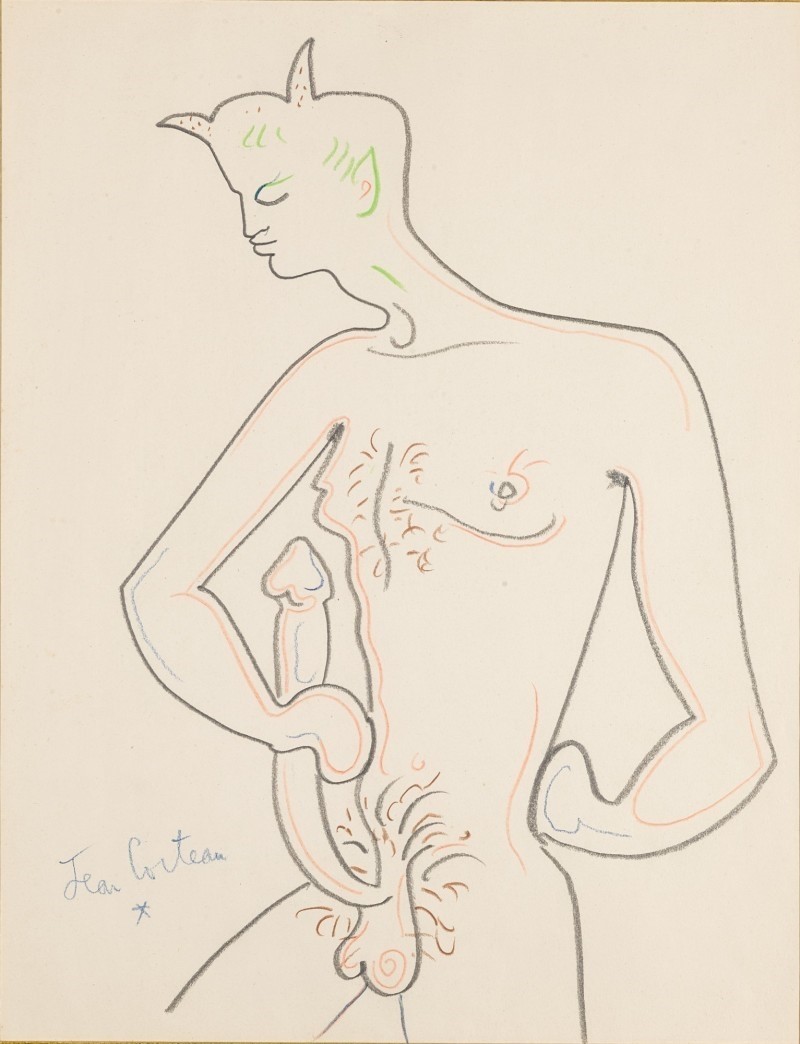 Faun (pinterest.com)
Faun (pinterest.com)
Inside the Artistic Circle
From 1910 to 1920 years, Cocteau shaped his poetic individuality, trying himself as a dadaist in the book "Poems" and as a surrealist in the book "Opera." Along with his literature experiments, he achieved popularity as a graphic painter working in a cubist style. Esthetic views of Cocteau were influenced by multiple sources, among which were works of composers Erik Satie and Igor Stravinsky, the ballet of Sergey Diaghilev, paintings of Picasso, and the poetry of Apollinaire. In the 1910s, Cocteau made an acquaintance with the representatives of the Parisian bohemia. His figure became a prototype of dandy Octave in Marcel Prust's novel series "In Search of Lost Time."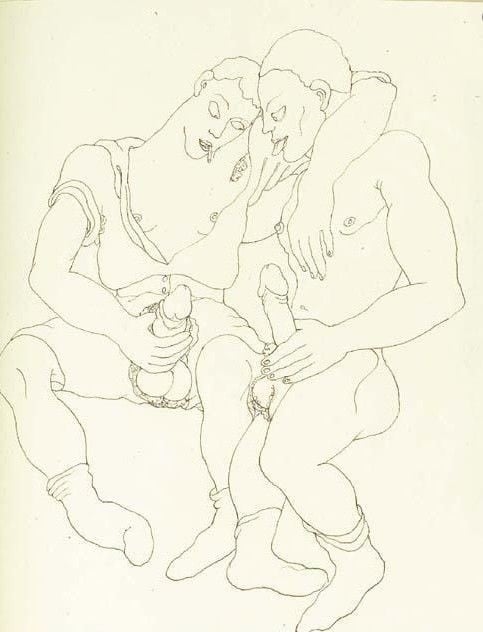 Couple (pinterest.com)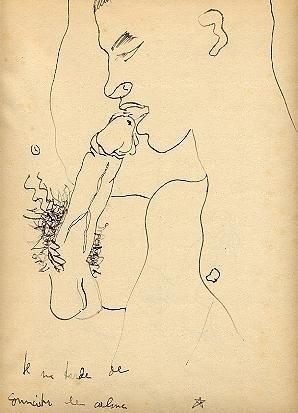 Fellatio (pinterest.com)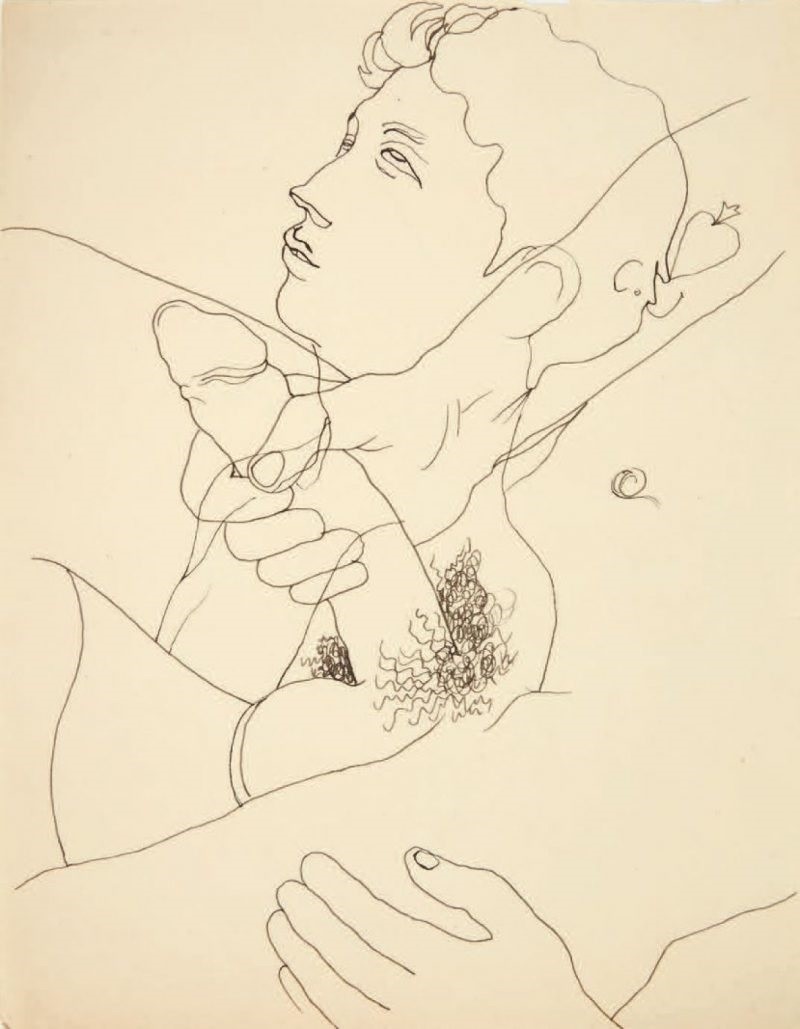 Erotic scene (guyberube.com)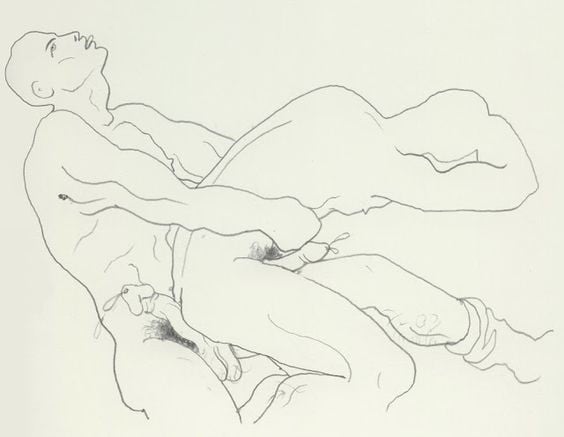 Erotic scene (pinterest.com)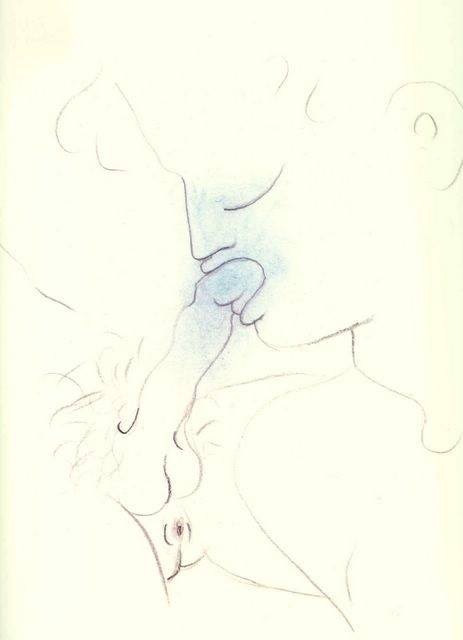 Fellatio (blogger.com)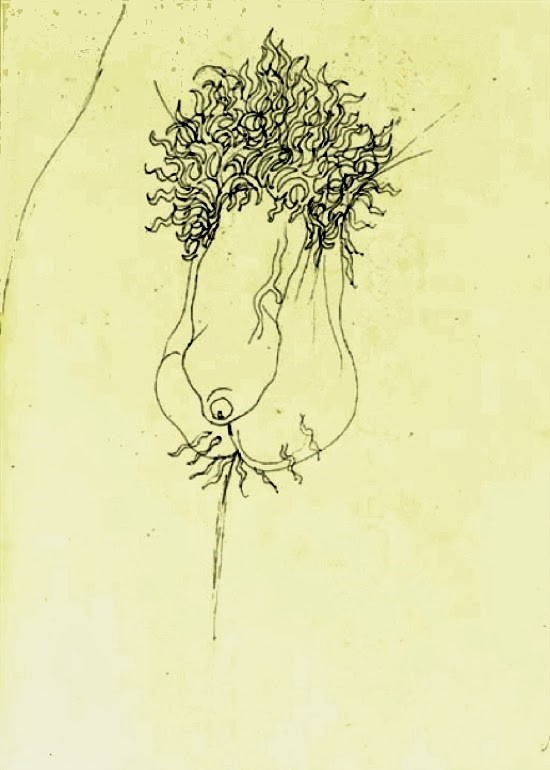 (blogspot.com)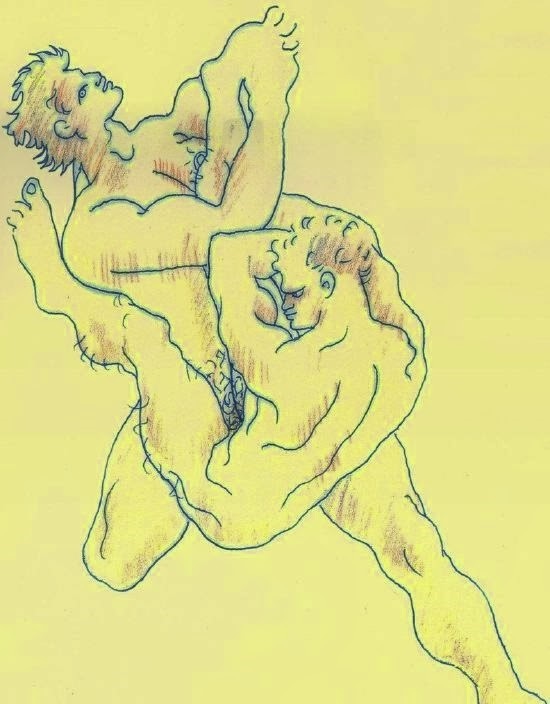 Copulation scene (blogspot.com)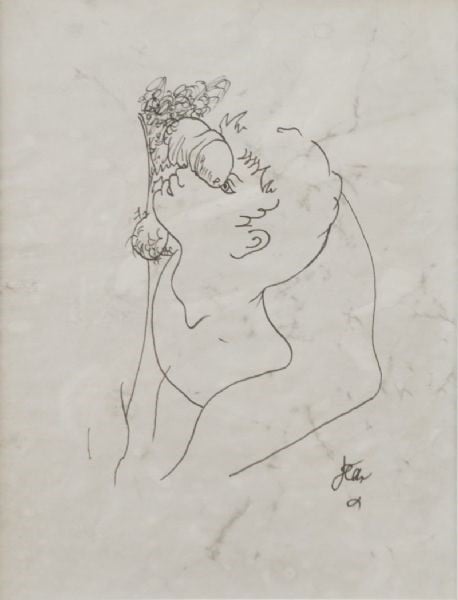 Erotic scene (findartinfo.com)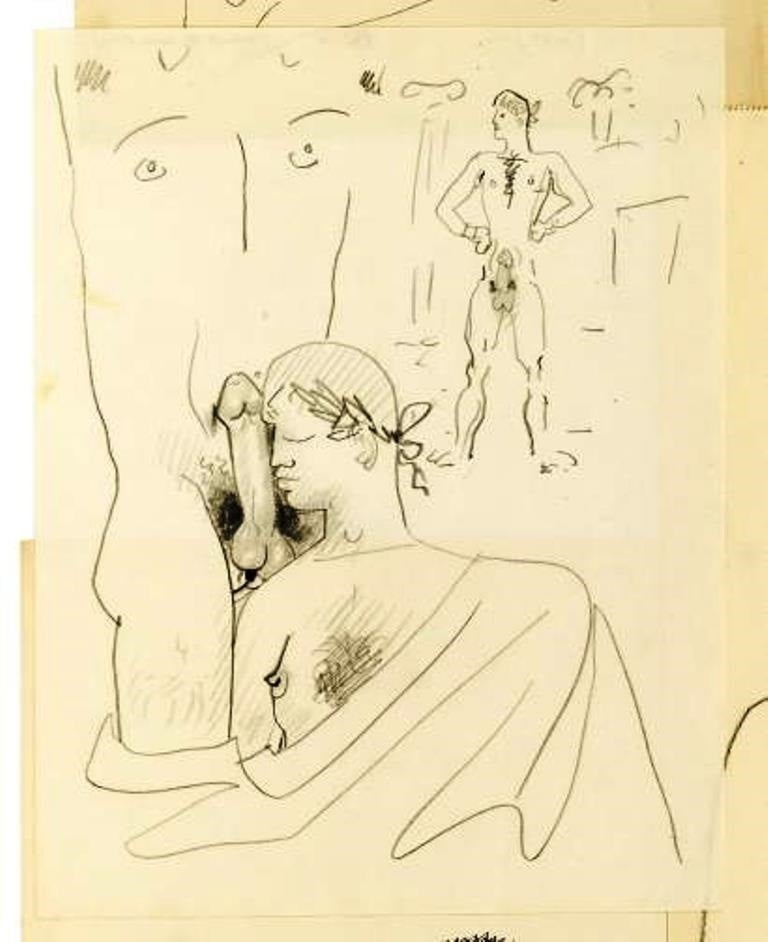 Erotic scene with three characters (wordpress.com)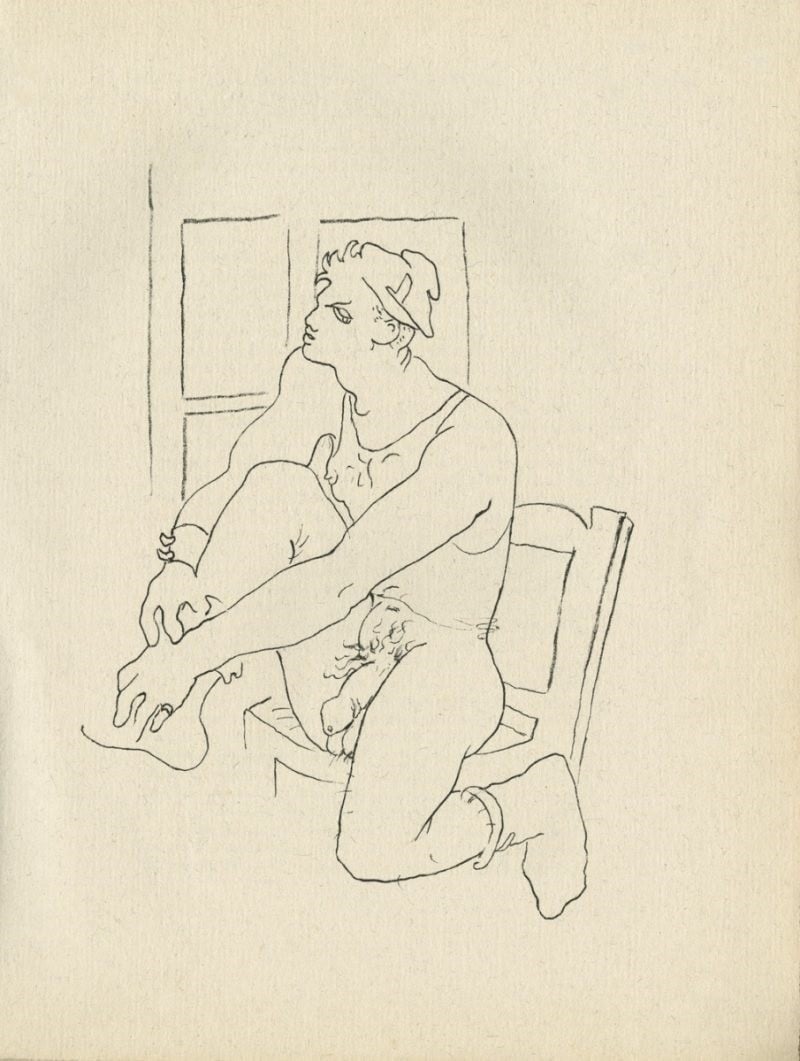 Man in front of the window (guyberube.com)
Art and War
In 1914, Cocteau was recruited in the army and served as a hospital attendant. Then he left military service due to health problems. Several decades later, at the time of the Second World War, the French Resistance accused Cocteau of collaborationism. In fact, he maintained a friendship with Nazi propagandists Arno Breker and Leni Riefenstahl. In the period of Nazi occupation, Cocteau was very productive and staged five plays in the theatres of Paris. In his diary notes, the poet remained to be a pacifist. However, it didn't deter his relationship with Breker and Riefenstahl. In 1950-1960, Cocteau argued for the human right to refuse to perform military service.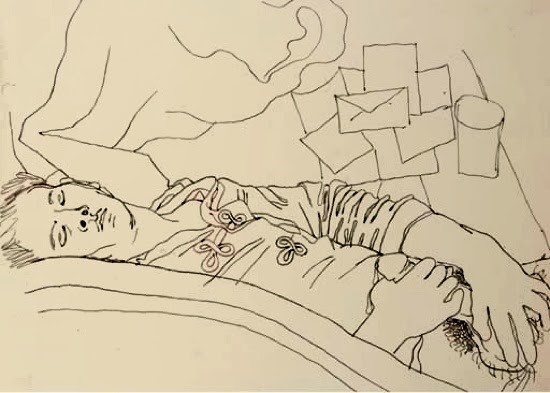 Soldier with his love letters (blogspot.com)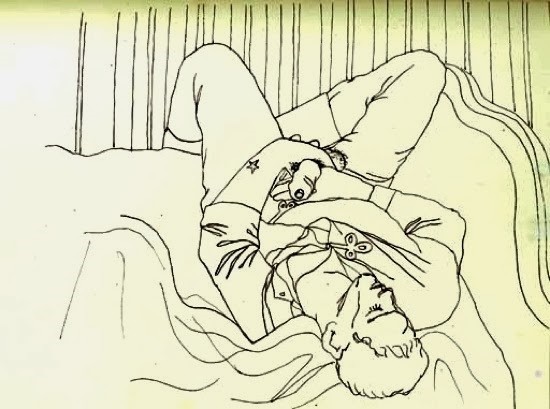 Resting Soldier (blogspot.com)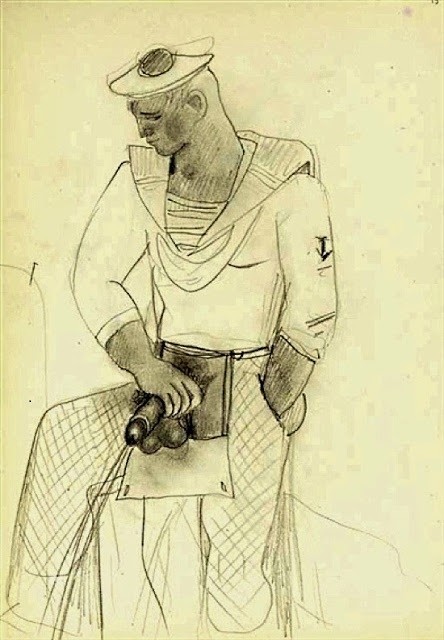 Pissing Sailor (blogspot.com)
Bisexuality
Jean Cocteau himself admitted that he was bisexual. In the 1930s, he lived with the Russian actress and princess Natalie Paley. They broke up after Paley had miscarried a child from Cocteau. From 1937 to Cocteau's death in 1963, his lover was the actor Jean Marais, to whom Cocteau devoted some of his poems, which you can read below (as I don't speak French, I had to translate them from Russian).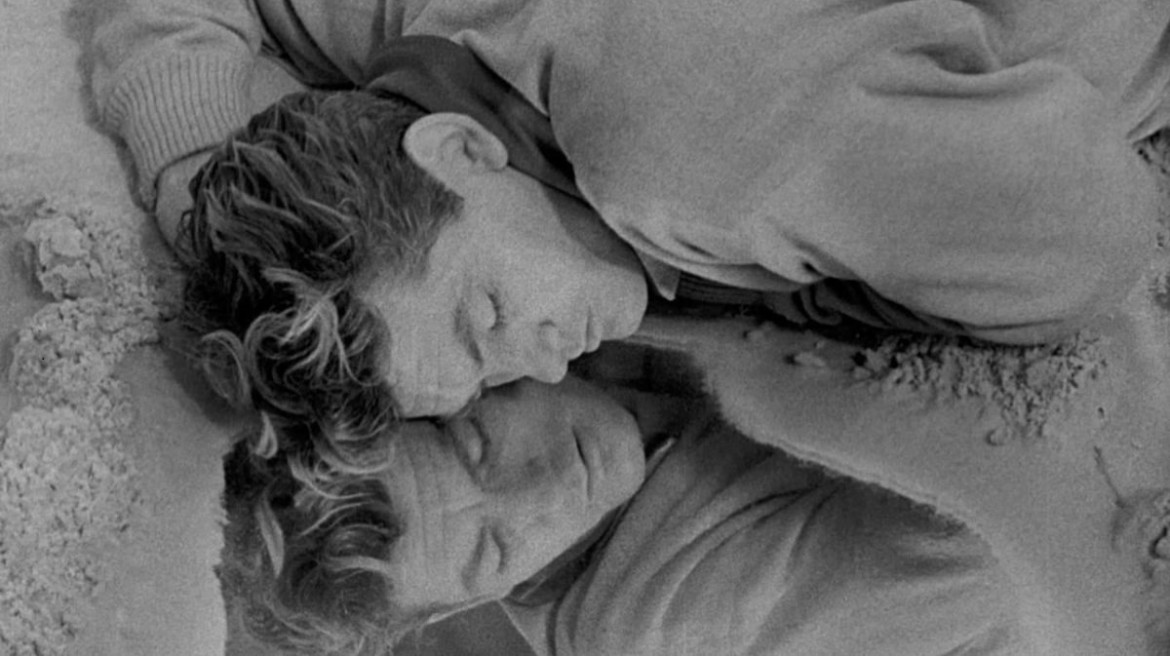 Jean Marais in "Orpheus" (1950), letterboxd.com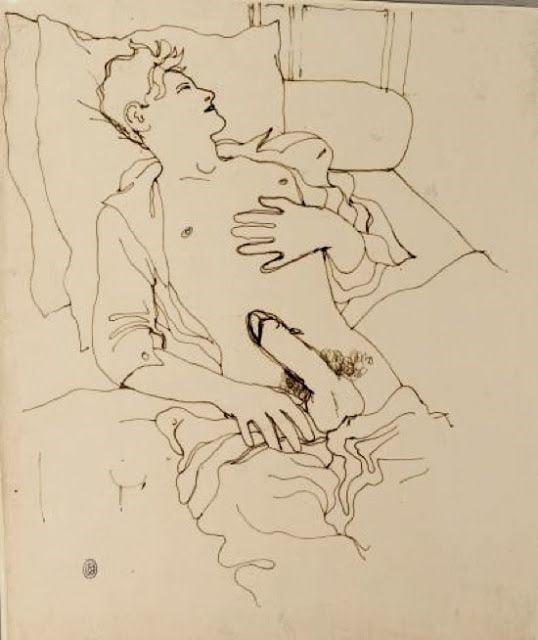 Sleeping Man (pinterest.com)
***
(Extract)
I write my poems while my tired lover rests
With golden hair and holy gifted marks of sex.
But soon his gift enchanted by the dreams will rise
Just like a trunk, the marble flame of Paradise,
The golden column, slightly rounded at the crown,
In which the marble and the flame unite as one.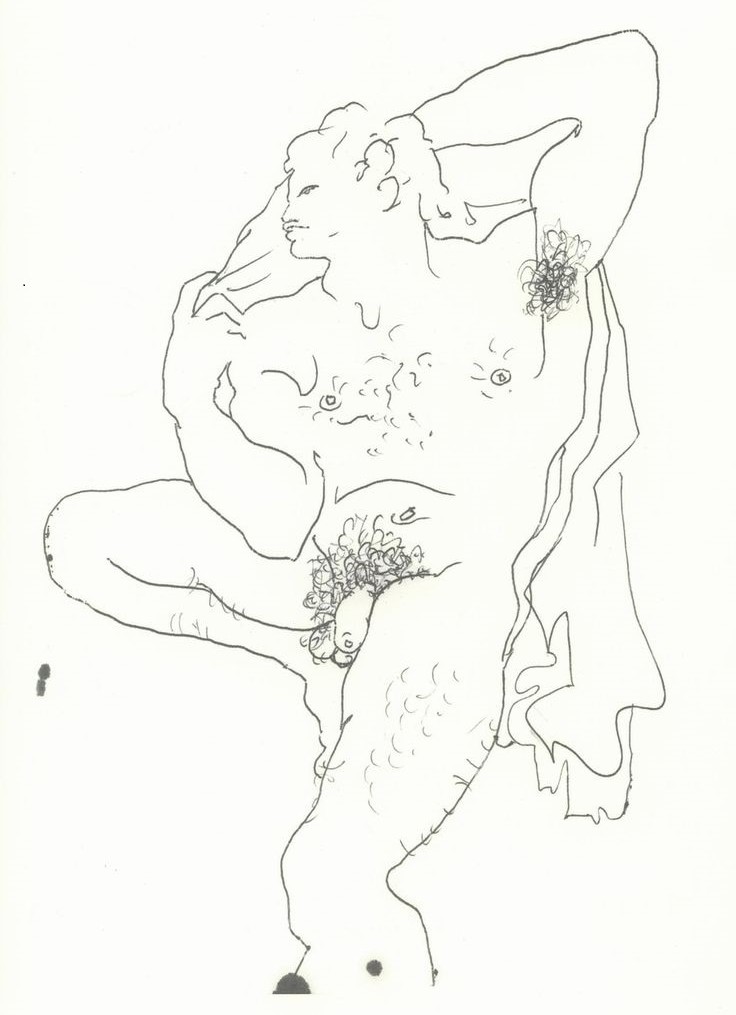 Resting Man (guyberube.com)
My Night
How many times my dreams've been ruined in the night
Enabling me to see the wonder by my side.
Oh, dear child! He looks so charming while asleep.
I wish he'd dreamt of me, but such a claim is steep.
My rhymes are flying 'round the bed and sneaking in
To touch his nakedness, to kiss his pinkish skin.
Where does the dream lead, when it starts to lead away?
I bless the gracious gods who let me stay awake.
And having cautiously escaped a midnight mess,
I stay on duty. At my desk, I hold a mass,
I write about my love on these blank sheets anew.
My boy, you're sleeping now but, dear, where are you?
I'm like a watchman here. By stars or in the frost,
I watch my happiness and glorify my post.
The devil tries to cool the burning feelings off.
And his attempts to laugh at us are vain but oft.
He dares to jumble up the arrows and the aims
For shadows of the doubt could play their wicked games.
Why do I speak of this? You sleep and I'm in love,
Still sleepless like a miser nursing all his stuff.
To save it further, though, I'll give it to the crowd.
The heart keeps bleeding ink and love gets written down.
You sleep, my actor, artist, and my only verse.
I'm always here to be an audience of yours.
Sleep, dear. Your Jeannot's a nightingale, that's why
My blood must run to you 'til stars move out the sky.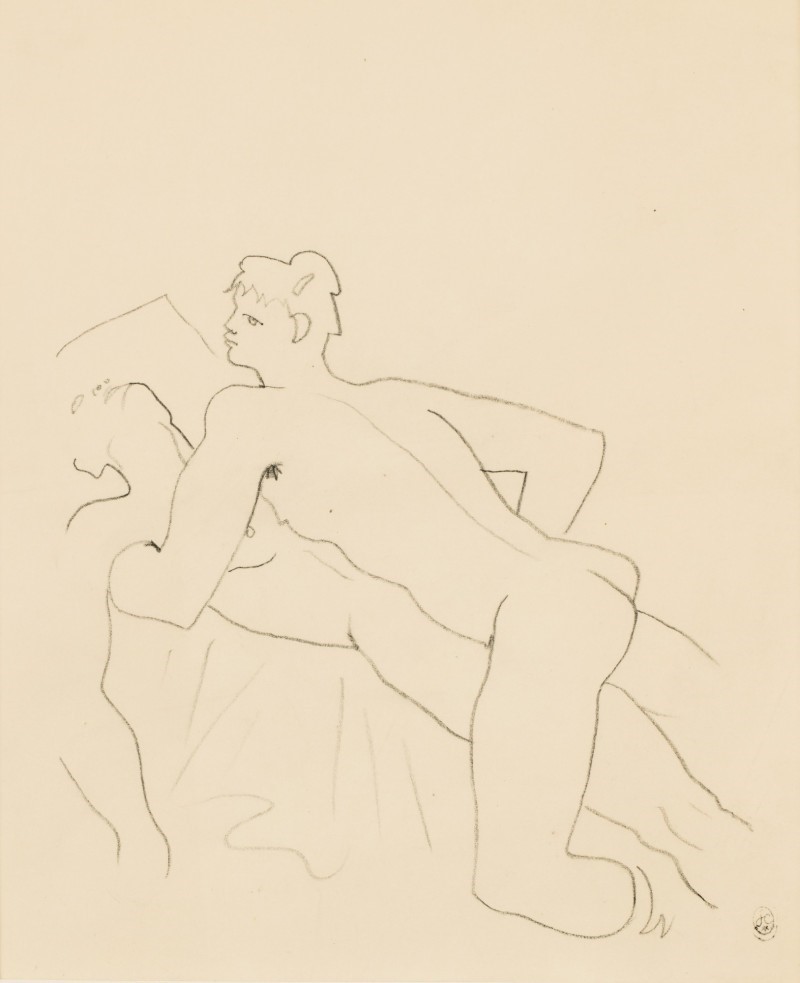 Erotic scene (pinterest.com)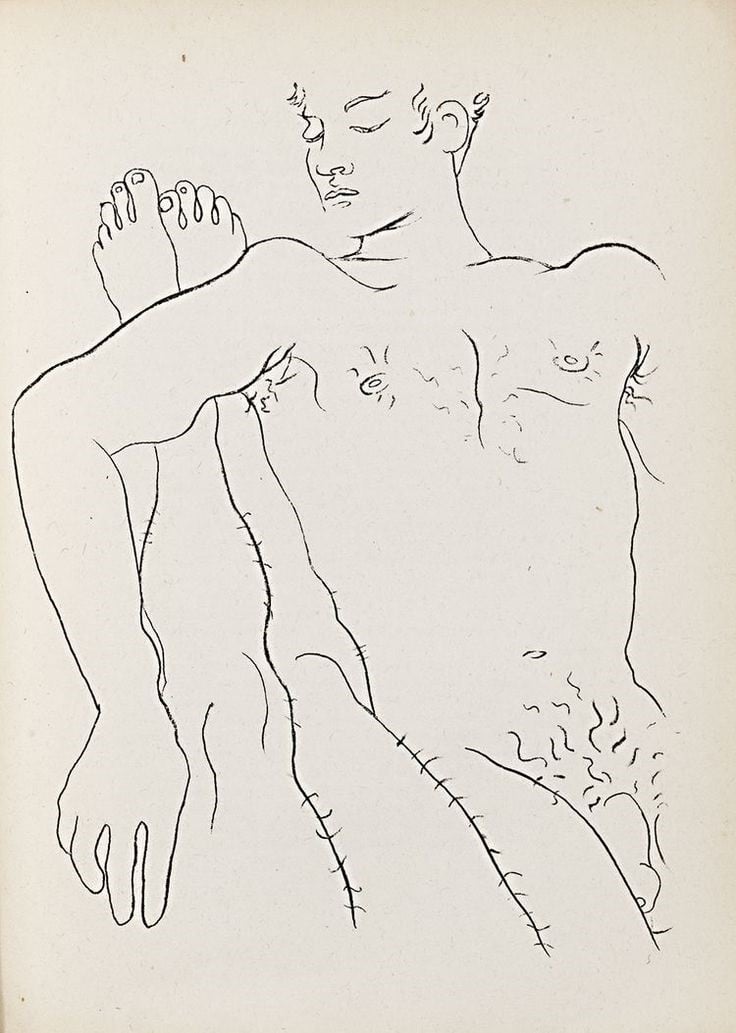 Erotic scene (guyberube.com)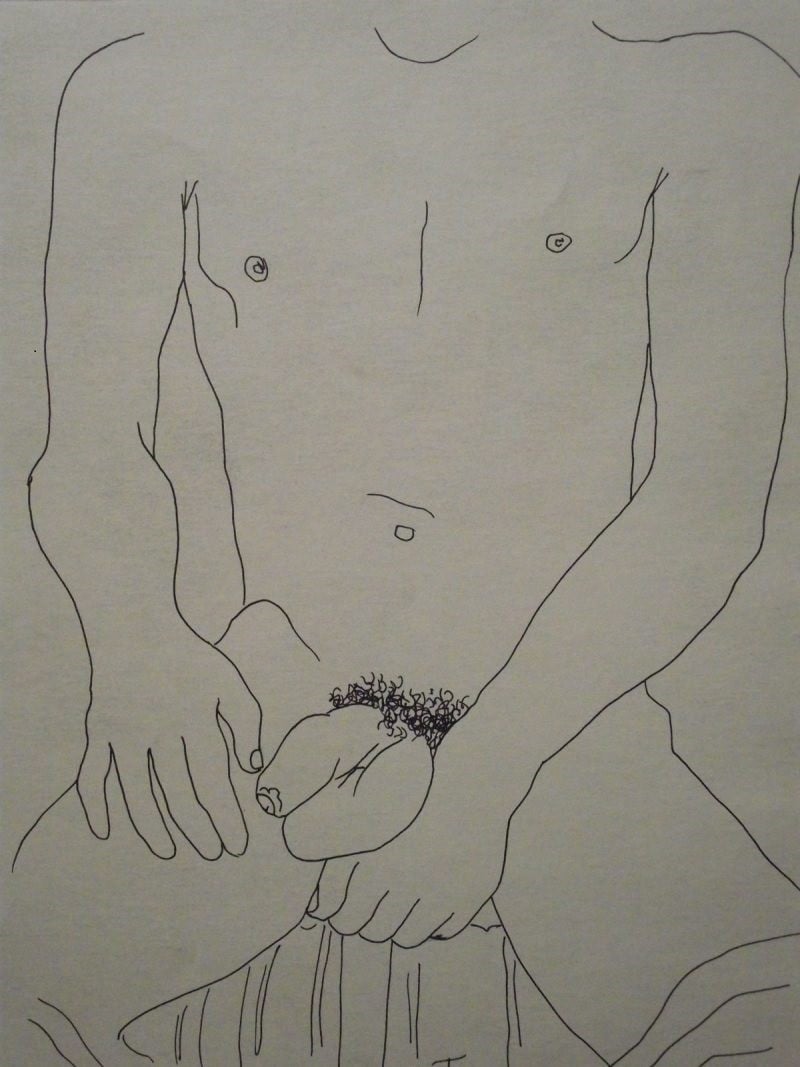 (guyberube.com)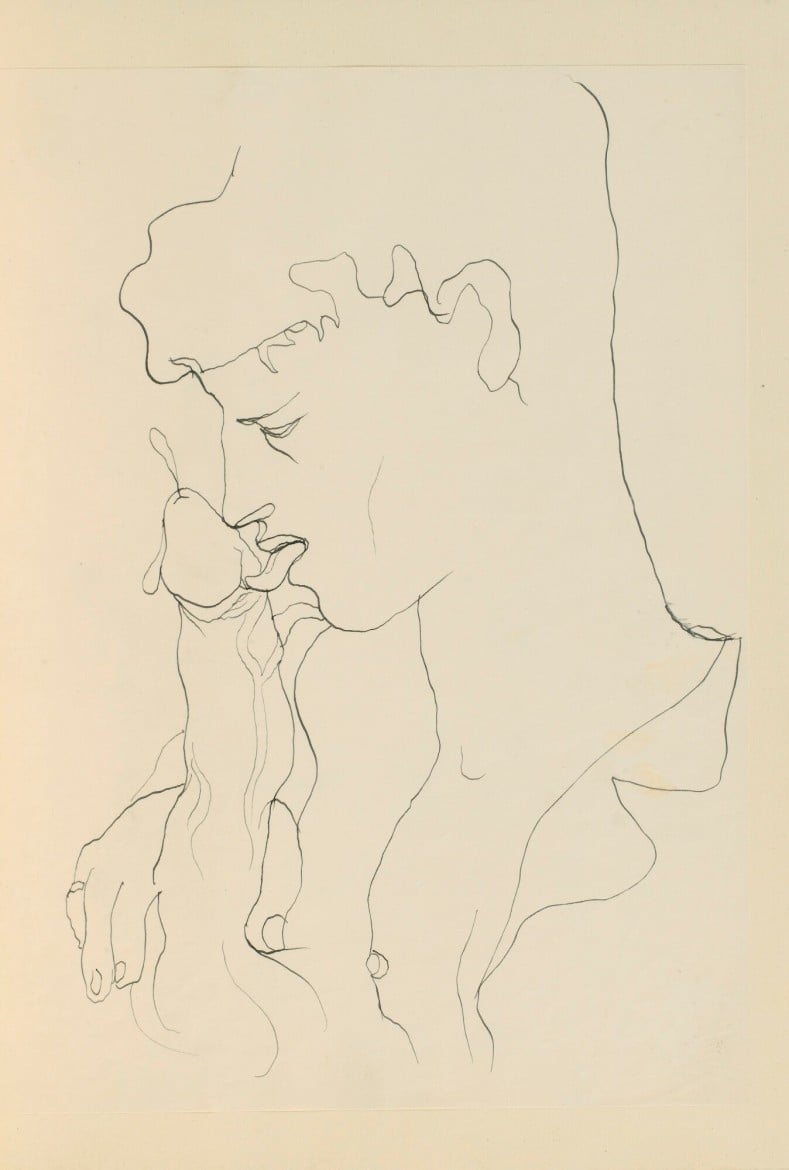 Fellatio (pinterest.com)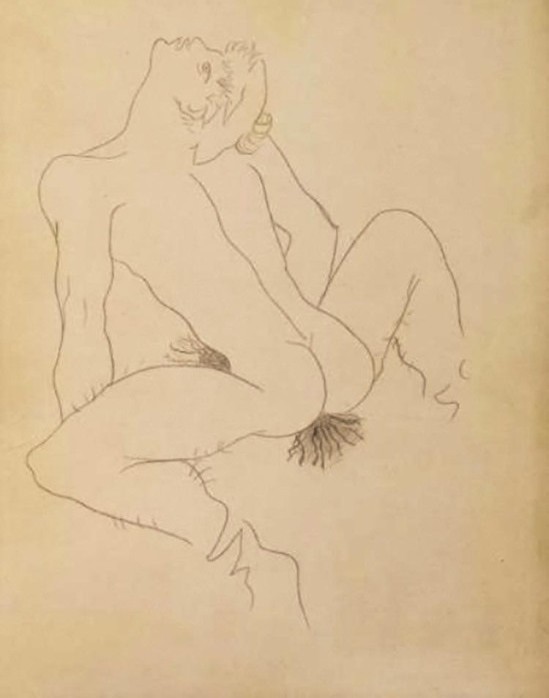 Copulation (wordpress.com)
Sources: wikipedia.org, npar.ru.
Click HERE for a striking shunga scene depicting a homoerotic encounter with two soldiers..
or HERE for a fascinating example of Picasso's aesthetic dialogue with Japanese erotic imagery….!!!
Let us know your thoughts about this article in the comment box below….!!