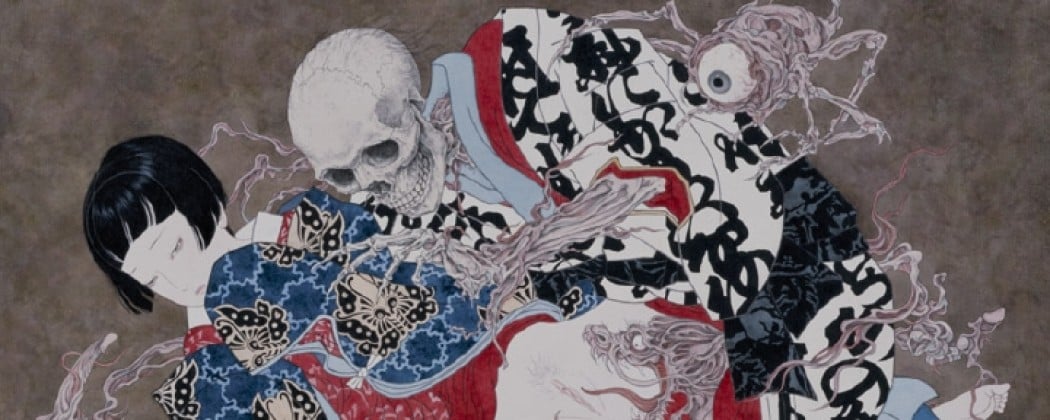 Takato Yamamoto And His Disturbingly Beautiful Heisei Estheticism
The artist Takato Yamamoto (1960) is another great example of a contemporary representative of modern shunga partly inspired by the evocative images of the ancient ukiyo-e genre. Although his art blends ancient Japanese woodblock art with Western gothic influences, his paintings were mainly exhibited in Japan and therefore fairly unknown in the west.
Japonism
Yamamoto was born in the Akita prefecture, Japan, in 1960. He studied at the private university Tokyo Zokei University in Hachioji, Tokyo. After he graduated at their painting department he immersed himself in classical ukiyo-e and modern Japonism. In 1998 he held his first exhibition in Tokyo.
"Heisei Estheticism"
His impressively detailed art examines dark themes including torture, bondage, rebirth, devotion, sex and death inhabited by young adolescent boys and girls. Although the outlook of his images is distant and almost undisturbed, the violence is never far away or just happened shortly before. The specific style that he developed bears the name "Heisei Estheticism."
Beardsley and Von Bayros
Because his paintings and his books are only issued in Japan and up to now few Western critics have studied his work, it is clear that he was influenced by Western Gothic (Decadent art) and in particular the subversive British artist Aubrey Beardsley (1872-1898) and the Austrian illustrator Franz von Bayros (1866-1924).
Decapitated Heads
Like them, Takato Yamamoto added all kinds of curious details such as decapitated heads, claws, assorted bones and eyeballs that embellish the otherwise flamboyant arrangements supporting the characters.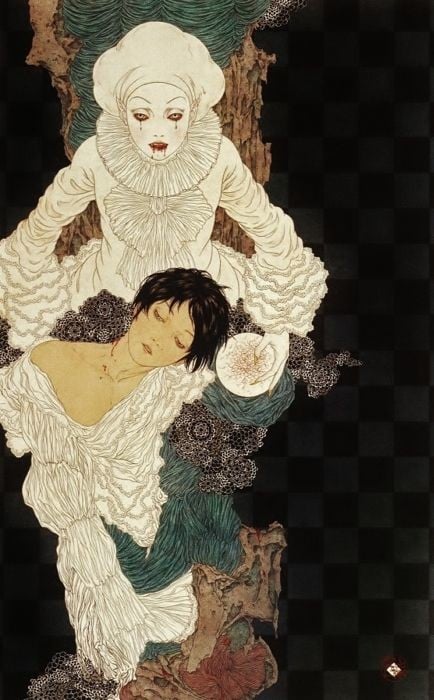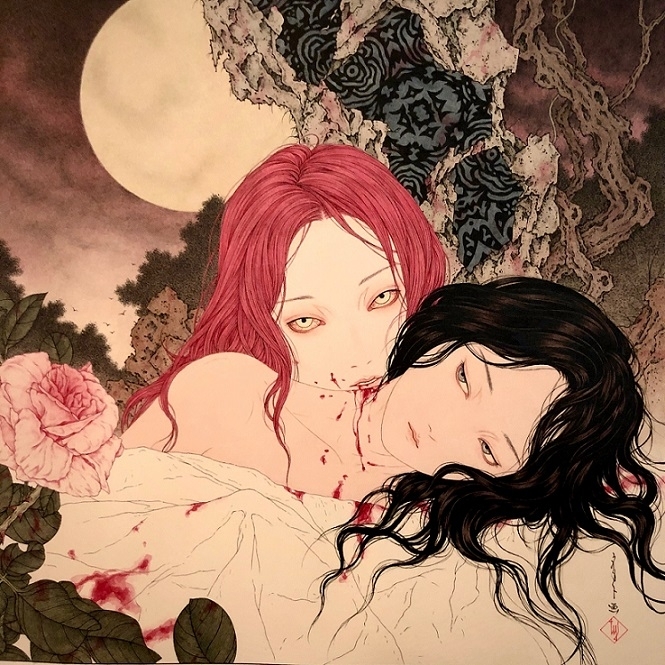 'Strigoica : Spring Night' (2021) 
The following video displays many other exciting pieces by Takato Yamamoto…
A fan of Yamamoto's Heisei Estheticism? Click HERE and check out more about our eBook on the artist….!!
Let us know what you think about the art treated above in the comment box below….!!