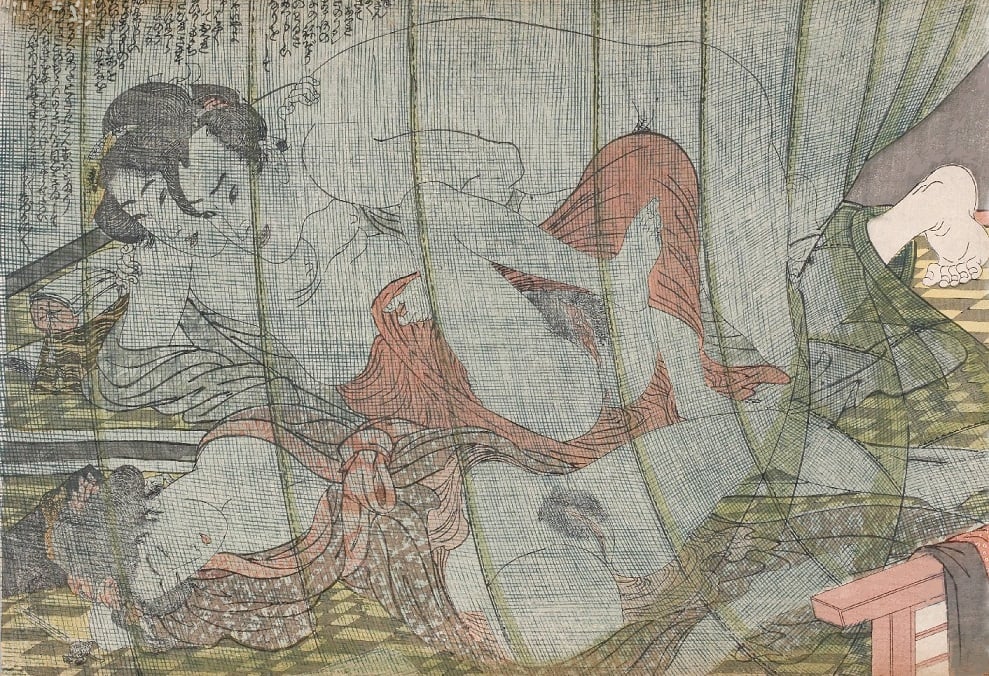 Secret Encounter Behind a Mosquito-Net From the Willow Storm Series
Willow storm
In this design from the acclaimed oban*-sized 'Willow Storm' series (late 1820s) we witness a male lover stealthily creeping inside a mosquito-net where two sisters sleep. He is careful not to be detected by the younger of the two. This print is actually a variation of a design by Katsukawa Shunsho (1726-1792) from the series 'Ehon shokko no nishiki'.
Stunning Example
According to the important shunga critic Hayashi Yoshikazu it is not a particularly remarkable piece (which I personally do not agree with**) though he praises the craftmanship of the printer. He says,'…the rendering of the mosquito net is a stunning example of nishiki-e (brocade) printing techniques, in which vertical and horizontal green lines were superimposed in two printing stages to represent the weave of the hempen net, over which a further screen of faint green was applied.
Summery Air
The seafloor-like atmosphere of the interior of the mosquito-net is thus superbly conveyed, The substitution of a flower mat for a futon lends and unmistakably summery air to the scene. Carving the weave of the mosquito-net presented such a challenge that most shunga on this theme depict the lovers outside the raised net'.
Effectiveness
In the catalogue 'Japanese Erotic Fantasies' author Chris Uhlenbeck remarks,'…The effectiveness of this composition is achieved through the contrast of the exposed foot and the screen jutting out from the lower right-hand corner with the area of green created by the gossamer-like mosquito-netting.
Click HERE for more exciting designs from the 'Willow Storm'-series!
Sources: Vol.4 of 'Teihon ukiyo-e shunga mrihin shusei (The Complete Ukiyo-e Shunga), 1997′ by Hayashi Yoshikazu
'Japanese Erotic Fantasies: Sexual Imagery of the Edo Period' by C. Uhlenbeck, M. Winkel…etc.
*oban size is approximately 390 x 265 mm (15 1/3″ x 10 2/5″ inches)
**I have seen it in real life at the exhibition 'Lentelust' in 'De Kunsthal', Rotterdam in 2005 and Shigenobu's image (that impression had very vivid colors) really drew me in.