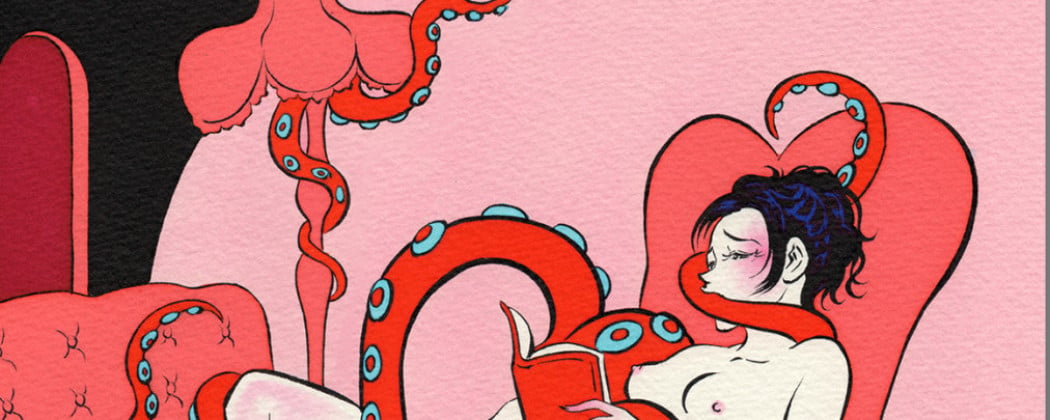 Pigo Lin and His Mellow Erotic Pop Surrealism
Pigo Lin is a 35 year old Taiwanese artist whose evocative erotic art attracts an ever increasing fan base. On his Instagram page he describes his work as soft erotic art, in which he mixes elements of manga, pop surrealism, anime and guro (gore art).
Rising Star
Although his star in the art world is rising (his past work is sold out already!) and has a Masters in Fine Arts from the National Taiwan Normal University, he is also still working as a professional watch designer.
Night Drawer
After his working day, he retreats into his little studio in Taipei City. In this place he devotes himself to his sensual dream fantasies until well into the night (he calls himself a 'night drawer').
Playboy
In an earlier interview with Playboy he remarks that his sensual expressions are almost an exemplary metaphor of the suppressed single Asian male, who represses the desires that Western society more easily accepts and encourages.
Used-Panties
It's a place where they seek their salvation in love hotels, brothels, and indulge in remarkable fetishes such as used-panties (available at special vending machines) and strange baby-like manga all behind closed doors. Lin, himself bisexual, is fascinated by sexuality and how it is repressed and concealed in Asian culture.
Boldly Sensual
In his paintings Pigo Lin uses his fantasy to tell stories about things that are real in today's world. These fantasies are his journey to explore and understand the essence of himself. Lin's images are as boldly sensual as they are equivocal, depicting the female form as grotesque, with unrealistic dimensions in various stages of euphoria and joy.
Intrigue
His ideas are full of intrigue, the treatment of the female is complex. In the Playboy interview he comments: "I think the ocean combines beauty, power and danger. I always use the ocean to represent woman. He admits that the illustrations represent his own sexual desires.
Great Wave
His style is rooted in Japanese anime and manga and influences are clearly to be found in the ancient ukiyo-e master Katsushika Hokusai (in particular his Great Wave) and in the provocative works of the contemporary artists Toshio Saeki and Suehiro Maruo.
Scarlett Johansson
Other influences are the anime classic Ghost in the Shell (also the live-action version with Scarlett Johansson) that features one of his great muses Motoko Kusanagi (Fig.1). Also Spielberg's classic shocker Jaws had a lasting influence on the artist.
Handjob
The sexual humor can be found all across Lin's works such as Handjob that portrays an ecstatic male only wearing a bathrobe lying on a bed while a giant female hand massages his penis with a lever (Fig.5).
Slimy Snail Mermaid
Another comical piece is the one with a slimy snail mermaid lying on a veranda while a hasty young man throws a bucket of salt over her (Fig.7), or the amusing variation on Edvard Munch's The Scream with a female opera singer pressing her breasts together during a high pitched vocal, drawing the attention of a curious black cat (Fig.8). Lin has also changed the title, which is now called The Voice.
Click HERE for the macabre art of one of Pigo Lin 's major influences…!!
You can follow the artist on Instagram...!!
It would help us a lot in creating future content if you could let us know what you think about this article in the comment box below..!!