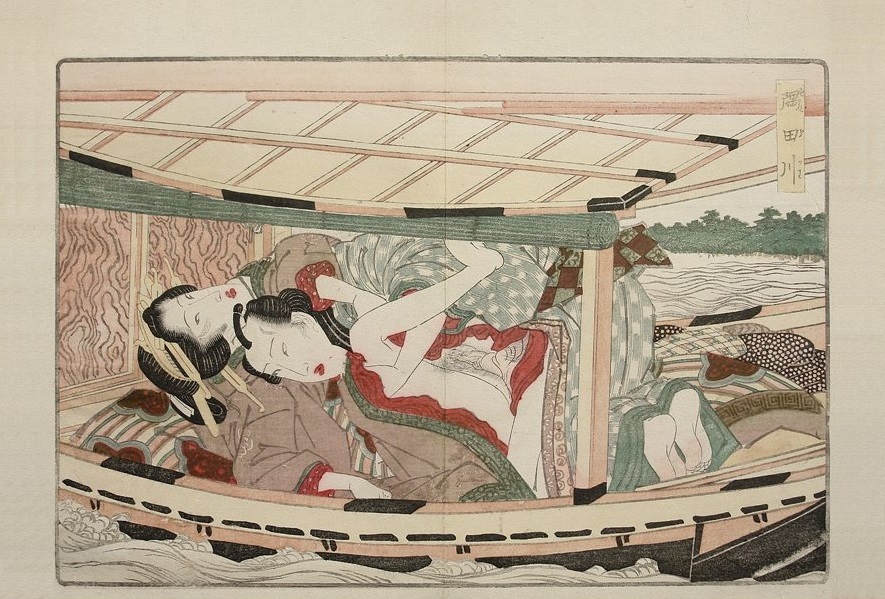 Sex Within The Narrow Confines Of a Pleasure-Boat By Keisai Eisen
This is the final panel of the 'A Light Spring Snow'-series from the robust artist Keisai Eisen (1790-1848). We find ourselves back in the midst of Edo (former Tokyo) in which we get a glimpse of two lovers on a pleasure-boat in the middle of the Sumida River.
Genitalia
The protagonists are stylish geisha and equally stylish lover. They energetically disport themselves in the narrow confines of the boat, enveloped in their brilliantly-colored silk robes – which form, indeed, the focal point of the scene: outranking even the genitalia as center of attraction.
Boatman
In the foreground one can see rather peculiarly-shaped ripplings deviating in style from that of the old masters such as Tawaraya Sotatsu or Ogata Korin and characteristically Eisen. The mandatory boatman is absent, undoubtedly he was used to this kind of thing, and kept discretely out of sight.
Alluring Experiences
With this final scene the viewer of the album finds him- or herself safely back in familiar "downtown" Edo. This, after enjoying a mixture of alluring experiences and scenes, both in and about the capital, as well as a few in rural backwoods and palaces of yore.
This piece is available for sale. Click HERE to inquire about the price!
Click HERE for a post that reveals a lot of sensual pleasure boat secrets…!!!