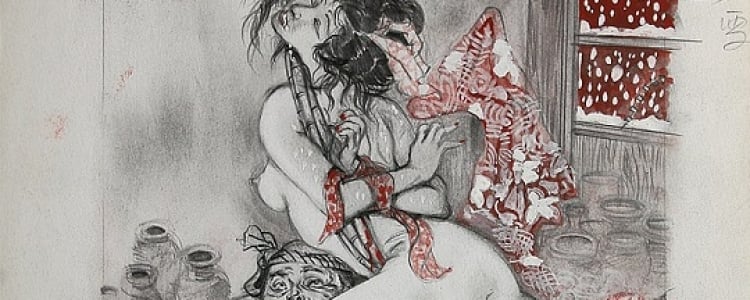 The Gruesomely Beautiful Kinbaku Art By Shoji Oki
After being discharged from the army in 1945, the artist Shoji Oki (16 April 1922) enrolled in the Occupation Forces design department. He studied oil painting at the Tokyo School of Fine Arts. Pretty soon he began working in a more western-oriented style.
Ninety-eight
His erotic bondage art has appeared in manga and BDSM magazines and even now at ninety-eight years old his creative output shows no real sign of slowing down.
Let's take a closer look at two of his original drawings/paintings:
Mosquito-net
A fascinating image with a helpless woman hanging upside down from the roof. She's depicted seen from behind a mosquito-net while her cruel tormentor, with one of the candles in his mouth, is touching her private area. One of the eye-catching features of Shoji's style is his use of red paint in certain details to heighten the dramatic atmosphere.
"Cosy"
In this terrifying scene a tied-down woman is portayed hanging in a pottery. She has been attached to bamboo sticks while her legs are spread apart bounded with ropes. The blood dripping from her genitals falls into a wooden bucket. The falling snow outside of the window displays a deceptively "cosy" atmosphere. Again Shoji's use of red paint in certain details is excellent.
The two works above are available in our gallery. For any inquiries or questions you can find contact info here!
You can find information on the important kinbaku artist Seiu Ito by clicking here!