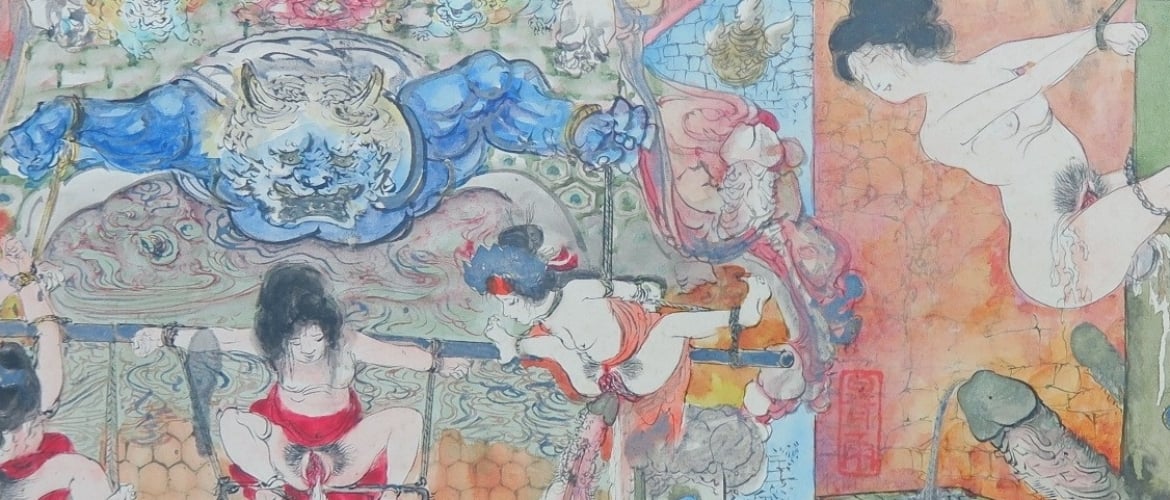 Ito Seiu's Shocking Torture Chamber
This extraordinary painting by Ito Seiu (1882-1961) produced in the 1940s depicts an extensive bondage orgy with numerous tied women who are being tormented in a large torture chamber. The women are subjected to all kinds of torture methods. Striking are the various torture tools including large phalluses and the activities taking place in multiple places.
Sadistic Experiments
Seiu throws off all the brakes, his female victims are hanging all over the place, tied to a large pillar, to the outstretched arms of an oni (demon) statue, or burning pulleys. Their agony is reinforced by the sadistic experiments to their private parts they have to undergo. A shocking detail can be found in the below right corner where an experiment has gone horribly out of control as one of the boxes, that houses three tied young women, has fallen on another girl.
Thrilling
It's a rare painting since Seiu is normally not that explicit in his portrayals and to be honest it's the most thrilling I have ever seen from his hands. It is framed and the size is 27cm x 45cm (framed 30 1/2cm x 48cm). Seiu painted this work most probably in the mid/late 1940s. A true shibari masterpiece by one of the greats!
Click HERE to learn more about the bondage art of  Ito Seiu…!!!