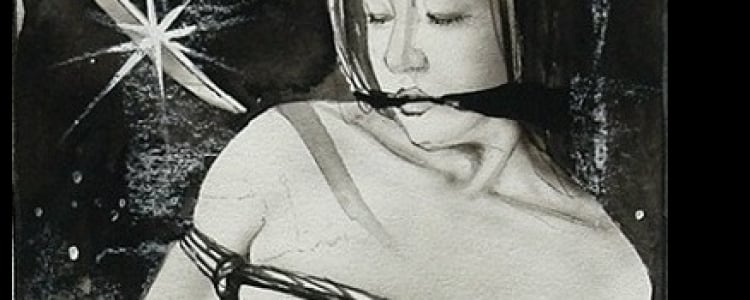 The Threatened Girl By the Shibari Artist Shunkai
This small realistic painting of a tied-down woman who is threatened with a sword is from the Japanese shibari artist Shunkai Nishimura. He was born in the Aomori prefecture in 1949. After he left university he went to Tokyo to be a painter.
Top Shibari Artist
Shunkai is one of the top shibari artists in Japan today. A lot of his work has been published in Japanese magazines (mainly SM) and newspapers. Shunkai paints in colors and also in black and white, sometimes by hand but also by air brush.
He has worked on many running stories in both newspapers and magazines. In 1996, he released the CD-ROM art book, "Shunkai" and "ShunkaiⅡ". He exhibited his work two dozen times at Royalsalon-Ginza
Later in his career, he made illustrations for a novel called "Bright Evil" by the author Saho Sasazawa that were published in a newspaper. He has been awarded grand prizes by the Japan Writer's club, Pubishing Art and was awarded a prize for illustration from Nikkan Gendai
Of his original paintings he often makes editions of 100 giclee prints. The above piece is one of his unique original pieces.
You can find the price of this piece in our gallery!
Click HERE for more articles on other shibari artists!