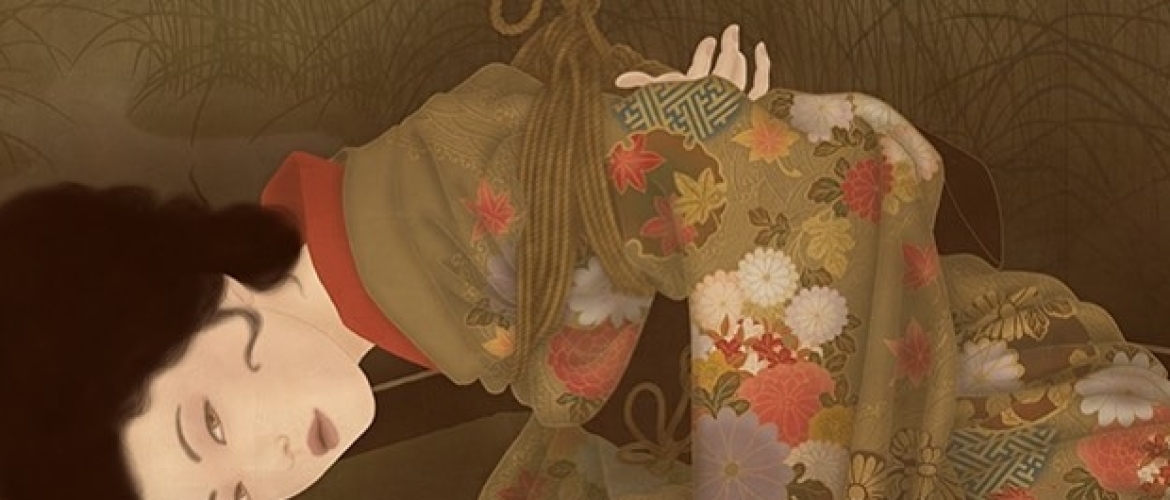 Senju Shunga Explores the Aesthetics of Shibari in Hankou
Senju's new painting 'Hankou (Defiance – Fig.4)' is what the artist calls a sister painting for 'Fuji (Wisteria – Fig.2)' he produced a year ago. His fascination for the aesthetics of shibari/kinbaku (Japanse bondage art) was triggered by a documentary on a Finnish couple and the intimacies they share.
Dirty Von P
Hankou is one of the few paintings Senju made involving this theme but after completing it he instantly felt that it will be part of an ongoing series. For him, shibari breathes a visual magic and tension that he finds difficult to resist. The direct inspiration for Hankou was a photograph showing French rope master Dirty von P's work (Fig.1). The devil is in the details. And details is something Senju loves to paint. From the intricate pattern of her furisode kimono to the strands of rope that embrace her.
Takashi Miike
On his Instagram account Senju explains: "At first I was very unsure on how to approach this piece and I tip-toed like a cat around hot milk. Then, after watching a few films by Japanese director Takashi Miike, a vision of the completed painting suddenly appeared to me. The result of frantically working on "Hankou" for the past eight days is one that pleases me a lot,and I will most likely use the snooty, blackened and dark interiors found in Miike's film "Kara-kiri" in my upcoming works."
The Pleasure of Rope
In my search for the documentary on the Finnish couple (haven't found it yet but will ask the artist) I came across the following trailer for the film The Pleasure of Rope (2018). It gives a compelling glimpse into this documentary that offers an in-depth behind the scene look into the fascinating world of Japanese shibari . It was directed by one of the UK's visionary directors and BAFTA award winner Bob Bentley.
Click HERE for more background on Senju's Fuji (Wisteria) painting and more…!!
This print is available now at Two Cranes Gallery…..!!
What do you think about this new piece by Senju? Leave your reaction in the comment box below…!!