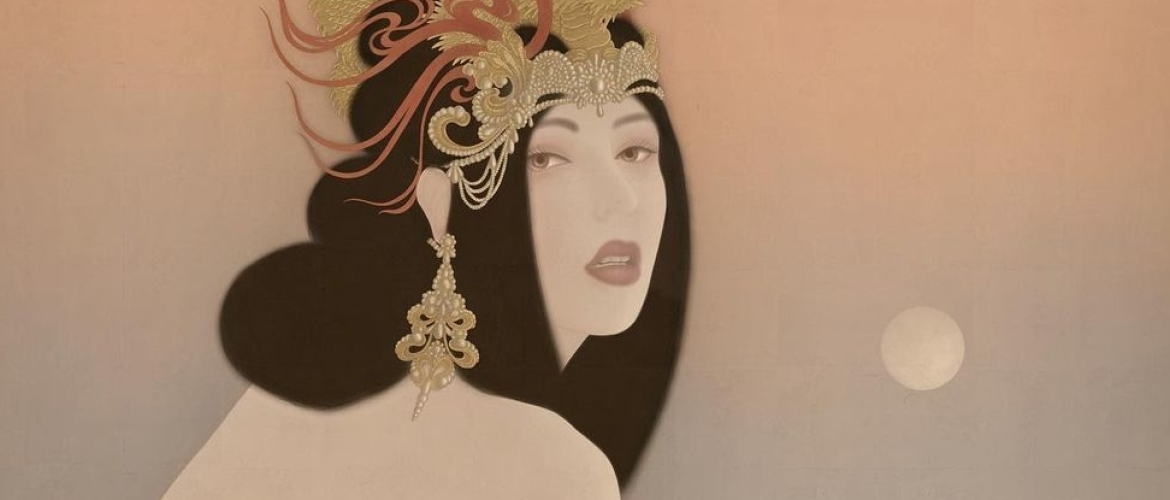 Toyotama-Hime: The Dragon Princess by Senju Shunga
"You can never paint like me! That is fine, because I can never paint like you". This is a quote by Salvador Dali, that liberated the Swedish artist Senju Shunga (1968), and gave him the confidence to develop his uniqueness as an artist. This is a slow process and on this slow path towards artistic evolution his new work 'Toyotama hime (the daughter of the dragon king)' was a good step in the right direction.
Procreate App
According to the artist, this was his most demanding piece to date. His new tools, the Procreate App and the Ipad pro, also play a role in this process. Using the advanced Procreate requires a more intuitive approach and takes time to explore all its possibilities, but with some trial and error, his latest creation was brought to life.
Toyotama-Hime
The subject of this piece is the Dragon Princess Toyotame-hime (Fig.1), daughter of the sea deity (aka. Dragon King of the sea), Watatsumi. She falls in love with the young hunter Hikohohodemi-no-Mikoto who came to the bottom of the sea, looking for a fishing hook that belonged to his brother. Toyotama-hime convinces her father to assist him on his quest. Hikohohodemi-no-Mikoto finds the hook and marries the Dragon Princess but after a few years he begins to long for the world above the sea.
Black Dragon
He convinces the now pregnant Toyotama-hime to come with him, but she does set the condition that he may not to watch her giving birth. They return to the surface, he builds a house for them and it didn't take long for her to go into labor. At first, he waits patiently outside, but in the end he cannot suppress his curiosity, and peeks inside. To his horror, he sees a huge black dragon holding a tiny baby.
First Emperor of Japan
Toyotama-hime, who had changed into a dragon in order to give birth, feels ashamed when her husband sees her in that form, and she leaves and their child and returns to the sea. Then she sends her younger sister Tamayori to help raise the child. The baby, Hikonagisa-Takeugaya-Fukiaezu-no-Mikoto, grew up to marry his aunt Tamayori, and their son, Kamuyamato-lwarebiko-no-Mikoto, eventually became known as Jimmu-Tenno, the first emperor of Japan.
Sea Turtle
Senju captures Toyotama-hime in a misty twilight, sitting at the ocean's edge beneath a full moon, accompanied by a thousand year old turtle carrying a sacred jewel on its back (Fig.8). In the tale, she rode a sea turtle to return from the sea to give birth. They return to the surface, built a house, and it didn't take long for her to go into labor.
Scarce
Despite the frequent descriptions of her in Japanese mythology, images are scarce. Therefore, Senju had to rely on his knowledge of Japanese art, culture and mythology to give shape to this strong character. Below the final result…
It is suggested that there is a parallel between between Toyotama-hime and the princess Oto-hime in the tale of Urashima Tarō. You can check out more about the latter by clicking HERE…!!!.
This new Senju piece is available in his store..!!
Sources: japanesemythology.wordpress.com/, Senju Shunga Instagram, Wikipedia.org
What do you think about Senju's Toyotama-hime? Leave your reaction in the comment box below…!!